"Emperor" Colin Barnett has really lost the plot now. From the AFR:
West Australian premier Colin Barnett hopes to win back voters by opening several expensive projects conceived at the height of the resources boom, including the $440 million Elizabeth Quay waterfront precinct.

…Another major city project, the Perth City Link, is nearing completion. A $428 million Perth Museum will get underway this year and the $1 billion Perth Stadium is expected to open at the end of next year.

Mr Barnett decided to develop the Perth foreshore after visiting Brisbane for a Council of Australian Governments meeting not long after becoming premier in 2008. It was the first time he had been to Brisbane since marrying his wife Lyn there in 1989.

…The Elizabeth Quay opening provides a potential political circuit breaker for Mr Barnett, who suffered a blow earlier this month after Newspoll revealed that for the first time since 2008, Mark McGowan's Labor party has a primary vote capable of toppling him.
Circuit-breaker? This is political suicide. I have no idea if the McGowan team is competent but I can tell you that it is not going to matter if the naked emperor parades like this. All Labor need do to win is point to a cavorting Emperor Barnett as folks lose their jobs hand over fist.
While Emperor Barnett parades across his marvelous quay, his state is falling apart, and instead of being able to save it with counter-cyclical spending on projects such as urban renewal, his government is being forced to cut spending into the greatest mining bust in a century owing to his former grandiose spending. This is perhaps the purest example of budget mismanagement in Australian modern history, every bit as bad the Kirner Government of Victoria in the late eighties and early nineties which saw unemployment rocket to 12.6% when it faced similar circumstances.
The outline of the coming disaster is written all over Emperor Barnett's fantastical Budget: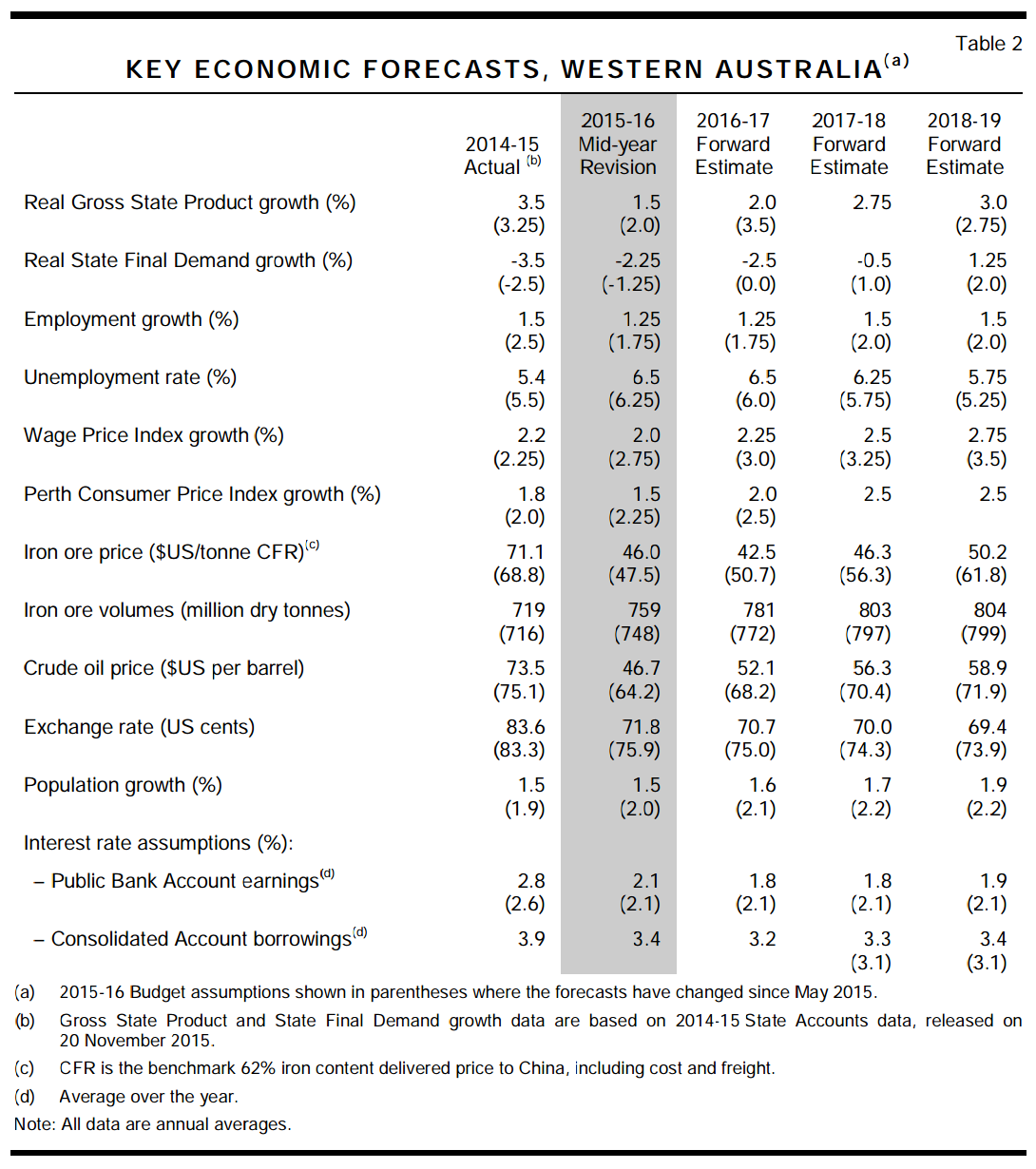 Where does one begin? At the top I suppose. State final demand has zero chance of being in the positive for the next two years: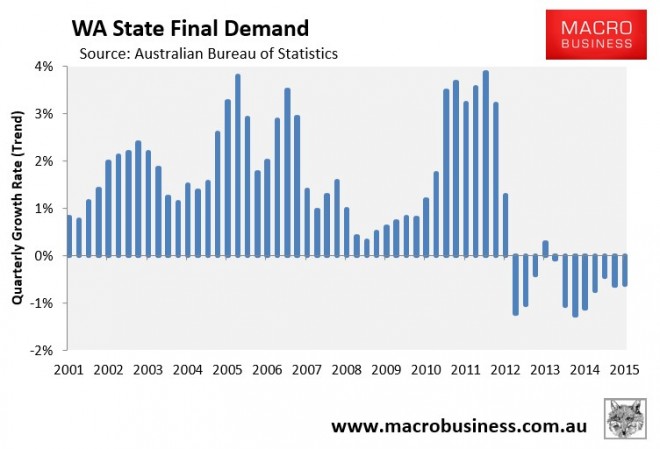 Unemployment is already at 6.53% in trend terms – the highest reading since January 2002 – and is not in any danger of flattening out to meet the Budget forecast of 6.5%: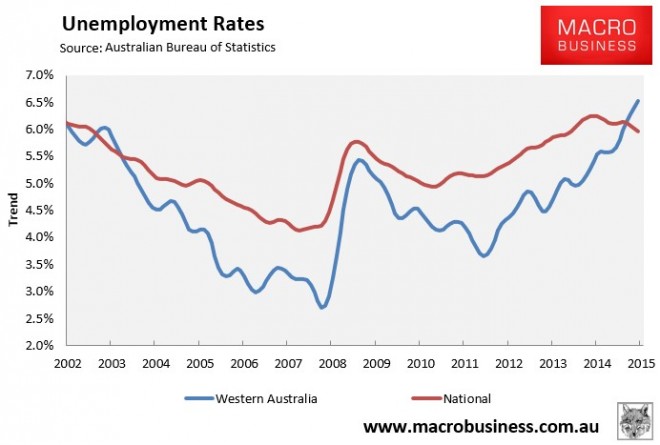 Then there's wages growth in Western Australia, which came in at just 1.98% in the year to September 2015 – already below the new outlook as well and declining: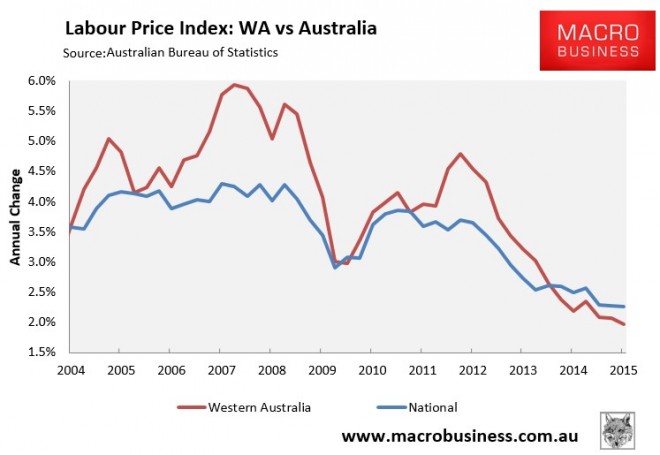 The iron ore price is already trading well below $46 and 2016/17's $42 should be $30 and 2017-19 should be $20. Somehow Treasury has also contrived to raise its volumes outlook, even though they are going to fall sharply. At least the exchange rate is also too high offering some insurance.
Then we come to the population growth outlook of 1.5% which is also above where it is today at 1.4% and not exactly trending as desired: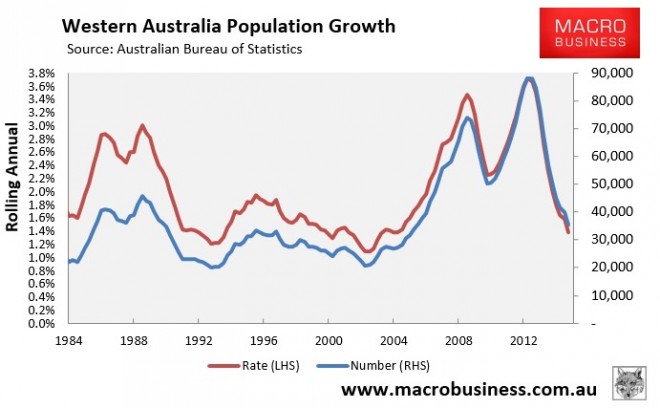 Then there are the sectoral outlooks: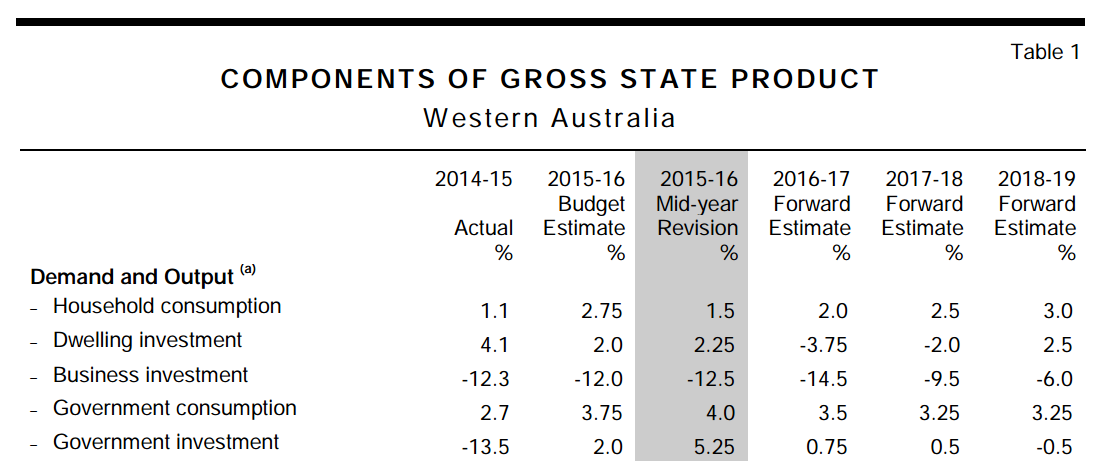 Household consumption is expected to rebound:
In 2014-15, growth in household consumption moderated to 1.1%, below forecast growth of 1.5% at Budget. Excluding the GFC period, this was the lowest rate of growth in 25 years and well below national growth of 2.5%. Discretionary spending6 has been particularly weak, detracting from consumption growth for the second consecutive year. The larger than expected moderation in consumer spending in 2014-15, combined with a more moderate outlook both across the broader domestic economy and for population growth, has flowed through to lower forecast growth in household consumption across the forward estimates period. Household consumption is expected to increase by 1.5% in 2015-16 (down from 2.75% at Budget), before lifting gradually across the forward estimates to reach 3% by 2018-19 (see figure below). This is consistent with a slower anticipated recovery in domestic economic activity and labour market conditions. Consumption per person, having fallen in 2014-15 (the first fall since the GFC), is expected to gradually recover across the forecast period.
Dwelling investment to stay at a permanently high plateau:
Following strong growth of 11.7% in 2013-14, total dwelling investment moderated to 4.1% in 2014-15 (slightly above the Budget forecast of 3.25%). The pace of growth in new dwelling construction slowed over the year and expenditure on 'alterations and additions' contracted for the fourth consecutive year.

In 2015-16, total dwelling investment is forecast to increase by a modest 2.25% (marginally higher than the 2% forecast at Budget). Although the pace of new dwelling construction is slowing, the level of expenditure required to move the current stock of dwellings under construction (the third highest level on record in the June quarter 2015) to completion is expected to support slightly higher growth in 2015-16 than previously forecast. In 2016-17 and 2017-18, total dwelling investment is projected to decline more sharply than forecast at Budget. While it is anticipated that a gradual recovery in expenditure on 'alterations and additions' will provide some support for activity, this is expected to be insufficient to offset the stronger than projected declines in new dwelling investment. This reflects a softer outlook for key drivers of new housing demand since Budget, including population, employment and wage growth. This weakening of housing demand has already begun to flow through the building pipeline, with completions outpacing commencements (in the June quarter 2015) for the first time in three years and the number of building approvals declining by 5.8% in the 12 months to October 2015.
Here is the history of housing starts: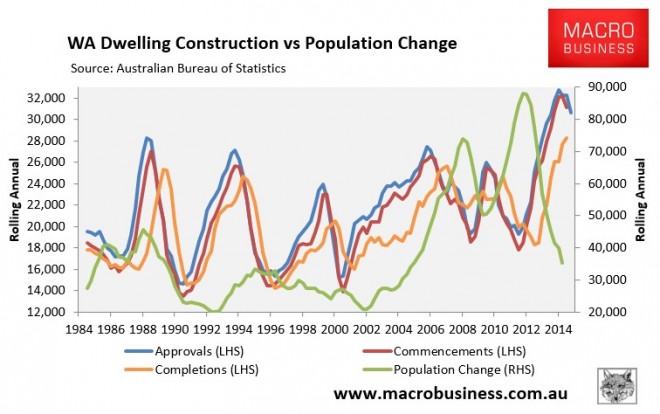 Tell me that they are going to fall just 6% in the next two years then grow again. They are going to halve! It is already happening: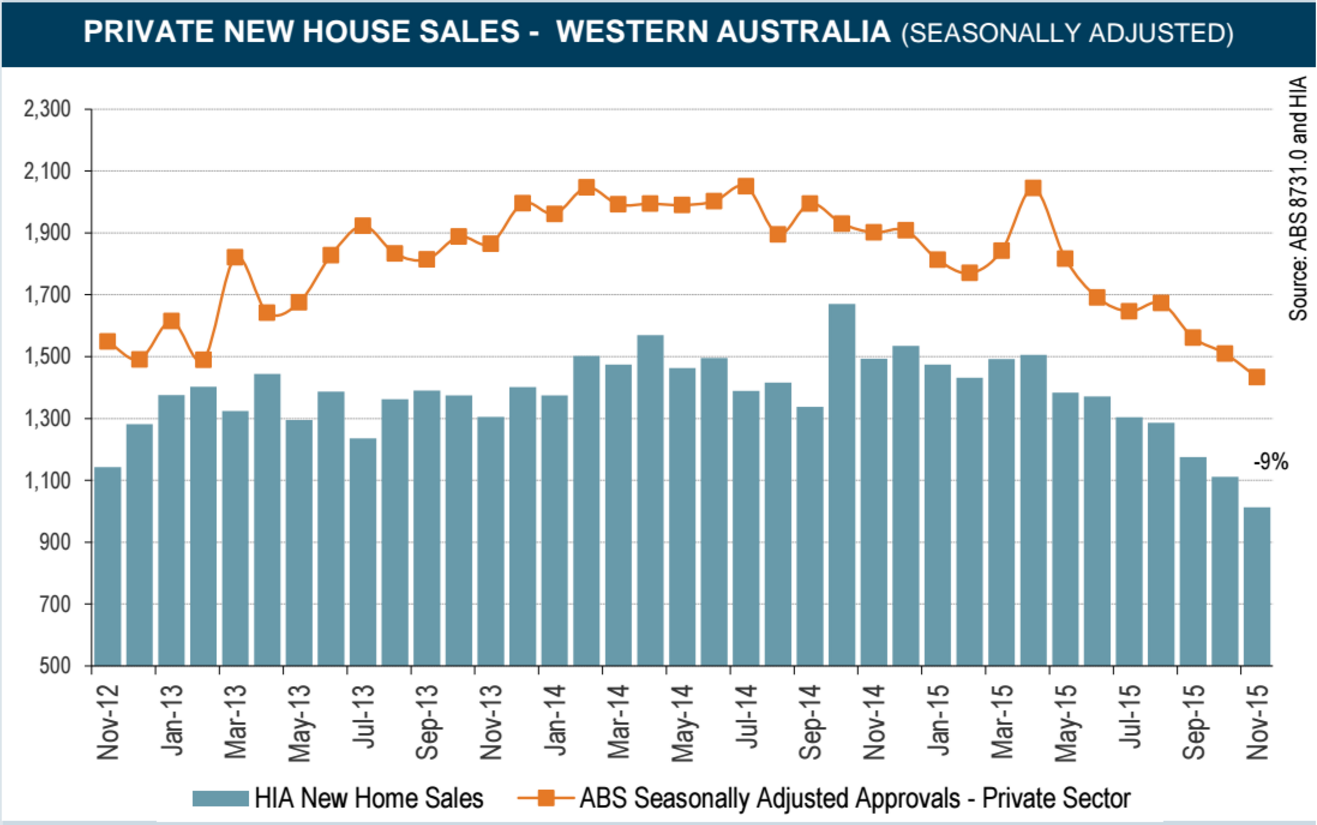 Business investment is expected to gently fall away like snow flakes before rebounding strongly:
Business investment fell by 12.3% in 2014-15. This is a larger decline than the 10.5% fall estimated at Budget. It is also the second consecutive contraction in investment since it peaked at a record level of $78.7 billion in 2012-13. Business investment is expected to continue to fall at a faster rate across the forecast period, reflecting a more subdued outlook for both resources and non-resources investment since Budget. Investment is projected to decline by 12.5% in 2015-16 before falling by an average of around 10% per annum across the forward estimates, double the average fall of 5% per annum at Budget (see figure below). The revised profile reflects the absence of major new resource project commitments since Budget. In addition, changes in the expected wind down of the remaining capital expenditure on LNG projects has contributed to a larger fall in 2016-17 than previously expected. Declines in both commodity prices (particularly iron ore and oil prices) and exploration expenditure have also reduced the likelihood of prospective resource projects emerging over the forecast period. Weaker domestic economic activity (including softer growth in consumer spending) has weighed on the outlook for non-resources investment across the forecast period. This is consistent with further annual average falls in building activity and approvals since Budget, and a rise in the central business district office vacancy rate (to 19.6% in the September quarter 20159 ). The latest Westpac – CCI Survey of Business Expectations shows that anticipated investment expenditure remained at record low levels in the September quarter 2015, with 44% of businesses planning to reduce their investment expenditure over the next 12 months. The revised forecasts imply that the value of investment will fall to around 13% of forecast GSP by 2018-19. While this is down from the long-run average share of around 16% forecast at Budget, it remains above the long-term share for the period up to 2004-05 of around 11%. Overall, the level of investment in Western Australia is expected to fall from $62.5 billion in 2014-15 to around $39.8 billion by 2018-19 (its lowest level since 2006-07), a total decline of around $23 billion (or 36%).
$40 billion in 2018/19 is pure fantasy. It will be half of that. There is nothing to take up from collapsing mining: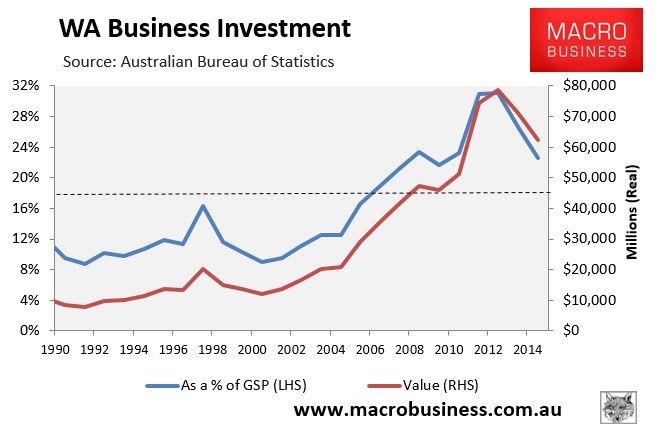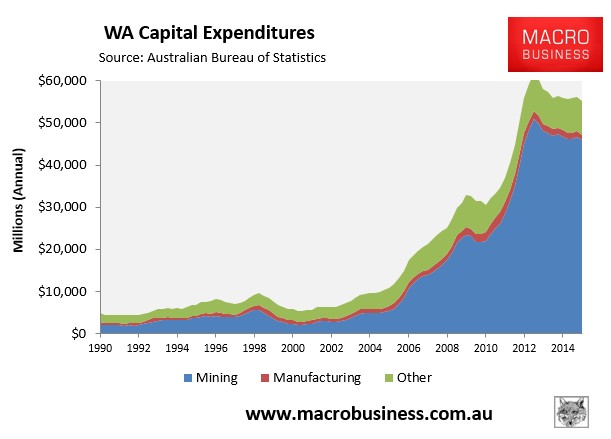 Nearly all of the assumptions in the Emperor Barnett's Budget are already debunked. It deserves a series of credit downgrade for the pure, fantastical ineptitude of it.
By way of juxtaposition, check out what prudent miners are saying and doing, from BS:
The worsening commodities rout has shocked miners and left some of the industry's senior figures ­unsure about whether China's landing will be harder than thought.

Mining explosives supplier Orica is the latest to step back from recent predictions of better earnings this financial year.

Speaking after the company's annual general meeting in ­Melbourne yesterday, managing director Alberto Calderon said the decline in already beaten down prices since Orica had ­issued guidance in November had caught the industry off guard.

"Nobody understands what is happening now — whether China is more in decline than was thought or not," he told The Weekend Australian.

The former BHP Billiton executive said Orica needed to prepare for the worst outcome.

"I talk to clients and people in China (about) why oil fell 25 per cent this year — is it fundamentals or market over-reaction? That's the million-dollar question nobody knows, so we have to prepare for the worst," he said.

"My honest opinion is this is an over-reaction, but that's my gut and I can't prepare on my gut."
Albert is a smart guy. His gut is wrong but he's doing the right thing. The Mining GFC is far from over. Commodity prices are going much lower as the toxic combination of US dollar strength and Chinese demand weakness roils markets into the medium term. From today's prices, iron ore is going to more than halve. Oil, coal and base metals are going to fall another third. As a mining services business, Orica is going to see wave after wave deflationary blowback.
And so is Western Australia, no matter how many lark's tongue pies Emperor Barnett enjoys.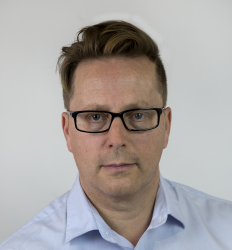 Latest posts by David Llewellyn-Smith
(see all)