APRA chair, Wayne Byres, appeared before Senate Estimates today and gave the Australian financial system a clean bill of health, stating it remains "fundamentally sound". From Business Spectator:
Appearing before a senate committee this morning, Australian Prudential Regulation Authority (APRA) chair Wayne Byres said nothing that had occurred in the last few months had changed his assessment.

"As you would expect, we are keeping a close eye on global developments, but the declines in stock markets and the increases in credit spreads that have occurred in recent times have been quite manageable given the sector's strong starting position," Mr Byres said.

"Indeed, this is why we require regulated institutions to maintain buffers over and above our minimum requirements — so that this sort of volatility can be absorbed without any significant stress."
No mention, of course, of the Australian banks' extreme reliance on offshore borrowings to help fund their mortgage book.
As shown in the next chart, the banks' offshore borrowings hit an unprecedented 53% of GDP in the September quarter of 2015, and have been a key ingredient behind the banks' growing loan books – mostly mortgages – which hit a record 210% of GDP as at September 2015: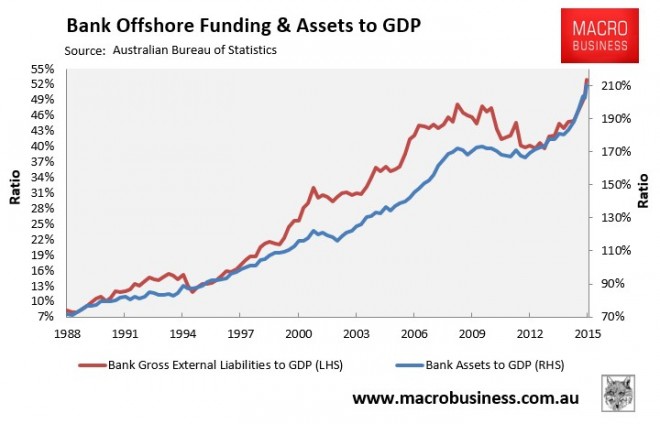 The situation since then will no doubt have worsened further given the ongoing solid credit growth, which continues to dwarf that of both incomes and nominal GDP.
All of which is fine until offshore credit markets seize and dramatically raise the cost of funding, as appears to be happening currently (albeit in the early stages).
The funding situation would also deteriorate in the event that Australia's sovereign credit rating is downgraded, automatically downgrading the banks' credit ratings in the process. Given the rapidly deteriorating Budget deficit, it is a matter of when not if.
Why do our regulators continually ignore the gigantic foreign borrowings underpinning Australia's mortgages and the housing market?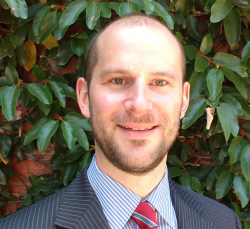 Latest posts by Leith van Onselen
(see all)