The SMH reported yesterday that funding costs are rising for Australia's banks, which could preclude them from passing on any cuts to official interest rates by the RBA:
While the ructions in world financial markets are increasing the odds of a central bank interest-rate reduction, they're also pushing up the price of wholesale funding for the country's biggest lenders. Commonwealth Bank of Australia last week sold five-year Australian dollar bonds at a yield of 115 basis points over the swap rate. That compares with a spread of 80 for similar paper from National Australia Bank and Australia & New Zealand Banking Group in May.

The big four Aussie banks get a third of their funding from bonds, while the rest comes from customer deposits. With rates on these accounts at all-time lows, there's little room for lenders to offset the increase in wholesale funding costs. That means their customers might not see any benefit, or indeed could end up paying more to borrow money even if the cash rate falls from an already record-low level.

"If you look at wholesale funding costs, they are getting worse," said Brian Johnson, an analyst at CLSA in Sydney. "Absolutely every single dynamic is deteriorating. We'd have to say that more than likely when corporates basically go to get their next round of refinance it will be a higher rate."
As noted countless times on this site, the Australian banks are incredibly reliant on offshore borrowings. When compared against GDP, Australian bank offshore borrowings hit an unprecedented 53% of GDP in the September quarter of 2015, and have been a key ingredient behind the banks' growing loan books – mostly mortgages – which hit a record 210% of GDP as at September 2015: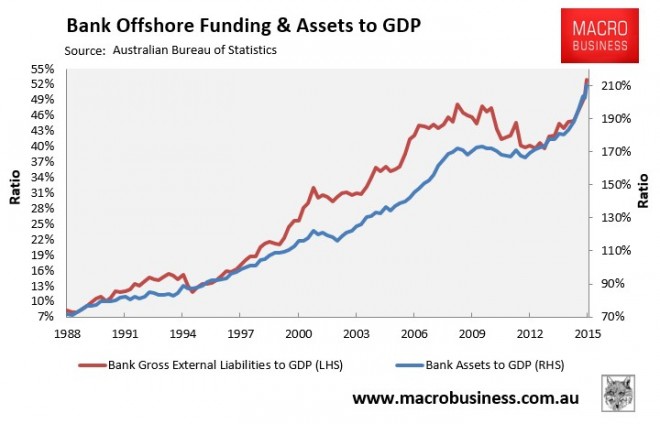 Indeed, Australia's banks would never have experienced anywhere near the same degree of asset (loan) growth without this access to offshore funding markets. Accordingly, the total value of Australian mortgage debt would never have grown so strongly, and Australian house prices would be materially lower as a result.
And if you are wondering why Australia's net foreign debt is so high, look no further than the banks' heavy reliance on offshore borrowings to pump housing: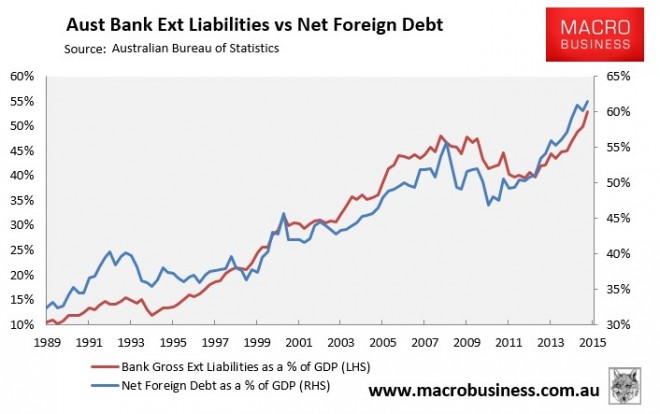 During past housing downturns, the RBA responded by slashing the cash rate and lowering mortgage costs, which led to a rebound in housing demand. During the millennial global recession, Australian mortgage rates fell 2%. During the GFC, Australian mortgage rates fell by 3.5%.
This time around, the RBA has less ammunition at its disposal. The cash rate is already at historic lows (2%), and as we approach the end of the business cycle the RBA likely has only around 150bps of cuts left in the chamber (we can't go to zero owing to the current account deficit). However, rising bank funding costs on the back of the global commodity bust, along with higher capital requirements, means that real mortgage rates have very little room to fall as banks widen margins. Households will be lucky to get 0.5% of mortgage relief during the next crisis.
The danger in all of this is that the banks' ability to continue borrowing from offshore rests with foreigners' willingness to continue extending them credit. This willingness will be tested in the event that Australia's sovereign credit rating is downgraded (automatically downgrading the banks' credit ratings), there is another global shock, or a sharp deterioration in the Australian economy (raising Australia's risk premia).
The Budget, too, is now hostage to the banks' offshore borrowing binge as it cannot borrow to spend on infrastructure or other initiatives for fear that Australia will lose its AAA credit rating, potentially leading to an unraveling of the private debt bubble created by Australia's banks.
Standard and Poor's has openly declared that Australia's net general government debt-to-GDP ratio must not breach 30% if the AAA is to be retained. The ratio currently stands at 18% and with fiscal bleeding necessary to support economic growth over the next two years, the ratio will continue to deteriorate: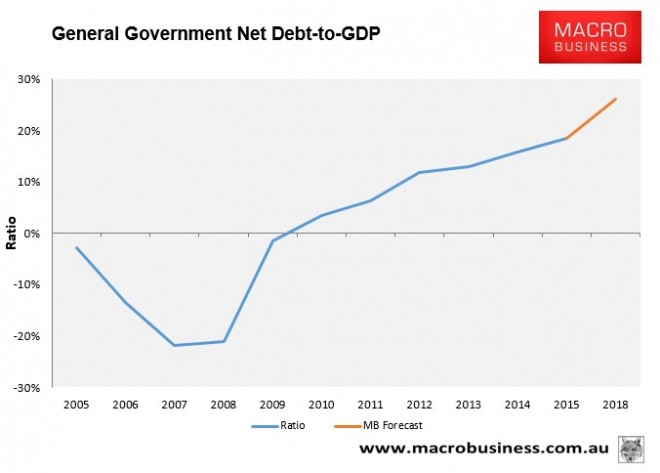 Of course, all of this would be far less of a problem if these offshore borrowings were used by the banks to fund productive investment. But they weren't. They were used instead to pump-up the value of unproductive houses: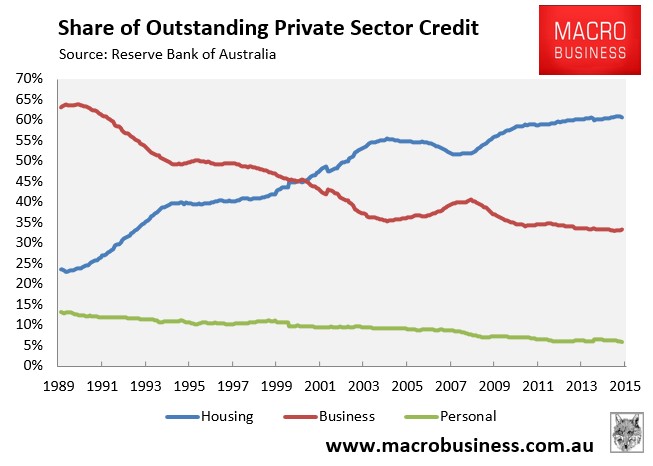 It's a case of epic mal-investment that will cost the economy over the long-term: either through lower productivity growth or some form of banking crisis.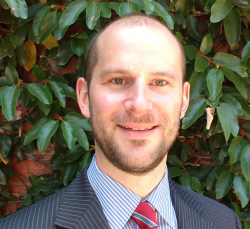 Latest posts by Leith van Onselen
(see all)