Fitch has released its 2016 outlook for the Australian banks, which maintains a stable outlook for the sector. Below are extracts from the press release [my emphasis]:
Fitch Ratings maintains a Stable sector outlook on Australia's banking sector in 2016. We expect strengthened capitalisation and recently tightened underwriting standards to offset slower profit growth and modest asset-quality pressure.

Profit growth in the banking sector is likely to slow due to ongoing asset competition, higher funding costs, and a modest increase in loan-impairment charges. Improvements in cost-management are likely to be offset by increased investment in technology.

Australia's household debt is likely to remain high in 2016, making borrowers sensitive to increased unemployment and higher interest rates. House prices will remain high relative to peer countries, but we expect house-price growth to moderate after 18 months of unsustainable growth in some Australian cities. Economic growth is likely to benefit from stronger household spending, which could either reduce Australia's savings rate or increase household debt. The unemployment rate is expected to remain relatively stable in 2016 before modestly improving in 2017.

Fitch expects Australia's credit cycle to turn in 2016, although any weakening in asset quality should remain manageable. Credit standards are likely to have improved following the Australian Prudential Regulatory Authority (APRA) review in early 2015. Banks have already made significant changes in borrower-serviceability assessment, and limited annual growth in investor mortgages. The inability to maintain the recently improved underwriting standards could lead to negative rating action as it could result in weaker asset-quality, possibly impacting banks' profitability and capitalisation.

We believe capitalisation will remain solid, especially in light of APRA's requirement to ensure that banks are unquestionably strong. We expect the banks to continue to strengthen their capital positions especially in preparation of the implementation of higher risk-weightings on residential mortgages on 1 July 2016. The new capital regulation is likely to result in a decline of regulatory capital ratios of the four major banks but we expect the ratios to recover, benefiting from high levels of retained earnings. Capitalisation could also benefit from slowing risk-weighted asset growth and the sale of non-core assets in 2016.

Australian banks are likely to remain reliant on wholesale funding markets due to a general lack of deposits in the system. However, the banks are likely to focus on lengthening the maturity of their wholesale funding instruments and attracting high-quality deposits.
Below are a few observations showing why Fitch's benign view about the banks is not justified.
First, Australian household debt is already at a record high as measured against income (let alone GDP):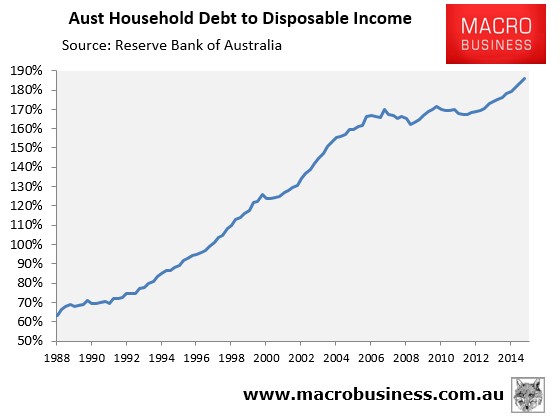 With the stock of mortgage debt still growing at 7.5% annually in November, and income growth anaemic, the ratio of debt-to-income will continue to push new highs in 2016. In this regard, Fitch is correct to state that borrowers will be "sensitive to increased unemployment and higher interest rates".
However, while the stock of outstanding debt is growing, the growth in the flow of housing finance commitments (excluding refinancings) is now falling: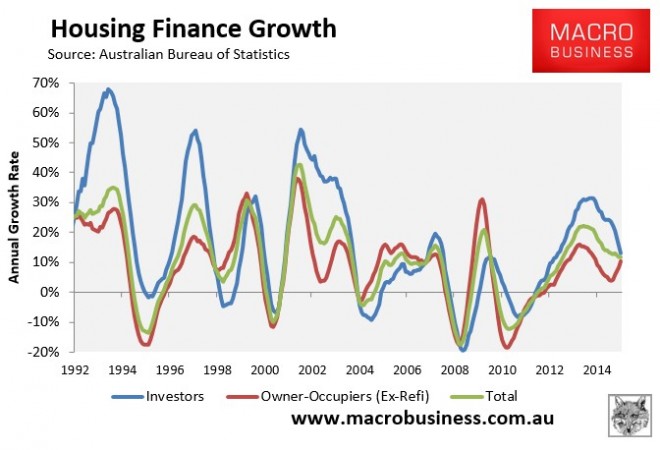 And this is being reflected in falling house price growth, particularly in Sydney: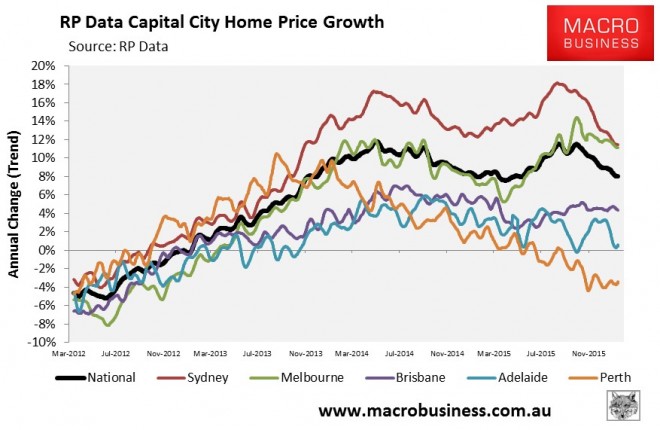 Moreover, RP Data's leading mortgage index is pointing to a crash in commitments over December and January, suggesting house price growth could slow quickly: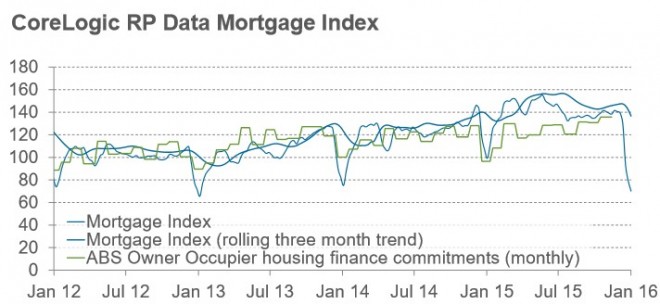 Meanwhile, dwelling approvals have been trending down since March 2015, suggesting that construction will peak mid-year before declining: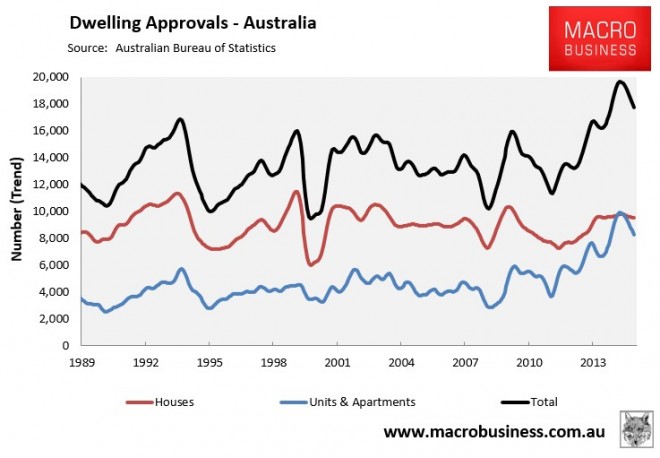 With the pending slowdown in the housing market, it seems highly unlikely that "economic growth is likely to benefit from stronger household spending" in 2016 and that the unemployment rate would "remain relatively stable in 2016 before modestly improving in 2017", particularly given that it would coincide with the crash in mining investment and the closure of the car industry.
Fitch's claim that "Australian banks are likely to remain reliant on wholesale funding markets",  is also an understatement, given that offshore borrowings have surged well above the pre-GFC peak to unprecedented levels, which has funded the expansion of assets (mostly mortgages):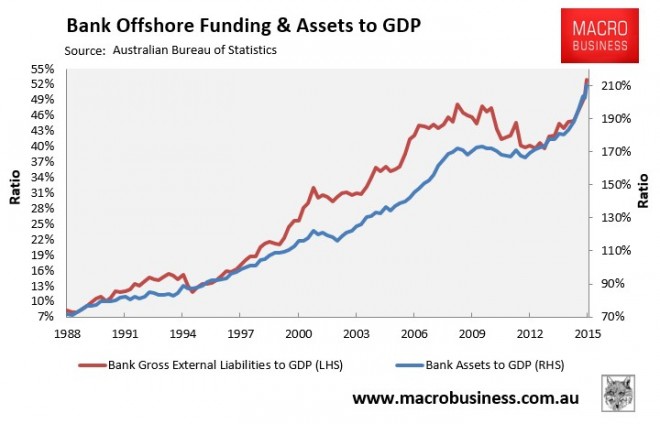 The danger in all of this is that the banks' ability to continue borrowing from offshore rests with foreigners' willingness to continue extending them credit. This willingness will be tested in the event that Australia's sovereign credit rating is downgraded (automatically downgrading the banks' credit ratings), there is another global shock, or a sharp deterioration in the Australian economy (raising Australia's risk premia).
The Budget, too, is now hostage to the banks' offshore borrowing binge as it cannot borrow to spend on infrastructure, economic stimulus, or other initiatives for fear that Australia will lose its AAA credit rating, potentially leading to an unraveling of the private debt bubble created by Australia's banks.
In short, risks abound – both for the banks and the macro-economy. Not that Fitch can see them.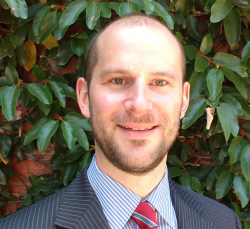 Latest posts by Leith van Onselen
(see all)