CBA chief economist Michael Blythe is out at BS today with his list of risks for 2016:
1. A new Chinese investor?

China runs a current account surplus. That surplus is put at around 3 per cent of GDP in 2016 and has averaged 4.6 per cent of GDP over the past decade. That surplus needs to be recycled into global financial markets.

…The new Chinese private investor will prefer a wider range of geographies and assets than just US Treasuries. There are implications for all major investment markets.

2. China: driving volatility as well as growth?

China has been a major driver of global economic growth over the past decade. We all watch China very closely when assessing global growth risks as a result.

That same influence is moving over to global financial markets as well…We should now watch Chinese financial markets very closely when assessing global financial market risks.

3. The completion of globalisation?

Economists have long promoted the benefits of global trade in driving economic growth. But world trade peaked as a share of GDP in 2008 and growth has been lacklustre since then…Trade, currencies and protectionism are potential flashpoints.

4. The new services economy?

Services have been the dominant part of the global economy for some time. But the services share continues to march higher. Services accounted for 71 per cent of global GDP in 2013, up from 61 per cent in 1995. The shift to services is a typical feature of rising incomes. But ageing populations and the rise of IT are accentuating the trend…The ability to trade in services is much improved. There are opportunities in business services, tourism and workers' remittances. Services' spending is good at generating jobs.
Not much of a list is it? With the steady drumbeat of bullish commentary that emanates from CBA economics, one could be forgiven for wondering if the bank tackles risk management at all.  CBA has a gold-plated view of Australian exceptionalism that may well be born of moral hazard. Just a few years ago Mr Blythe was predicting current account surpluses for Australia in the period ahead, a laughable outlook at this juncture.
Tackling the above list let's add what is missing:
A choked Chinese investor
The new Chinese investor may look for new investment abroad but he'll first have to dodge the increasingly severe capital controls clamping down on him from all quarters. The Chinese bid in Australian real estate is already under pressure and that will get worse before it gets better.
Nothing new about China, markets and volatility
Chinese impacts on global financial markets is not new, it is only evolving. The millennial boom and subsequent global financial crisis was in large part caused by Chinese capital flooding various foreign assets then withdrawing. This is only the next round of volatility and, as it plays out, is likely to see China diminish in importance for many years as it sinks towards stagnation. Anyone who has not had his eye clearly on China for fifteen years should take a hard look in the mirror.
Trade risks and services trade are both rising, yes, but…
Both are structural shifts not great concerns for 2016. What is is the Mining GFC and an acceleration of:
the commodities crash;
high yield, emerging market and commodity debt freezes;
emerging market growth;
currency chaos;
tumbling stock markets and a global household shock;
and, for Australia, an accelerating 100 year mining bust dragging down East coast property bubbles.
It's not like CBA can be unaware of these rising risks. It's CDS price is now at 87.5bps and rising in a steepening trend: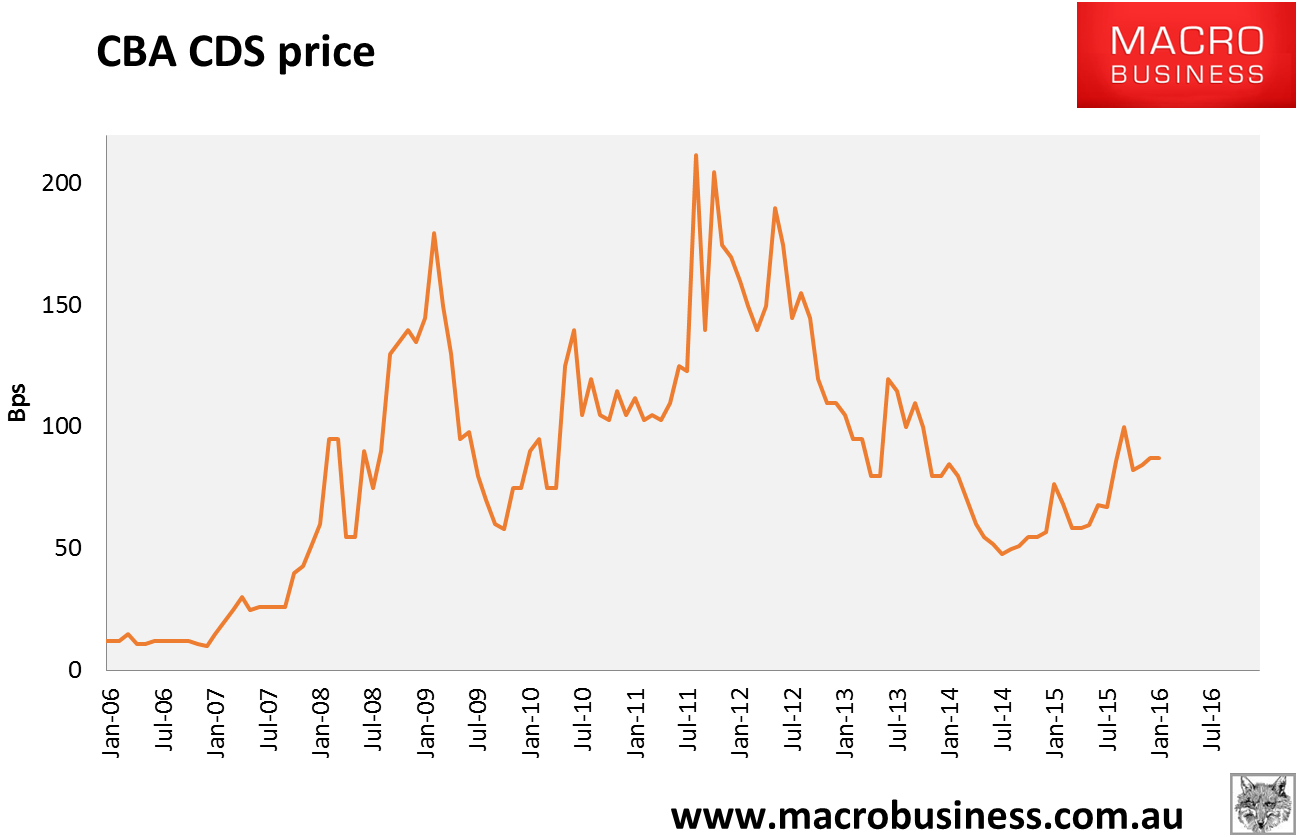 So I guess that is why CBA focuses on jibber jabber!
Latest posts by Chris Becker
(see all)