Earlier this year, the Australian Taxation Office (ATO) released its statistics for the 2013 financial year, which revealed that Western Australians are some of the heaviest users of negatively geared property investment (see below charts).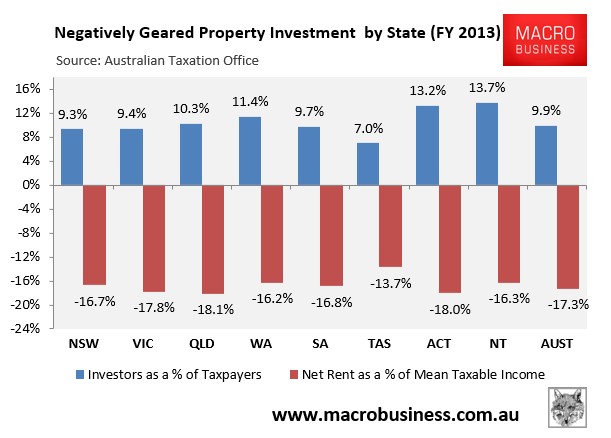 Suffice to say, many of these investors must be growing nervous, with the REIWA releasing its latest rental data, which shows that Perth rents have plummeted by $50 (houses) and $55 (units) since December 2013, with the rental vacancy rate also hitting an "historical high" 5.6% in the September quarter: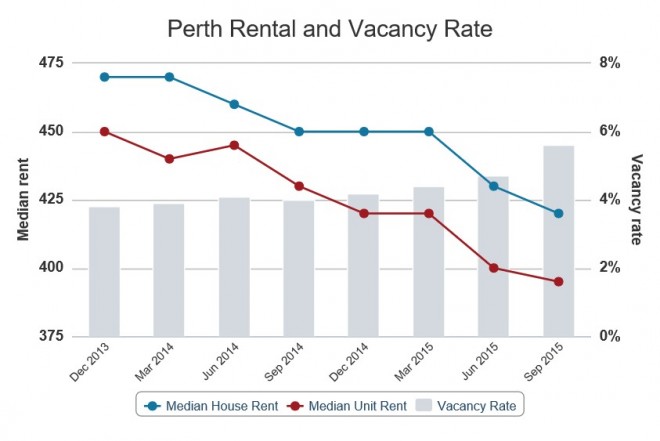 According to the REIWA:
The significant loss in interstate migration demonstrates the impact that the mining investment slowdown is having on the resource focused state…

The big challenge confronting the Perth housing market will be the impact that the completion of a record level of new dwelling constructions will have over the next few years.

The impending supply of houses, coupled with the downturn in population is likely to cause a surplus supply of homes in WA, which may trigger downward pressure on house prices that have previously surged on the faith of an acute housing shortage.

This will have flow on effects to both the established housing and rental markets at a time when listings and vacancy rates are on the rise.

Listings for sale crossed the 16,000 mark during the month of October, the highest since April 2011, while rental listings have recently crossed the 8,500 mark. As a result, the vacancy rate recorded a historical high of 5.6 per cent during the three months to September 2015.
Unfortunately for Perth's landlords (and fortunately for renters), the situation will get worse before it gets better. The gap between dwelling construction and demand (population growth) is gigantic, meaning rental vacancy rates will continue rising and rents (and home prices) will fall: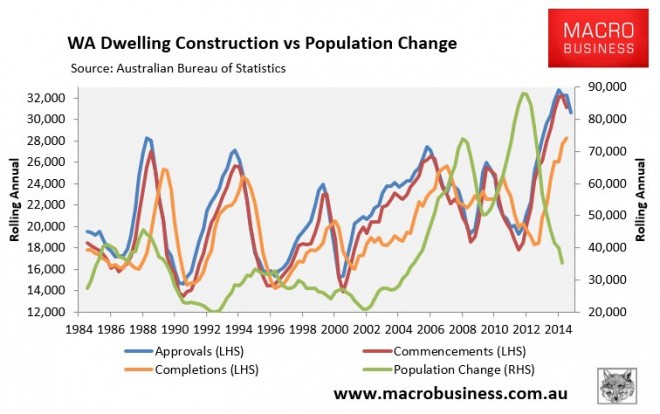 And of course, WA business investment will crater over the next two years as construction on major LNG and iron ore projects winds-up: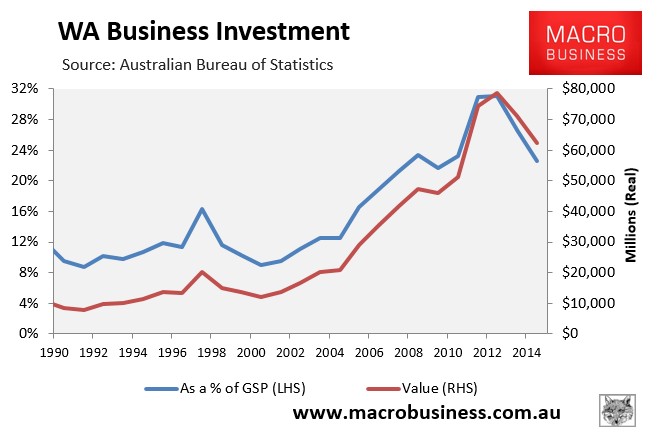 Welcome to the dark side of the boom, Perth's specufestors.