Over the past few years, several people in the higher education sector have expressed concern to me that education standards are being eroded as education providers have turned into 'factories' selling degrees/diplomas, often to foreigners as a pathway to future permanent residency.
Those that I have met involved in teaching/lecturing have complained that they often feel unable to fail students for fear that it will lead to a backlash, resulting in less 'sales' of degrees/diplomas in the future. In turn, they believe that education standards and the value of higher education are getting watered down, with obvious repercussions for future productivity.
Over the past year, a series of reports have emerged highlighting these concerns in greater detail. For example, Fairfax has previously reported that international student colleges have taken cash kickbacks in return for helping overseas workers and students win Australian visas using fake qualifications. The ABC has made similar reports.
Four Corners has also previously uncovered international education university cheating and plagiarism rorts.
Today, The Australian has released three articles (here, here and here) uncovering widespread rorting by private colleges.
According to one report, Australian private colleges were handed more than $1.4 billion in government-funded VET Fee -Help loans last year, which was four times as much as was provided to public vocational education and training providers. Yet, only 14,400 students managed to complete courses at private colleges last year, compared with 18,400 students at TAFE and other public providers. Thus, the figures reveal that private colleges are inflating course costs but providing very poor educational outcomes.
Indeed, according to another Australian report, Private training colleges have tripled tuition fees in three years and lumped taxpayers with billions in tuition loans:
Official data reveals the average tuition fee for an information technology diploma soared from $2779 in 2011 to $18,735 last year. Colleges are charging students an average of $15,493 for a diploma of business management that cost $4623 in 2011.

Business courses, including dip­lomas in hair salon management and training for "fitness business professionals'', account for half the $1.7bn students borrowed for vocational training courses last year.

Across all fields, the average tuition fee for a vocational training diploma has tripled from $4814 to $12,308 in three years, the latest federal Education Department data shows.
The Australian's Judith Sloan summarises the problem as follows:
Fly-by-night operations could lure students to expensive, inadequate courses and send the bill to the federal government. Students were urged to take loans on the understanding they would not have to repay the principal…
The above reports highlight an inherent conflict with Australia's higher education system: how to maintain education standards at the same time as maximising profits, be it via education exports or domestic tuition?
Producing 'degree/diploma factories' obviously will maximise profits, at least in the short-term, but will lead to the dilution of standards and the value of higher education, negatively impacting on productivity. However, by enforcing standards, the sector risks lowering sales of degrees/diplomas, thus negatively impacting profits.
A related issue is that Australia's education system has become an integral part of the immigration industry – effectively a way for foreigners to gain backdoor permanent residency to Australia.
The RBA's submission to the parliamentary inquiry into home ownership revealed as much when it noted that "recent  rule  changes  have  made  it  easier  for  students  to  remain  in  Australia  after  graduation,  including  by  becoming  permanent  residents", and then forecast a huge increase in net migration from international students, particularly into Melbourne and Sydney: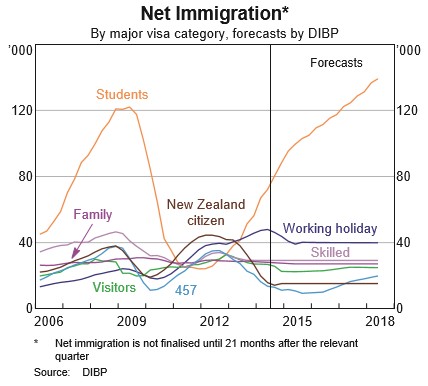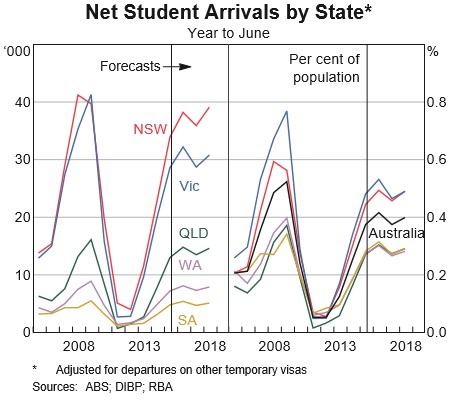 One wonders whether Australia's education exports would be anywhere near as high if the carrot of permanent migration was not attached. That is, if Australia's higher education system had to compete solely on quality, would they be able to stand on their own two feet? And would education standards, therefore, improve without the focus on foreign students?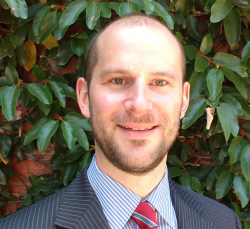 Latest posts by Unconventional Economist
(see all)