It's not scorching but Malcolm Turnbull has turned around the Coalition's electoral fortunes for now, from The Australian:
The Coalition's primary vote jumped five points to 44 per cent, its highest level since November 2013 and only 1.6 points below the result at the last election.

Labor's primary vote tumbled four points to a three-month low of 35 per cent, while the Greens fell one point to a five-month low of 11 per cent. Support for independents and other parties was unchanged at 10 per cent.

Based on preference flows from the last election, the government's two-party vote rose five points to 51 per cent and Labor fell five points to 49 per cent. Two weeks ago Labor was ahead 54 to 46 per cent, a lead that had been unchanged since early last month.
From memory even Kevin Rudd managed a resurgence to 50/50 on his second coming so this is not exactly on fire. A stronger result came from Roy Morgan:
In late September L-NP support jumped to 55% (up 12%) cf. ALP 45% (down 12%) on a two-party preferred basis after Malcolm Turnbull successfully challenged Tony Abbott last week to become Australia's 29th Prime Minister. If a Federal Election were held now the L-NP would win easily.

Primary support for the L-NP jumped a massive 11% to 46% (the highest L-NP support since the 2013 Federal Election at which the L-NP gained 45.5% support) while ALP support decreased to 29.5% (down 7%) – the lowest ALP primary support for more than three years since July 2012.

Support for the Greens fell to 13% (down 3%), Palmer United Party is 1.5% (unchanged), Katter's Australian Party 1.5% (up 1%), while Independents/ Others are at 8.5% (down 2%).

This week's Morgan Poll on Federal voting intention was conducted last weekend, September 19/20, 2015, with an Australia-wide cross-section of 2,059 Australian electors.

Roy Morgan Government Confidence Rating

The Roy Morgan Government Confidence Rating rocketed upwards this week (up 17pts) with 42.5% (up 7.5%) of Australians saying Australia is 'heading in the right direction' and 39.5% (down 9.5%) saying Australia is 'heading in the wrong direction'.

Analysis by Gender

Analysis by Gender shows a majority of both genders supporting the L-NP. Men: L-NP 58.5% (up 11.5%) cf. ALP 41.5% (down 11.5%); Women: L-NP 52% (up 5%) cf. ALP 48% (down 5%).

Analysis by Age group

Analysis by Age group shows the ALP now has its only advantage among young Australians. 18-24yr olds favour the ALP 61.5% cf. L-NP 38.5%; 25-34yr olds favour the ALP 54% cf. L-NP 46%; 35-49yr olds favour the L-NP 58% cf. ALP 42% while 50-64yr olds favour the L-NP 57% cf. ALP 43% and those aged 65+ easily favour the L-NP 64% cf. ALP 36%.

Analysis by State

The L-NP now has a two-party preferred lead in 4 Australian States. Tasmania: L-NP 64% cf. ALP 36%, Queensland: L-NP 59% cf. ALP 41%, New South Wales: L-NP 58.5% cf. ALP 41.5%, Western Australia L-NP 55.5% cf. ALP 44.5%, Victoria: L-NP 50% cf. ALP 50% and South Australia: ALP 53% cf. L-NP 47%.
From Mark the Ballot, betting markets still stronger favour the Coalition:

And my own chart of first term PMs: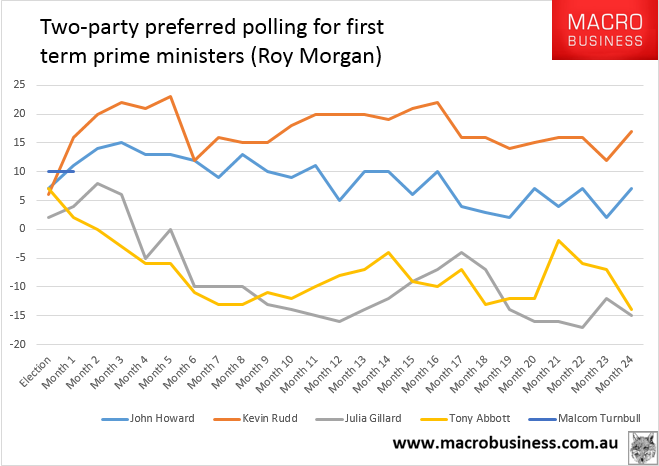 At least in terms of Roy Morgan, Turnbull is starting off strongly. And the lessons are:
if you're a first term PM and your approval rating is -14 or below at the 24th month then pack your bags;
Gillard and Abbott have a strange polling synergy, rather suggesting that they were politically linked in the electorate's mind, perhaps as equally illegitimate rolling out of the Rudd debacle, and
do not treat the Australian polity as an idiot nor assume it is your right to rule it.