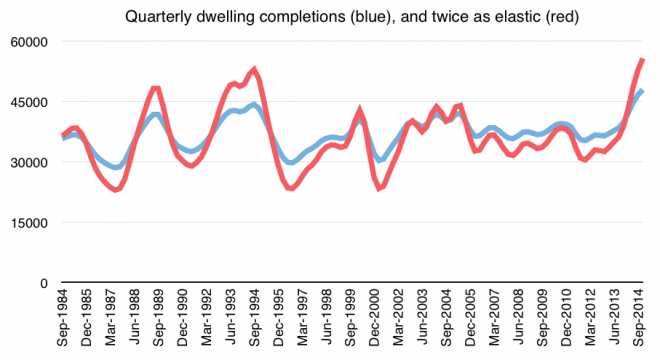 Any goal of supply-side initiative in housing should simply be seeking more homes built, year in, year out. This is I capture in my counterfactual scenarios of 10% and 20% higher construction over two decades.
So here is question. How many more houses would there be now in these counterfactual worlds? And what would the price impact be?
Well, if we had built 10% more new home each year for the past 20 years Australia would have around 300,000 more homes, and 600,000 more at a 20% higher rate of completions. Sounds terrific! That must have a MASSIVE impact on prices.
Well. No.
You see Australia's current housing stock is somewhere above 9million homes. Around 8.8million occupied, and many second homes, holiday homes, and so forth that are traditionally about 8% of the housing stock. Let's pluck a number out there and say that there are 9.3million dwelling in the country right now. These additional homes in my 20 year supercharged supply scenarios represent just a 3.2% and 6.4% increase in total stock respectively.
The price impact of a 3% increase in supply is 3% reduction if demand elasticity is unity. That's it. The price reduction could be less if there are countervailing income effects that lead to outbidding for superior locations. So somewhere between 0% and 3% price reduction for twenty years of supercharged supply suggests to me that focusing on the supply side is getting close to a waste of time. In the 20% supercharged scenario the effect is somewhere between zero and 6%. About the same as two and a half years of rental price growth.
To put it another way, after 20 years of a 10% higher rate of new supply, rents today would be then same as they were in early 2014.
Obviously the composition of households would be slightly different with 3% more homes. So if we look at raw measure of the gains to the amount of floor space per person, we can take the average floor size of homes, which is about 180sqm, and add 3%, and assign it to the 2.6 occupants, to get an additional 2sqm of floor space per person.
Or alternatively we can think of it in terms of occupancy rates, which would be 2.51 instead of 2.6 with the same size homes under the 10% higher supply scenario.
That's all you get for 20 years worth of sustained housing supply stimulus. And you get none of that simply from more elastic supply only.
The point being that current massive price increases, in the order of 17% per year in Sydney and Melbourne, simply cannot be explained by anything like unresponsive supply. Not only that, any supply-side effect on prices takes many decades and flows through from supply to rents, then to prices.
If we want cheaper housing we need to reform legal structures to shift bargaining power to tenants from landlords, curb speculation through financial controls (and keep stamp duties!), and stop rewarding political parties who capitalise on the business cycle to show how they delivered housing supply. Using these reforms would can simply shift the bargaining power away from current property investors to home users – the renters and owner occupiers.
To be clear, very few people and politicians actually do want housing to become more affordable. Around 70% of households are homeowners, around 30% are property investors who come from the wealthier part of society, while most politicians also have a huge share of their wealth tied up in residential property.  It suits all of these interests to point the finger at supply because they know it sounds attractive in a naive economy way, but won't actually reduce the value of their housing portfolios.
Latest posts by Cameron Murray
(see all)