Two new polls out over the past 24 hours have the Australian Labor Party (ALP) extending its lead over the Coalition, with the Greens also gaining support.
The latest Roy Morgan Research (RMR) poll, released yesterday evening, has the ALP leading the Coalition 55% to 45% on a two-party preferred basis, suggesting that if an election were held now, Labor would win easily.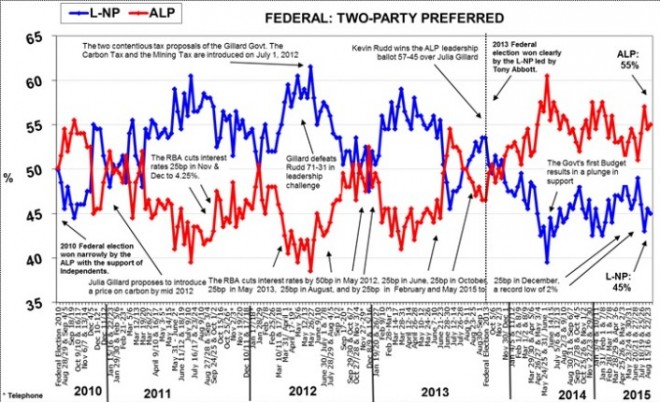 Primary support for the Coalition has decreased to 36.5% (down 2%), while ALP support is down 0.5% to 35.5%. Support for the Greens has risen to a new record high of 16.5% (up 2.5%), Palmer United Party is 1% (down 0.5%), Katter's Australian Party 1.5% (unchanged), while Independents/ Others are at 9% (up 0.5%).
The RMR Government Confidence Rating has also fallen 5.5pts to 90pts this week, with 46.5% (up 2%) of Australians saying Australia is 'heading in the wrong direction' and only 36.5% (down 3.5%) saying Australia is 'heading in the right direction'.
The RMR Poll on Federal voting intentions was conducted over the last two weekends, August 29/30 & September 5/6, 2015, with an Australia-wide cross-section of 2,653 Australian voters.
Meanwhile, a Newspoll of 1655 voters taken over the weekend and released yesterday shows the Coalition's primary vote is down 6.6 points from its election win, with satisfaction with Prime Minister Abbott's performance slumping 17 points in two years. Federal opposition leader, Bill Shorten, is also on top as voters' preferred prime minister, with the ALP  holding a two-party-preferred lead of 54% to the Coalition's 46%.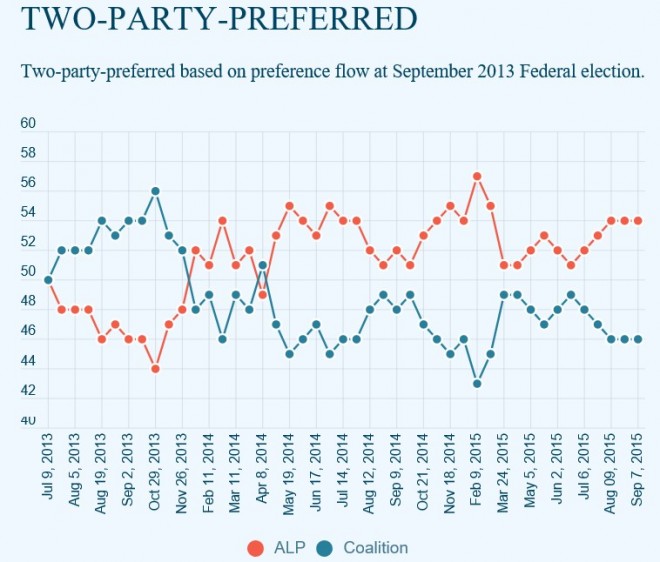 The Newspoll has support for the Greens at 12%, but with a 3.3% increase over the past two years.
With the 2016 Federal Election due by September 2016 at the latest, the Coalition will need to turn around its fortunes quickly or risk becoming one-term wonders.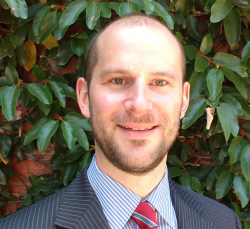 Latest posts by Leith van Onselen
(see all)