A new Inland Rail delivery plan has recommended that the Federal Government begin work on a 1,700 kilometre inland rail freight line connecting Melbourne to Brisbane, which it argues would cost around $10 billion. From The ABC:
The project, which the Nationals have long dreamed would revitalise country towns, would run through Moree, Narromine, Parkes, Wagga Wagga and Albury, ensuring freight trains do not have to travel through the congested Sydney rail network.

The report was written by former deputy prime minister John Anderson and warns if construction does not start soon, eastern Australia will become far more reliant on "heavy" multi-carriage trucks.

It estimates one 3.6km interstate train could carry the equivalent of 110 B-double trucks.

…the economic analysis indicates the track could provide a $16 billion boost to NSW, Queensland and Victoria over the next 60 years it cautions "the expected operating revenue over 50 years will not cover the initial capital investment", meaning governments will have build it.

Deputy Prime Minister Warren Truss, who has already promised to fast track the project said it "will create up to 16,000 direct jobs during a 10-year construction period and a regular 600 jobs once operating".
On the face of it, I see few more worthy projects than building an inland rail freight network from Melbourne and Brisbane (including connections to Sydney), with world class intermodal connections at key locations along the way so transfers between rail and truck are fast and efficient.
Rail is particularly well suited to two types of freight:
Bulk Freight: rail is suited to the provision of high volume bulk freight services to export facilities because it generally requires well defined point-to-point transport only (such as directly from silo/mine to port) with no requirement for trucking at any intermediate points. Rail can also transport larger volumes in shorter periods to meet shipping requirements and minimise on-port storage.
Long-haul General (Containerised) Freight: Road has inherent competitive advantages in the transportation of short-haul general freight because of its ability to offer a flexible door to door service without modal transfer (i.e. transfer to/from rail) and its capacity to handle small shipment sizes. However, rail tends to be more price competitive over longer distances where pick-up-and-delivery costs are reduced in unit cost per kilometre terms.
Despite the long distance between Melbourne and Brisbane, rail's share of general freight was just 28% in 2006, whereas it was 80% between the East Coast and Perth (see below).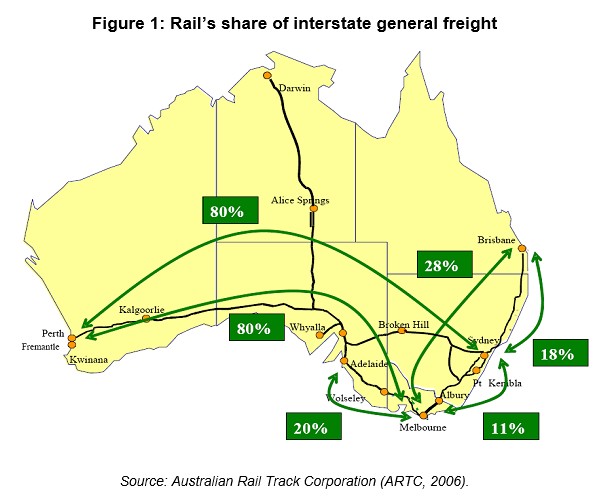 A key reason why rail's share is so low is because it shares the track with the passenger rail network in Sydney, which has priority. This makes rail freight far slower and less reliable than road transport, despite what should be a strong natural advantage (i.e. the very long distance travelled).
The end result is that thousands of truck trips are taken between Melbourne and Brisbane when, given decent infrastructure, rail could easily be fulfilling the role instead.
Accordingly, road trauma is higher than would otherwise be the case, as are greenhouse gas emissions, given one long freight train could replace around 100 B-Double trucks.
In short, the construction of an inland rail freight line makes prima facie economic sense. Hopefully, it can rise above Tony Abbott's overwhelming bias towards roads-based investment.