The RBA's Luci Ellis appeared before the parliamentary inquiry into home ownership yesterday and demolished the myth perpetuated by the Property Council of Australia (PCA) and the Abbott Government that negative gearing was being utilised primarily by middle income earners. From The AFR:
The Property Council has cited Australian Taxation Office statistics to prove cutting negative gearing would hurt many people on low and middle incomes. It says 66.5 per cent of investors who made a loss on a rental property had taxable income of $80,000 or less.

But Dr Ellis said the RBA analysis was based on the Household, Income and Labour Dynamics survey which covers all income and all households while the Tax Office data cited by the Property Council only looked at the taxable incomes of people who lodged tax returns.

Dr Ellis said because of these limitations the ATO figures do not capture the fact that many negatively geared properties are owned by people with low taxable income but high "actual income", mostly because they were drawing untaxable income from superannuation.
Ellis is obviously referring to the below chart, which the RBA presented in its submission to the home ownership inquiry showing that nearly 80% of investment property debt is held by the top 40% of income earners:
While the incidence of property investment increases with the level of income, the Household, Income and Labour Dynamics in Australia (HILDA) Survey also suggests that most investor households are in the top two income quintiles. These households hold nearly 80 per cent of all investor housing debt…
Of course, what Dr Ellis failed to mention is that the 'taxable income' figures used by the PCA and the Abbott Government to perpetuate the lie that negative gearing is used by middle income earners is what is left after deductions like negative gearing have been applied. Hence, it is wrong to simply claim that those earning below $80,000 are the primary users of negative gearing, since their taxable incomes have been reduced by negative gearing.
In any event, the average taxable income in 2012-13 was $55,000, so where is the logic in choosing an amount – $80,000 – that is nearly 50% higher than average as the cut-off for middle income earners?
On another note, the RBA also blamed the unusual concentration of investors for pushing up house prices, saying they are likely pricing-out would-be first-home buyers from properties they would otherwise own. From The Canberra Times:
"The housing sales market has become unusually concentrated in investor activity, particularly in the larger cities," the head of the bank's financial stability department, Luci Ellis, told a parliamentary inquiry on Thursday.

"Investors typically have more equity and borrowing capacity than first-home buyers and perhaps also other owner-occupiers, and might therefore be more able and willing to pay higher prices.

"At the margin, this has probably priced some aspiring first-home buyers from properties they could otherwise acquire."
You think? Blind Freddy can see that by encouraging property investment, negative gearing and its partner in crime, the CGT discount, are helping to push-up house prices (see next chart) and turn would-be home owners into renters – hardly a desirable outcome from a budgetary or social perspective.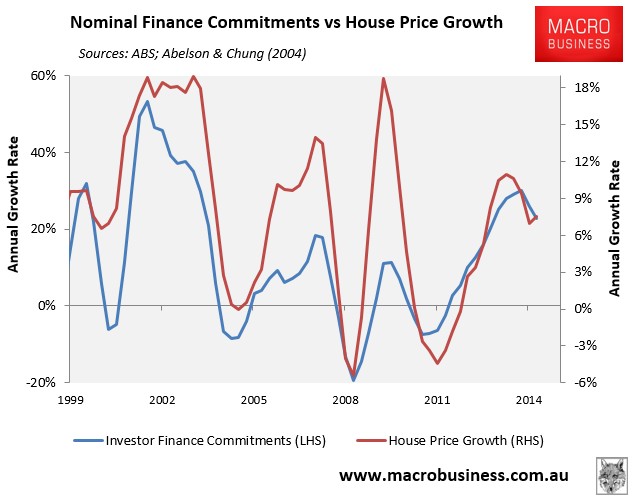 Nevertheless, it's good to see the property lobby's and Coalition's lies about negative gearing being exposed by the RBA.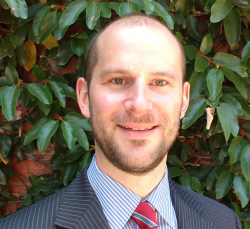 Latest posts by Unconventional Economist
(see all)