Treasurer Joe Hockey has all but confirmed that the Coalition will take personal income tax cuts to the next election and will seek to offset the Budget cost by cutting expenditures. From The Australian:
In a speech to be delivered today to a joint conference of the Tax Institute and Chartered Accountants in Sydney, the Treasurer will say excessive reliance on income taxes is a drag on economic growth and that he reject­s the proposition that taxes should be allowed to rise to cover the cost of additional spending, as several state governments have urged.

"Our forthcoming options paper on tax reform will include options for cutting personal income­ tax. We don't have any other choice"…

"In the next two years, without­ action, about 300,000 Australians will move into the second-highest tax bracket," he will say. "In 10 years, if tax cuts don't happen, almost half of all taxpayers will be in the top two tax brackets, a jump from 27 per cent to 43 per cent"…

"Gradually­ but increasingly, high personal tax rates will become a major incentive for Australians to live and work overseas," he will say in the speech…

"But we still have a budget to balance — we still have a budget to repair … It will be managed through continued discipline on spending decisions."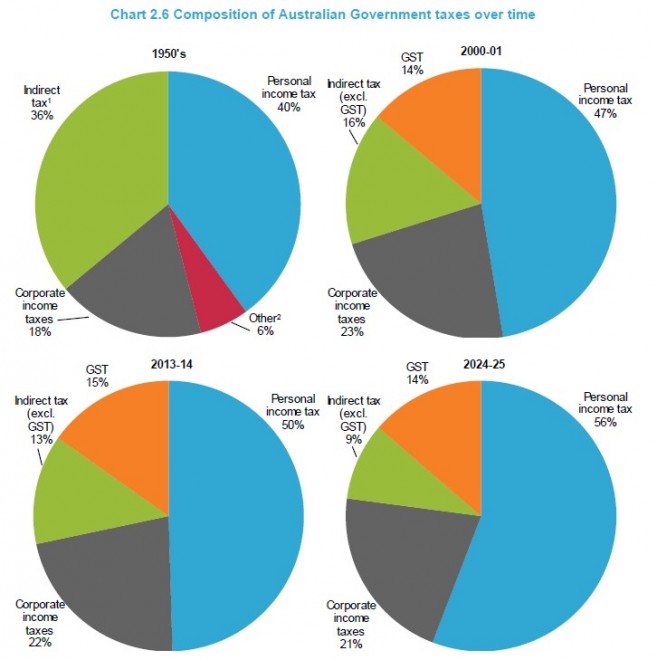 The main driver of this rise in taxes is bracket creep (aka "fiscal drag"), which occurs when inflation pulls workers into higher marginal tax brackets, increasing their average tax burden.
Further, as argued by the Australian Treasury, the impact of bracket creep will be most severe on low-to-middle income earners, thus it is highly regressive in addition to being inefficient.
That said, is highly disconcerting that Hockey is not seeking reform that lowers the income tax burden by broadening the tax base, but rather is seeking to fund income tax cuts via slashing government expenditure.
Tax revenue is required to fund important public services that the community both expects and needs. And the size of tax revenue is a distant, secondary issue, to that of ensuring that important social programs are retained, well-targeted infrastructure is provided, and the tax base is broadened and based on the most efficient and equitable sources possible.
The trick here is that the Coalition is really in favour of huge "private taxes", in the form of private user pays.
For instance, if the Government taxes and spends to fund infrastructure, the Coalition will count this as tax. However, if it is privatised and funded through inefficient user pays, this is not counted as tax. Same goes for health and education.
Presumably, the reason why the Coalition only focuses on public taxation is that the extensive and growing "private taxation" benefits the wealthy, who own the bulk of private infrastructure, along with other privatised businesses.
Hockey's stance in taxation is even worse given the Government has ruled-out reforming superannuation concessions, which cost the Budget many billions of dollars in revenue forgone and whose benefits flow overwhelmingly to the highest income earners: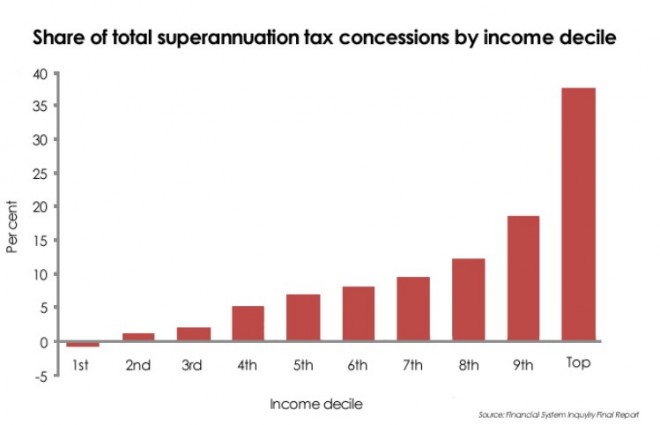 The Government has also ruled-out reforming Australia's egregious and inequitable concessions on property investment – namely negative gearing and capital gains tax discount – which the non-partisan Parliamentary Budget Office says could save the Budget many billions of dollars.
The simplest tax reform that Hockey could make would be to unwind these concessions and use some of the savings to lower income tax rates or increase marginal tax rate thresholds.
Unfortunately, Hockey wants egregious and inequitable concessions to remain while he simultaneously hands out tax cuts to higher income earners, slashes expenditure on public programs and welfare, and forces the states to increase so-called "user pays" charges.
This is not a recipe for true tax reform, but rather a recipe for greater inequality.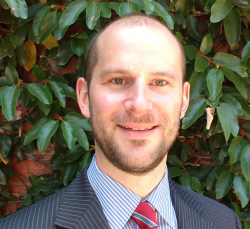 Latest posts by Unconventional Economist
(see all)