The pillaging of Greece moved forward overnight with progress across a range of measures. The EFSM bridging loans are falling into place:
The EU is tomorrow likely to approve the use of the European Financial Stabilisation Mechanism (EFSM) to provide a €7bn bridge loan to Greece to hold it over until its full bailout programme is agreed. Non-Eurozone countries are likely to be insured against any financial risk through the use of ECB profits from holdings of Greek bonds. UK government officials suggested Prime Minister David Cameron was "frustrated" by the move but it is unlikely the UK will be able to block it. Addressing the House of Commons yesterday Cameron supported the IMF's calls for debt relief for Greece.
The ECB raised its ELA ceiling allowing more funding for Greek banks which are rumoured to be reopening as soon as Monday, from Reuters:
Banks have been closed since June 29 after Athens imposed capital controls. "They will open on Monday," the banker said.

The ECB on Thursday increased the cap on emergency funding Greek lenders can draw from the domestic central bank by 900 million euros.

A ministerial decision on the bank holiday is expected to be released later on Thursday.

A government-appointed commission responsible for vetting capital outflows since controls were imposed said it had approved applications worth 819.9 million euros until July 13.
Capital controls will remain in place. Meanwhile, Germany is still taunting the Greeks with the truth, from Bloomie:
German Finance Minister Wolfgang Schaeuble told Greece the only way it'll get a debt reduction is to leave the euro and cast doubt on the country's ability to even complete negotiations on a third bailout.

Schaeuble, who led the charge for Greece to take time out from the single currency region, said the Greek parliament's vote to accept the austerity that is a precondition of further aid was a "step further forward." Yet he reiterated his view that a temporary exit from the 19-nation euro region may be "the better way" since it would allow the debt forgiveness that is necessary yet banned under euro rules.
The Greeks should take his money and then his advice. And here is why in a neat graphic from the FT: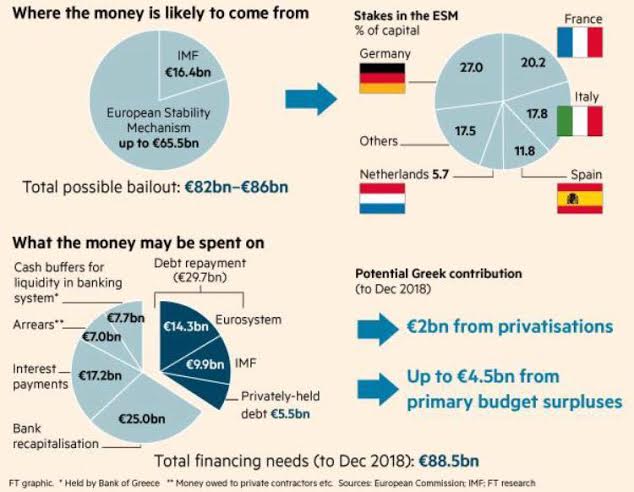 Yes, the entire bailout goes to the creditors.
However, big problems remain. The bailout package is still not funded with the IMF on the sidelines and Finland agreed to negotiations but no debt relief and no further liabilities, backing Germany.
In Greece itself, a Syriza spill is likely soon from the Washington Post:
Tsipras will ultimately have to decide whether to try to muddle along with a fractured government, reach out to his opponents to forge a broader coalition or resign and call new elections.

In the strongest signal yet that that last option is a real prospect, Greece's interior minister, Nikos Voutsis, predicted in a radio interview that a new vote could be held as early as September — just nine months after Syriza came to power.

Government spokesman Gabriel Sakellaridis played down expectations that new elections could come even sooner. While acknowledging a "notable breach" in party unity, he said Tsipras would not step down before he finalizes the bailout deal with creditors.

"The main priority of the prime minister and the government is to successfully conclude the agreement," he said.
I still don't know how this can stand with the Greek people but it would be curmudgeonly of me to not acknowledge that the bailout had a better day.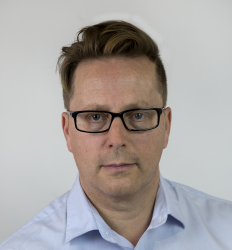 Latest posts by Houses and Holes
(see all)