Residex has released its house and unit price results for May, which revealed a 0.11% fall in house values over the month but a 0.16% rise in unit values. Over the year, house values rose by 5.72% nationally, with unit values up by 5.60%: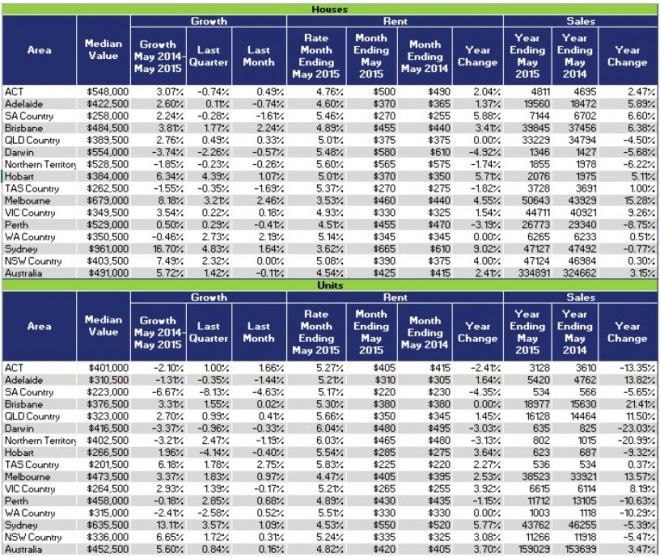 As shown above, Sydney continues to be the primary driver of house values nationally, with values in Sydney jumping another 1.64% in May, and by 16.70% over the year, bringing the median house value there to a whopping $961,000! Melbourne values, too, are rising strongly, with houses up 2.46% over the month and by 8.18% over the year.
Last month, Residex's (On-The-House's) new market analyst, Eliza Owen, described Sydney housing affordability as "a tad ridiculous". This month, Ms Owen has tackled the vexed question of whether Sydney housing represents a "bubble":
 

A bubble depends on so many factors. It really could be a yes or no answer. We don't really know what defines a bubble, however what we DO know can be seen in the current housing market.

The reasons I think 'yes', we are in a bubble situation, include:

1. Bubbles are characterised by low interest rates…

2. Bubbles are characterised by 'speculative investment'…

3. Bubbles are characterised by rapid growth…

At the same time, I could also answer 'no', we are not in a bubble situation, because:

1. I'm afraid of commitment.

2. Evidence from the past… The Sydney market has never really 'popped'…

The bubble could pop if the institutional conditions that affect demand are changed. These could include a crack-down on foreign investment, reform to negative gearing and capital gains, an increase in interest rates and/or a serious reform to lending rules for banks.

It could also pop if people decide the money they are paying is not worth the quality of life they are getting in Sydney. Sydney is becoming very dense, some of our transport options are at capacity, and what expansion is happening out west is further and further from employment opportunities and entertainment.
Seems like a fair assessment by Ms Owen, with the only real argument against a bubble being that there has never before been a "crash" in Sydney values.
For me, the below chart is the best indicator of why Sydney housing is a bubble: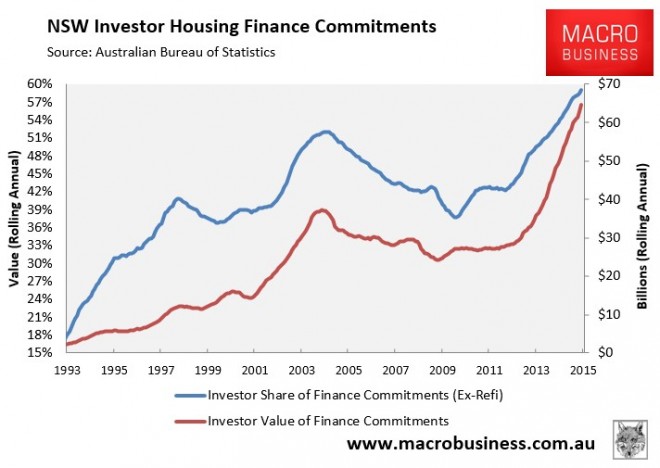 Sydney housing is in uncharted waters.