by Chris Becker
Is Westpac ringing a bell here for banking stocks a day before the RBA will most likely give the oligopoly another boost? The first half net profit of the country's second biggest mortgage holder was completely flat, unchanged at $3.6 billion as it reported this morning.
Just as flat analysis points to this as only because of some nasty losses in its derivative business a closer look at what matters – cash earnings (flat), return on equity (down 0.7% to 15.8%), net interest margin (only just above 2%) – shows the bank needs another kick from Martin Place stat!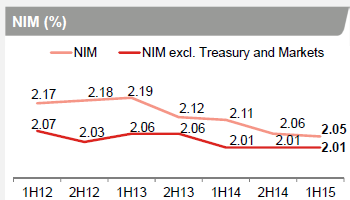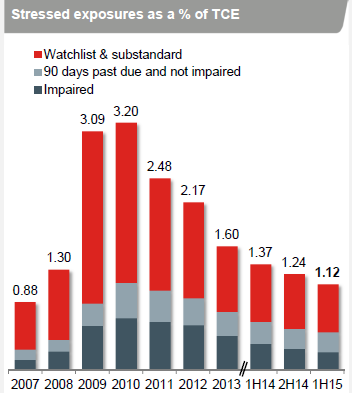 Bad debts continue to fall but its obvious this is slowing while NIM continues to drop along with the lower interest rate environment – how much more can this be sustained?
Interestingly, the "prudent" capital management at Westpac has slipped below the 9% Tier 1 capital ratio mark again, even as dividends rise although this time at a slower 1c per half rate instead of the previous 2c per half rate: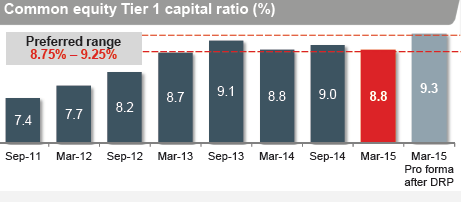 Furthermore, the bank has substantially increased its dividend reinvestment program through a discounted share issue. This should raise an additional $2 billion of capital that achieves two things: hopefully keeps the limp wristed gloves of APRA off its back and secondly to not spook the market in reducing dividends.
It's worth remembering that it two years ago today that the bank issued a special dividend and now it kind of needs it back. Recall that the last time that the bank issued such a gift was in 1988, three years before it was on its knees begging for capital from Kerry Packer.
The market has not liked the result at all, with WBC falling nearly 5% on the open dragging the rest of the financials with it, Commonwealth Bank (CBA) down 1.5% and the others down nearly 2% this morning.
I'm sure new CEO Brian Hartzer has his fingers crossed for tomorrow's RBA meeting.