With the release late yesterday of the WA Budget, we can say that Colin Barnett and his treasurer Dr Mike Nahan (let's call them Dr Nahnet for ease) have learned their lesson; that it's not a great idea to make fanciful iron ore price forecasts.  The new Budget slashes the outlook for the iron ore price: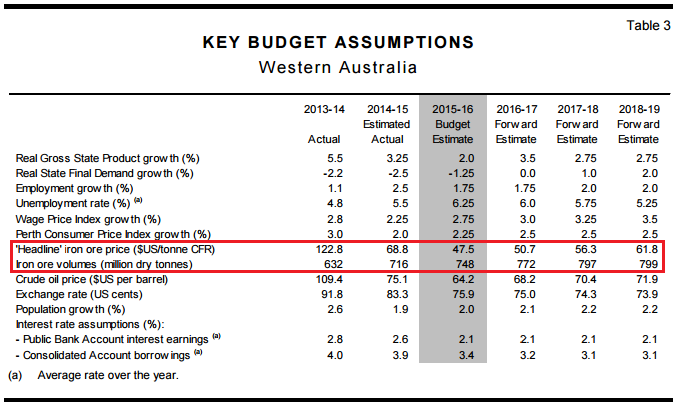 $47.50CFR is $8 lower per tonne than Joe Hockey. I'm not sure why they don't agree. It's still too high but at least it's plausible. The increases in price in later years will actually be decreases but we'll let that go.
The volumes are also interesting. There is roughly 150mt in new production coming from 2015/16 through 2018/19 but the Budget sees only 83mt being added for a total of 799mt. BREE by comparison sees a 2019 total of 935mt, over 100mt higher. According to the WA Treasury someone is going to be cutting volumes severely and not just juniors, and they haven't told Canberra about it.
Alas, that's where the good news and the lessons learned end. Rather than embrace genuine if positive forecasts across the board, Dr Nahnet has simply shifted its lunatic outlook to a different category. Here it is: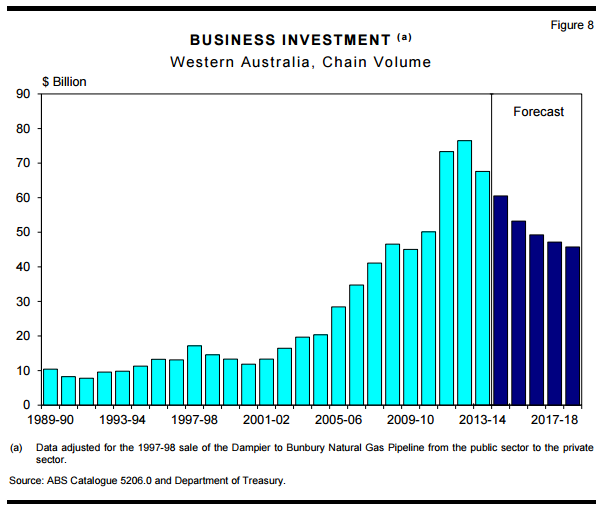 Yes, it's the capex cliff, or genteel slope as Dr Nahnet would have it. Somehow, by 2018 business investment is expected to remain at an astounding $45.7 billion. Gorgon, Wheatstone, Roy Hill, Sino Iron and all of the iron ore mines will be finished. RIO and BHP will still be costing out and the juniors all dead. But somehow and some way business investment is going to remain at outright boom levels in a permanently high plateau. The Budget itself explains it:
Falls in commodity prices (particularly iron ore and oil) have reduced the likelihood of existing planned (but yet to commence) projects proceeding in the short to medium-term and are limiting the probability of an emergence of any significant new resource investment projects.

Confidence in the business sector remains subdued, with companies (particularly in the resources sector) focusing on improving cost efficiency, maximising output from existing production, and reducing planned capital expenditure for existing projects. Non-resources investment is projected to remain relatively weak across the budget period, in line with projections for softer domestic economic activity.

A significant lift in the Perth CBD office vacancy rate is also expected to limit future growth in office construction across the metropolitan region.

Offsetting this to some extent, are a range of commercial projects in the investment pipeline, particularly in the retail sector, with a number of large shopping centre expansions and new developments planned over coming years.

Overall, business investment is expected to return to its long-run average share of GSP (around 16%) by 2018-19. This magnitude of decline is not unexpected after investment increased for 11 consecutive years (excluding a small 3.3% decline following the Global Financial Crisis (GFC) in 2009-10). This included nine years of double digit growth and one year (2011-12) when investment increased by 46.3%. Despite this downward trend, business investment in Western Australia is still expected to be $45.7 billion in 2018-19, around the same level recorded in 2009-10.
$45.7 billion dollars worth of shopping malls. They are going stretch from Kalgoorlie to Karratha.
Now, Dr Nahnet has steepened the capex cliff by $10 billion or so from last year but he is being seriously outpaced by the commodities bust. The absurdity of this forecast is made plain by quick reference to the BREE outlook for major projects across Australia: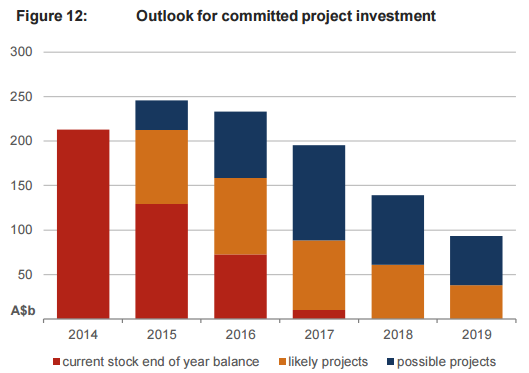 By 2018, there is zero committed projects. Likely projects for all of Australia is only $40 billion. Given the glut in everything, and the BREE penchant for the bright side, very few of these will happen either.
But, you say, Dr Nahnet's forecast will be met by "rebalancing" to services and the shopping malls.
Let's add a quick chart on the breakdown of the history of WA business investment to gauge that likelihood: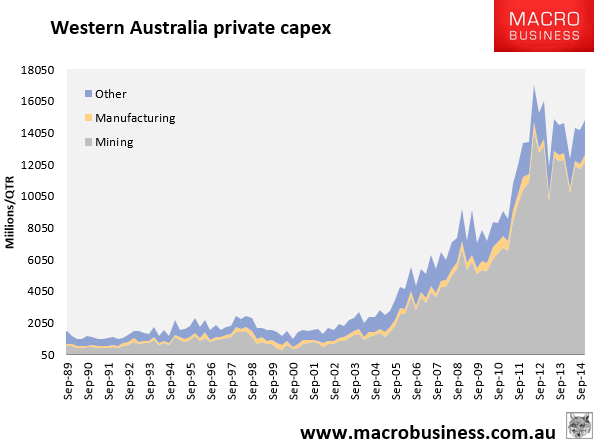 WA capex is it totally dominated by mining and energy. Always has been. There is no rebalancing coming.
So, if mining and energy are going to shrink back to 2003/5 levels by 2018 as MB expects, the forecast for total business investment should be in the vicinity of $20 billion or less. $25 billion if we're being exceedingly generous. $30 billion if we throw in a major project free of charge! Dr Nahnet's $45 billion is pure fantasy.
That brings us to  the general economic forecasts: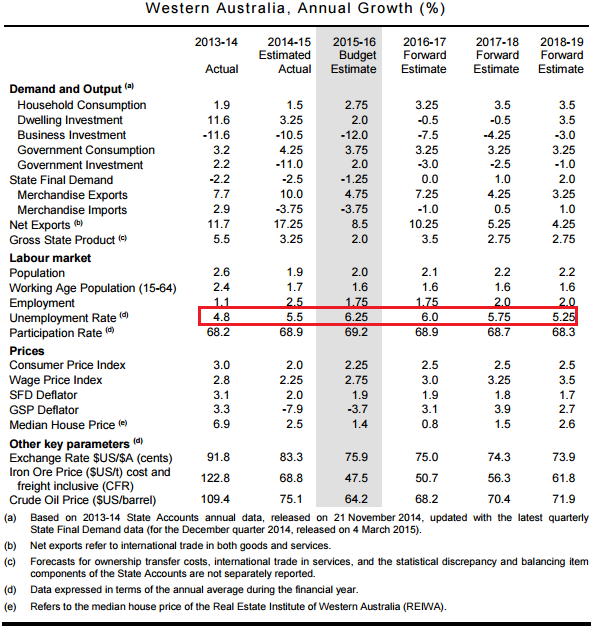 Notice unemployment. Business investment drives jobs and if we were to plug in the real numbers the unemployment rate would be much higher for years ahead with all sorts of feedback loops into budget revenue.
This Budget is another very amusing joke and the people of WA, as well as those of Australia, who will again be called upon to bail Dr Nahnet out, are the punch line.