by Chris Becker
The last cab off the rank in the banking oligopoly, National Australia Bank (NAB), which routinely has been the worst performer, has surprised the market this morning on two fronts.
First, it announced a $5.5 billion capital raising getting ahead of its peers in terms of shoring up a paper thin capital base. This is the biggest capital raising in corporate history, well ahead of RIO's $4 billion raising and suggests more are on the way for Megabank as a whole.
Secondly, unlike the ANZ and WBC who announced their half yearly reports and CBA with its out of sync quarterly, all of which were flat and unimpressive, NAB has seen its cash profit rise significantly – up 5.4% to $3.32 billion.
Here's the rest of the figures in a nutshell:
Cash EPS $1.36 up 3.7% on last year
Cash ROE (return on equity) 14.7%, down 0.4% on last half year
Net interest margin down 1 bps to industry low of 1.92%
Housing lending margin tightening again to only 1.33%
More on that 10% APRA level for investor mortgages, NAB reckons it'll have it hand by June (unless another rate cut comes along!)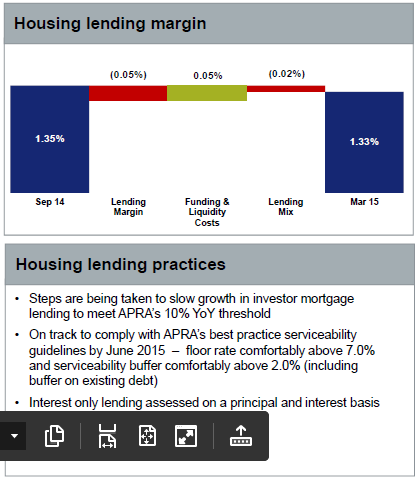 The bank also announced a demerger of its flailing UK division, which may or may not go through, but its another factor in its capital management drive.
We won't know the market reaction till Monday, as NAB shares are in a trading halt, but the dilution effect across the financials will be epic.
Latest posts by Chris Becker
(see all)