It seems Treasurer Joe Hockey was an unwilling participant in Tony Abbott's "strategic" captain's call not to touch Australia's wasteful and inequitable superannuation concessions.
Appearing on ABC's Q&A program last night, Treasurer Hockey refused to rule-out reforming superannuation in the future, admitting that the system would need to be addressed eventually in the interests of Budget sustainability. From The AFR:
Mr Hockey told the ABC's Q&A program that it was dangerous to say "never, ever" to anything in politics.
"These things come back to haunt you," he said.

Mr Hockey said due to the complex interaction of super with the age pension system, the whole system would need to be looked at one day in the cause of budget sustainability.

"I'm sorry, I don't subscribe to never-ever, I've seen that before,' he said.

"The thing is, it is so interwoven with the pension system now, it is interwoven with private health insurance and age care as well. So if you are going to change superannuation, I think you've got to have a very wholistic approach to it and look at all the moving parts.
"At some point, and now is not the time, and it won't be for a while, but at some point we have to look at the future of the entire retirement income system."
The Coalition is in a shambles. Here we have a Government that for the better part of 18 months argued for "ending the age of entitlement", but then threw good policy making out the window in the name of buying a few cheap grey votes, only to then find its stance on super concessions universally condemned by seniors groups, the superannuation industry, economists, and policy experts alike.
We also have a Prime Minister – who only hours before had confirmed to parliament that the Government would not touch super – being openly contradicted by his Treasurer on national television about the inevitable need for superannuation reform. You cannot make this stuff up.
Meanwhile, Australia's superannuation concessions continue to bleed the Budget dry, growing at around 10% per annum, most of which flows to high income earners (see next chart).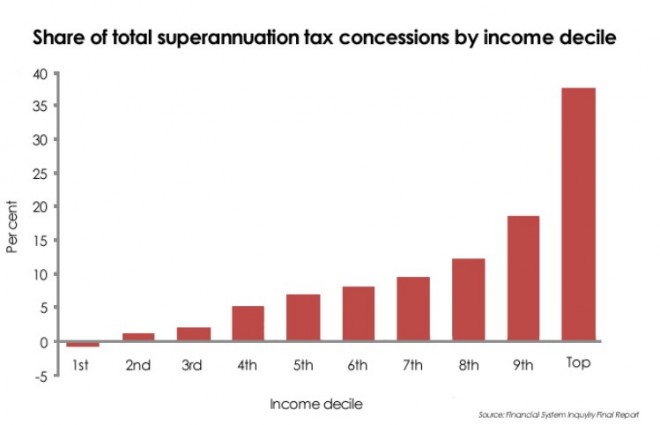 Peter Martin has spelled out the problem in no uncertain terms in The Age today:
The Murray financial system inquiry found that super tax breaks were not "well targeted to achieve provision of retirement incomes", which is another way of saying much of the money was wasted. The discussion paper released to set off the tax white paper process reached much the same conclusion, finding that despite the tens of billions of dollars offered annually in super tax concessions, the total effect of taxes on savings was "uncertain".

Treasury calculations prepared for this year's budget show the cost of the concession on employer contributions is set to climb from $16.3 billion to $20.15 billion by 2018-19. The cost of the concession on super fund earnings is set to climb from $13.4 billion to $30.4 billion. By way of reference, the cost of the age pension is set to climb from $41.6 billion to $50.4 billion, meaning that by then super tax concessions will cost as much as the age pension and will overtake it unless reigned in.

And the bulk of the concession goes to extraordinarily high earners, the type who would be saving anyway. The treasury believes the top 1 per cent of Australian earners, a mere 132,000 people, take home between them 9 per cent of Australia's super tax concessions.
You would be hard pressed to find a bigger policy stuff up than the Coalition's superannuation policy. Not just for the Budget and nation as a whole, but also the Coalition's economic/Budget credentials, which will be undermined as long as it remains in office.
Latest posts by Leith van Onselen (see all)