by Chris Becker
ANZ has followed Westpac this morning with its first half profit result which along with a positive Wall Street lead should drag the financials up this morning.
The headline and bottom line results look very firm:
first-half profit rose 3.4%
net profit of $3.51 billion (up from $3.39 billion)
cash profit up 4.6%, ahead of expectations
interim dividend of A$0.86 a share, up 3.6% on a year earlier
However, like Westpac there are some interesting developments, namely:
0.8% drop in return on equity (ROE) to sub-industry (sky high) standard of 14.7%
0.08% drop in net interest margin (NIM) to 2.04%
The first was due to FX translations (i.e the NZD) while the latter was due to loan pricing (i.e funding) – this trend is being repeated across the majors: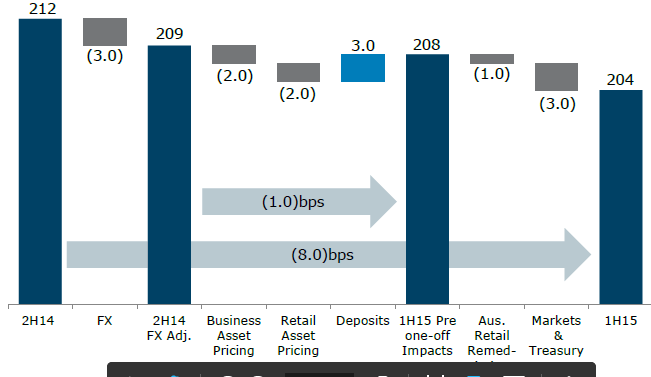 Although hard to find within the results, the 90 day delinquencies on home loans have seen a marked rise in the mining states of QLD and WA, even as bad debt provisions fall: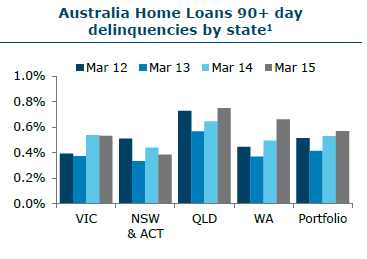 Some level comments from the chief, Mike Smith:
" ..cautioned the bank would be operating in a lower-growth environment for the foreseeable future, although low interest rates and the stimulus of lower oil prices and an appreciating U.S. dollar supported a relatively benign outlook for credit quality. "
Not sure where he gets the last two as they have reversed in recent months, but there it is. Like his counterpart at Westpac, I'm sure he's waiting for another round of cuts this afternoon from the RBA to ease funding and servicing pressures and keep the whole quango afloat.