The Australian Bureau of Statistics (ABS) has just released retail sales figures for the month of February, which registered a 0.7% seasonally-adjusted rise in sales over the month, beating economist's expectations of a 0.4% monthly rise. Annual sales growth clocked in at 4.3% and appear to have re-accelerated: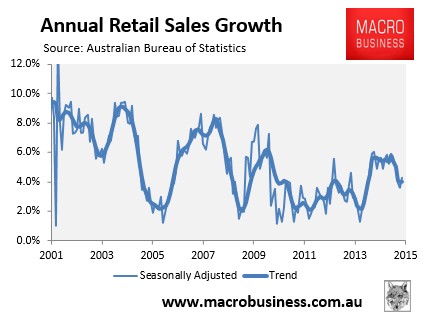 The below chart maps out seasonally-adjusted sales growth by segment on a monthly and annual basis: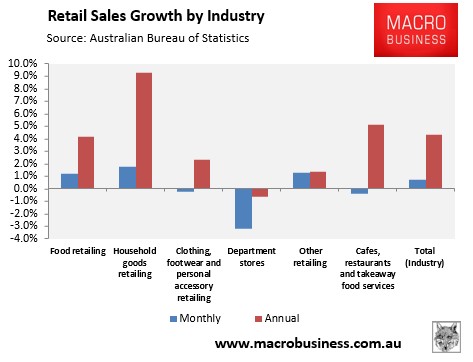 As you can see, this month's rise was led by household goods retailing (+1.8%), food retailing (+1.2%) and other (+1.3%), partly offset by falls in department stores sales (-3.2%), cafes, restaurants and takeaway food (-0.4%), and clothing, footwear and personal accessories (-0.2%).
On an annual basis, household goods retailing (+9.3%) clearly led the charge – no doubt assisted by the housing boom – followed by cafes, restaurants and takeaway food (+5.2%).
At the state and territory level, the Northern Territory (+2.3%), the ACT (+1.7%) and South Australia (+1.7%) experienced the strongest sales growth over February, whereas only Queensland (+0.2%) experienced weak growth.
Over the year, the main housing 'boom' state of New South Wales (+5.6%) lead the charge, with strong property price growth likely the primary driver, followed by South Australia (+5.2%), Tasmania (+4.7%), and Victoria (+4.5%) (see next chart).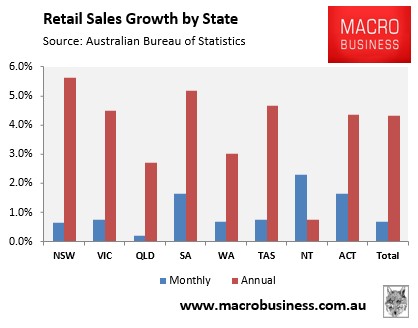 The next chart plots annual retail sales growth in trend terms, and shows sales growth leveling-out across both discretionary and non-discretionary retail, with department store sales also in recovery (see next chart).