New Zealand Prime Minister, John Key, has implored Kiwis to celebrate the New Zealand dollar's impending parity with the Australian dollar, which is expected to occur later today in the event that the Reserve Bank of Australia cuts the official cash rate to 2.0% (see below chart).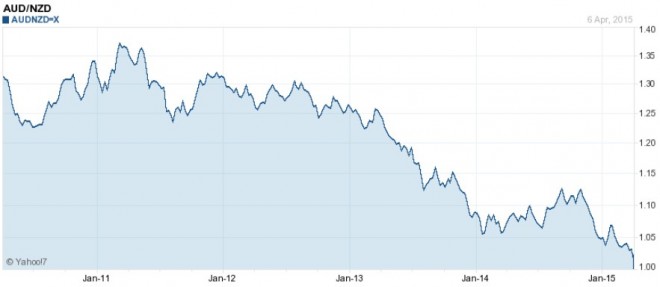 From Interest.co.nz:
Key told Paul Henry a parity party was a sign of New Zealand's economic success and he downplayed the impact on exporters. Australia is the largest export market for New Zealand manufacturing exporters.

"In a lot of ways, it's a point of celebration because it shows our economy is doing well," Key said.

"It's a double edged sword. For exporters, they also often have an imported component. I do think it's a sign of confidence in New Zealand"…
New Zealand First leader, Winston Peters, is less impressed, however, warning that the New Zealand dollar's appreciation is gutting tradable industries in the regions and diverting growth towards the big cities, particularly Auckland.
The Reserve Bank of New Zealand (RBNZ) has also been actively warning against the New Zealand dollar's rise, last month noting the following in its Statement on Monetary Policy:
On a trade-weighted basis, the New Zealand dollar remains unjustifiably high and unsustainable in terms of New Zealand's long-term economic fundamentals. A substantial downward correction in the real exchange rate is needed to put New Zealand's external accounts on a more sustainable footing.
In all honesty, Prime Minister Key's parity comments amount to nothing more than a pissing contest with Australia. He should be talking down the New Zealand Dollar, as the RBNZ has done, rather than egging on its rise, which risks gutting New Zealand's tradable industries, just like it did to Australia's.
Parity is no cause for celebration.