The Housing Industry Association (HIA) has released its land sales report for the December quarter of 2014, which revealed a widening divergence between vacant land prices, which continue to climb to record highs, and the number of land sales, which slumped again in the latest quarter and have fallen sharply over the past year (see next chart).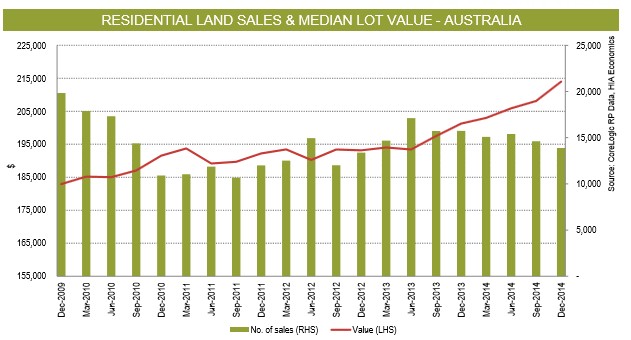 According to the HIA release:
The number of residential land sales fell by 11.8 per cent over the year to the December 2014 quarter… In contrast, the weighted median residential land value increased by 2.8 per cent in the December 2014 quarter to be up by 6.3 per cent over the year…

The increase in the weighted median value was driven primarily by Sydney, with significant growth also evident for Perth and Melbourne…

"There is insufficient shovel-ready land in some markets and this is placing undue upward pressure on residential land values. Construction of detached houses looks to be peaking for the cycle, but there is unrealised demand out there because of that lack of readily available and affordable land," said Harley Dale…

According to CoreLogic RP Data research director, Tim Lawless, the number of vacant residential land sales has been trending lower since mid-2013 and concurrently, median land prices have been rising to new record highs.

"The opposing trends are a clear sign that demand is outweighing supply which is pushing land prices higher. Higher land prices ultimately lead to less affordable homes – it is the high cost of vacant land which significantly contributes to the increasing cost of housing. Ideally we should be seeing more land brought to the market and sold during this period of low borrowing costs."
The land supply system in Australia is clearly busted. In a period of ultra cheap credit, rapid population growth, and strongly rising house prices, land sales should be increasing, not decreasing.
Sadly, Australia is fast becoming a nation where housing choice is limited to an expensive shoebox apartment, or an expensive tiny lot on the fringe.
How a country with such an immense land mass could engineer a land shortage is the hallmark of idiotic housing policy.