The Australian Bureau of Statistics (ABS) has released trade data for the month of February, with Australia recording a seasonally-adjusted trade deficit of $1,256 million. The result just beat analyst's expectations, who had expected a trade deficit of only $1.3 billion.
It was the eleventh monthly trade deficit in a row and followed the $1,003 million deficit recorded in January (revised up from $980 million) and the $644 million deficit recorded in December (revised up from $503 million).
The next chart shows the monthly breakdown: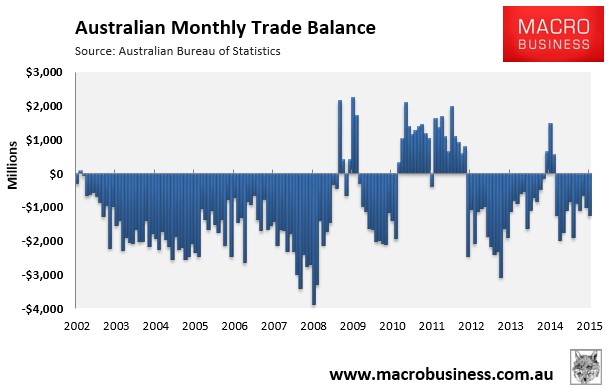 In seasonally adjusted terms, exports rose rose $282 million (1%) in February to $27,874 million, whereas imports rose $534 million (2%) to $29,129 million, driven by rising intermediate and other merchandise goods imports (up $284 million) and consumption goods rose (up $192 million).
Australia's biggest export commodity – iron ore (20.9% share) – fell by $13 million in February in raw terms to $4,373 million. Australia's second and third biggest export commodities – coal (14.6% share) and gas (7.5% share) – also fell by $279  million and $161 million respectively. By contrast, Australia's fourth biggest export commodity – gold (6.4% share) rose by $93 million over the month in raw terms (see next chart).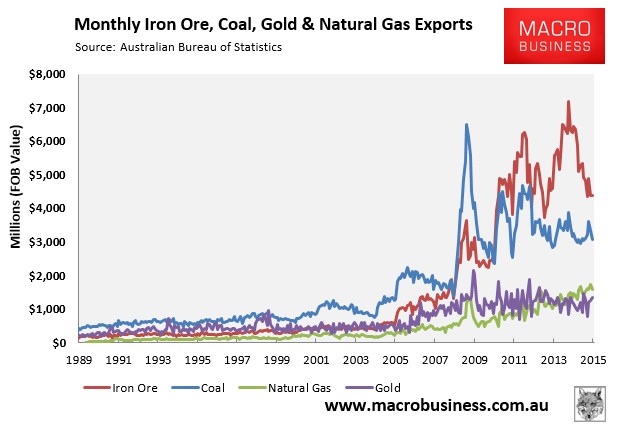 Merchandise exports to China – Australia's biggest market – rose by $100 million to $6,561 million in raw terms, with its share of total exports at 31.3%. By contrast, merchandise exports to our second, third and fourth biggest markets – Japan (17.0% share), Korea (6.7% share) and India (3.6% share) – fell by $191 million, $180 million and $5 million respectively (see next chart).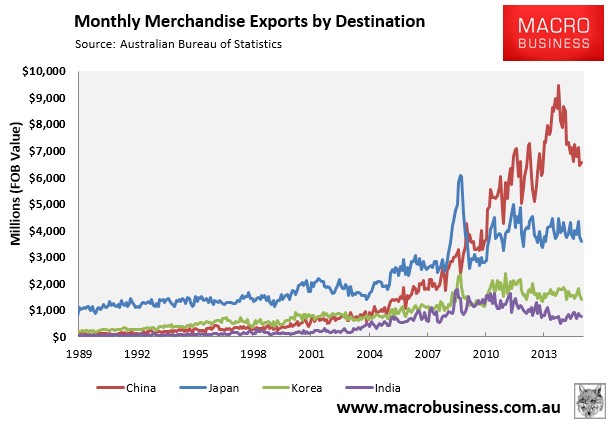 As always, Western Australia dominated the nation's merchandise exports. It alone accounted for a whopping 45% of Australia's merchandise exports in February, although the state's exports fell 2% to $9,343 million in raw terms (see below chart).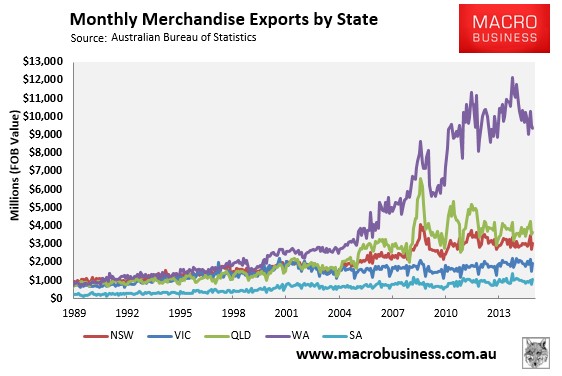 Similarly, Western Australia continues to be the state driving the nation's trade balance, although Queensland and South Australia are also paying their way. By contrast, the prime rent-seeking (banking & finance) states of Victoria and New South Wales remain heavily in deficit (see next chart).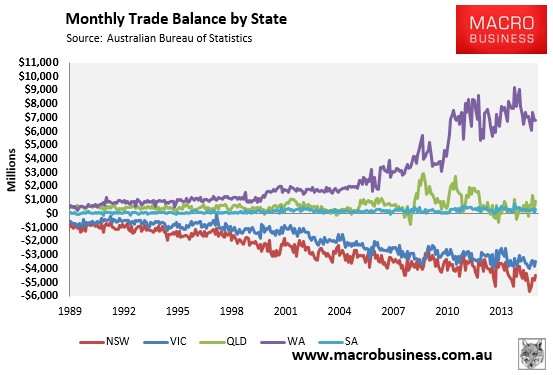 Australia's services trade balance worsened slightly in February (-$67 million in seasonally-adjusted terms), with net tourism exports falling by $37 million: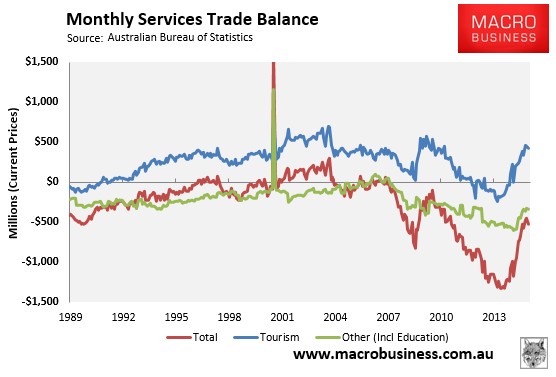 Nevertheless, the falling Australian dollar has worked wonders for Australian tourism, engineering a big recovery over the past two years: