The new commentator at Dad's Army, Miranda Maxwell, takes on macroprudential todayand gives it a panning:
New Zealand's experience with home loan limits is a cautionary tale.

There, loan-to-value ratio 'speed limits' were introduced in October 2013 and dictate that banks limit residential mortgage lending at a LVR greater than 80 per cent to no more than 10 per cent of the dollar value of their new housing lending flows.

While LVR limits may be effective in reducing the risk posed by bank lending to the wider economy, it is a mistake to think this is a way to tackle house-price inflation.

The intention is to reduce demand-side pressure on house prices, but evidence from the New Zealand housing market suggests the effect has been minimal. For curtailing runaway property prices, this is simply the wrong tool.
The RBNZ's macroprudential program has been highly successful since implementation in terms of both financial stability and containing house prices: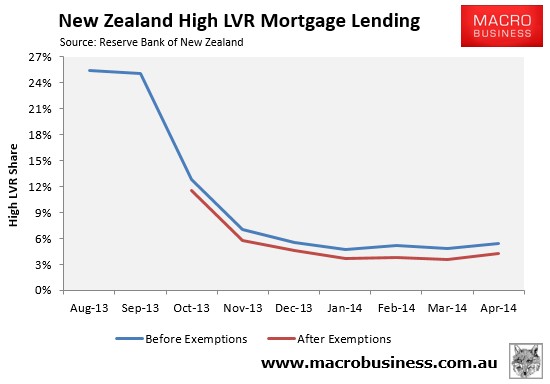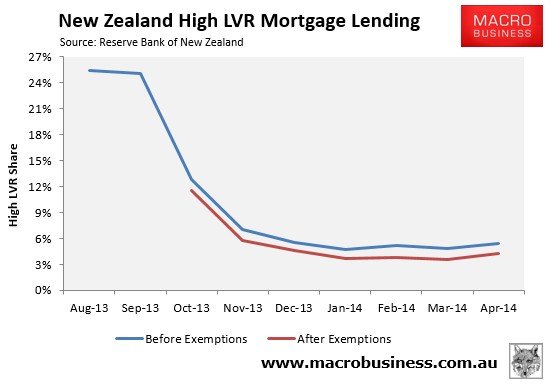 Moreover, according to figures released by Interest.co.nz, New Zealand's biggest banks "have sharply reduced their overall exposure to high-LVR lending":
The table below shows the amounts the banks had outstanding in high-LVR mortgages as of March and compares this with the figures as of December and September – immediately prior to October's introduction of the LVRs…

[There has been]…a substantial rebalancing of the banks' overall mortgage portfolios as fewer new high LVR mortgages are created and presumably many existing loans get re-categorised as low LVR loans following either a reduction in principal or an upward revaluation of the property.
House prices immediately began to slow with the rate of growth peaking in October 2013, the month after MP was launched, well before any rate hikes (which take 6 months to impact anyway, right?):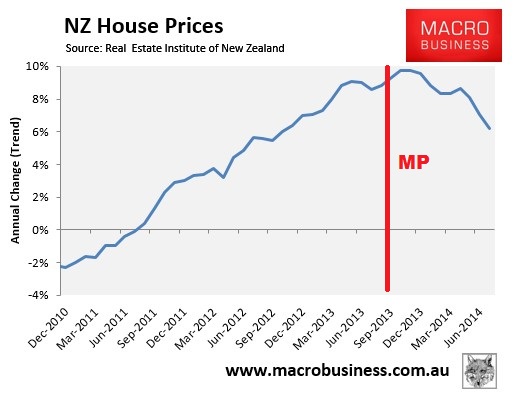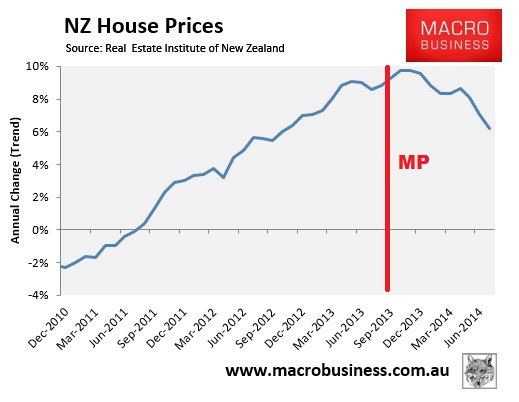 However, with income and immigration growth at historic highs, pressures on house prices have not gone away and prices have begun again to rebound. Hence the RBNZ is now moving to tighten MP further, with special attention paid to investors. MP has almost certainly worked to prevent more rate hikes and an even higher Kiwi dollar.
MP does not work forever but neither do rate hikes. Both policies need to be modulated along the way. That is not a sign of failure at all.