New secretary to the Australian Treasury, John Fraser, gave a speech on Friday to the Committee for Economic Development of Australia (CEDA) entitled "Australia's Economic Policy Challenges", which outlined some important observations about the economy and Budget, as well as priorities for economic reform.
First up, Fraser claimed that tighter banking regulations are constraining growth in the real economy – a view I strongly dispute:
[Australia's] economic growth has been below its long run average in 5 of the past 6 financial years, weighing on job creation and contributing to a gradual upward drift in unemployment.

Critically important for Australia's near term growth prospects is that we must now secure stronger growth in non-mining business investment as the resources investment boom fades.

Cheap credit, lower fuel prices and the depreciation of the exchange rate will assist, although weak demand is weighing on confidence and current investment plans.

This is reducing the preparedness of businesses to invest in future capacity and take on additional workers.

Treasury's forecasts are for the Australian economy to grow at a below-trend rate over the next two years, making significant inroads into unemployment difficult.

In my view, one factor not fully recognised as constraining growth — both in recent years and in the future — is the tighter regulatory requirements on major global and some national banks, as well as the more conservative risk appetites of global financial institutions.

During the 1990s and first half of the 2000s, the balance sheets of global financial institutions expanded at a rapid pace.

This was an important driver of the strong growth in real GDP and employment experienced by most major advanced economies prior to 2008.

But at the same time, it also drove a significant increase in private sector indebtedness and far greater risk in the financial sector.

This was unsustainable.

The tighter regulatory and capital rules introduced since the global financial crisis will lead to a more stable financial system over time but they have resulted in financial institutions becoming more circumspect.

This has made it more difficult for businesses to gain access to bank balance sheets, weighing on investment to the detriment of potential growth.
It's a bit rich to blame businesses' lack of access to bank balance sheets on "tighter regulatory and capital rules introduced since the global financial crisis". The bias away from business lending is hardly a recent phenomenon (see next chart) and if anything is due to the Basel bank capital rules, first introduced in 1988, which dramatically reduced the risk-weighting of mortgage lending relative to business lending, along with Australia's peculiar tax system (e.g. negative gearing and CGT concessions), which has channeled capital into mortgages (houses).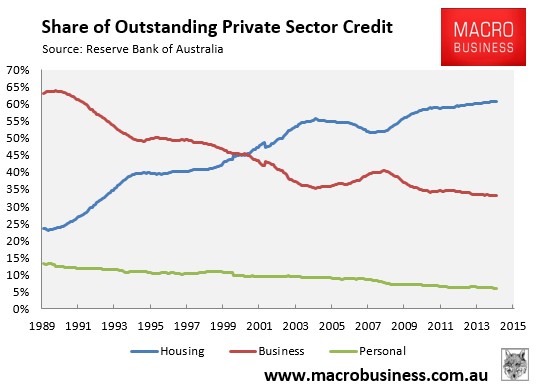 Fraser then turned his sights to the Budget, where he lambasted both sides of Government for contributing to the structural deficit, while imploring reforms that better target expenditure to those in genuine need – a worthy objective:
An immediate priority is to repair the fiscal position.

Since 2007-08, the Australian Government's fiscal position has deteriorated from surpluses in the order of 1½ per cent of GDP to deficits in the order of 3 per cent of GDP.

Commonwealth Government net debt has increased from negative 3.8 per cent of GDP to positive 12.8 per cent of GDP in 2013-14 and continues to rise…

Importantly, this debt is currently being serviced with interest rates at a little under 3 per cent.

The debt burden is growing with each budget deficit and will grow even faster when interest rates rise.

… the Government received positive revenue surprises at successive budget updates from around 2002-03 to 2007-08, primarily due to the terms of trade persistently exceeding Treasury's forecasts.

… these positive revenue surprises were largely handed back through personal income tax cuts or spent.

In real terms, Commonwealth Government spending grew at an average annual rate of around 3½ per cent between the start of the terms of trade boom in 2003-04 and the start of the global financial crisis in 2007-08, while taxes fell as a share of GDP.

… a very substantial amount was spent, including on untargeted transfers (so called middle class welfare) without sufficient regard to the future prospects for servicing those ongoing transfers.

Generous income testing arrangements for Family Tax Benefits in the early 2000s and access to million dollar contributions to tax-preferred superannuation through 2006-07 were notable examples of middle or higher income welfare that contributed to the problem.

It is my strong belief that as a society we have a moral obligation to assist the worst off, including the disabled and those who are not in a position to provide a basic standard of living for themselves and their families.

The tax and welfare systems are a means of doing this but we must ensure that fiscal transfers are well-targeted…

The reality is that Australia has spent its way to a structural budget problem. Government payments are growing faster than government revenues and without action, this trend will continue…

But seven years after the start of the crisis, our fiscal buffers have been eroded and we need to undertake fiscal repair…
Next up, Fraser discussed the three long-term drivers of the Australian economy: population, participation, and productivity (affectionately known in the Treasury as the "three P's").
Fraser was luke warm on Australia's population ponzi (my emphasis):
In recent years, Australia's population growth has been amongst the fastest in the developed world, driven by migration.

A growing population can be a source of dynamism for the economy.

It provides a larger domestic market for business, increases the size of the labour force and facilitates the injection of new ideas.

But it also places additional demands on government budgets in areas such as infrastructure, health and education.

I have seen this firsthand in the United Kingdom where the results are very sobering.

The population projections in the IGR will provide a basis on which governments can plan for the future.
Next participation:
Over the next 40 years, Australia's population will continue to age as the baby boomer generation grows older and this will place downward pressure on workforce participation.

This is because, while the labour force participation rates of older workers are rising — reflecting both advances in health and the less physically demanding nature of new jobs being created in the economy today — participation in the workforce still tends to decline as people approach retirement.

This means that, as the population ages, declining workforce participation will be a drag on Australia's economic growth.

It also means that there will be a greater burden on a smaller proportion of working individuals to raise the revenue to support government services.

This highlights the importance of policies that aim to increase labour force participation, where the focus should be on embracing the potential of older Australians and encouraging the participation of younger Australians, particularly women.
And productivity:
Indeed, just as productivity was the main driver of growth in per capita income over the past 40 years, our success in raising Australia's productivity performance will largely determine Australia's growth and prosperity over the next 40 years.

For Australia's per capita national income to grow at the historical average of 2.2 per cent per annum over the next decade, annual labour productivity growth would need to increase to around 2.7 per cent to counteract the effects of population ageing and a falling terms of trade.

This is well in excess of what has been achieved in the past 50 years — and almost double what was achieved in the past decade.
In my view, productivity – i.e. increasing output from a given level of inputs – is the only genuine driver of improved living standards.
Increasing population (immigration) increases the economic pie (more inputs equals more outputs), but does not improve everyone's share of that pie. It can also create other costs, such as greater congestion, infrastructure bottlenecks, and resource-base dilution.
Similarly, raising participation only increases the economic pie via working harder (i.e. more inputs), rather than through doing things more efficiently (i.e. working less for the same output).
Fraser then turned to structural reform priorities:
Boosting productivity will require improvements across all markets – input markets such as the labour market, financial markets, and infrastructure markets as well as final goods and services markets. Failure to undertake necessary reforms in related markets will mean that the potential benefits of reform in any single market are not realised. The Government has commissioned a number of policy reviews that will recommend ways to enhance Australia's economic prosperity. Making the most of these reform opportunities is essential, where three areas stand out as priorities for raising Australia's productivity performance.

The first is tax reform.

Studies have consistently shown that tax reform offers one of the largest policy opportunities to increase incomes and living standards. And the fact is that the structure of our tax system today looks remarkably like it did back in the 1950s — but our economy looks very different. That may tell us something. Tax reform can promote strong investment and encourage workforce participation. Our company tax rate is high by international standards. In the context of far more mobile capital, high tax rates are dampening investment and productivity, while continuing personal income tax bracket creep would have negative impacts on workforce participation and incentives. An important criterion for a well-functioning tax system is fairness, where there are some contentious and important issues that need to be explored. For example, substantial tax assistance is provided to superannuation savings. We need to consider whether the level and distribution of these concessions remains appropriate. These are the types of issues that will be considered in the upcoming Tax White Paper.

A second priority is continuing to modernise the workplace relations system.

Workplace regulation has been progressively and substantially reformed in recent decades. Many of the fundamental reforms were undertaken in the 1980s and 1990s, in particular the shift from centralised wage fixing to enterprise bargaining. These reforms have delivered substantial benefits. But elements of our workplace relations system may need to change to fit the workplaces of our future. The Productivity Commission's Inquiry into the Workplace Relations Framework to be delivered later this year will be an important opportunity to create a modern system that will support jobs, promote productivity and lift living standards. A more flexible workplace relations system that supports the economy will help Australia respond to the challenge of lifting productivity growth. The rise of Asia, the ageing of the population and the transition away from resource-led growth will require significant adjustment. It is especially important that workplace laws are not impeding workplace transformation.

A third priority area for structural reform is driving greater competition in goods and services markets.

Previous product market reforms, and those associated with the Hilmer review in the 1990s, pushed competition into non-tradable sectors like electricity, telecommunications and rail freight. These were important changes, contributing to a GDP increase of around 2½ percentage points over the course of that decade. The proposals in Ian Harper's draft report released in late 2014 provide the opportunity to boost Australia's productivity performance. The final report will be released in March. Ian Harper proposes that we apply competition law and a new set of competition principles to all purchasing activities of government such as health, education and aged care. Even small improvements here, where government has a large footprint and where Australia's population will impose greater demands on health and aged care, can deliver big benefits over time. The importance of strengthening competition was also a theme of the Financial System Inquiry. The Inquiry concludes that competition and competitive markets are at the heart of the philosophy of the financial system and the primary means of supporting the system's efficiency. We must ensure that our banking and financial system more generally are more competitive. The Inquiry also recognised that, as the financial system becomes increasingly sophisticated and innovative, the importance of receiving appropriate financial advice and access to appropriate and competitively priced products has increased.

These are challenging issues and will require the Commonwealth and the State governments to work together.
Hard to disagree with any of this. Fraser's comments around superannuation concessions are particularly encouraging, and will hopefully facilitate reform in this area. It will be hard for the Government to ignore super while its chief economic policy adviser highlights the wastefulness and inequities in the system.
Overall, a good first up speech from Fraser, notwithstanding his misguided view about the banking system's primary role in the Australian economy, which has been to pump housing rather than support the productive economy.