By Chris Becker
The US dollar is pushing down risk markets around the world, nearing a 12 year high, as anticipation mounts of the Fed rising rates later this year as the ECBQE program gains pace. The Euro continues to get smashed, US stocks nearly 2% down, oil down by over 3% and the undollar gold only losing half a percent or so.
Great time for a holiday!
To recap Asia's moves in yesterday's session, the Chinese CPI/PPI print pushed all the local bourses down half a percent or so, save the ASX200 which finished with a scratch result. The futures have set the Nikkei up for a possible reversal (with a short swing in play already) here as the bearish sentiment mounts:
SPI Futures are off 1% from overnight with that high risk-reward short position playing out nicely with more falls possible from this well-overbought (ok, delusional) high:
The Eurostoxx index was off 1.2% with broad losses although the FTSE fared the worst, down 2.5% as it falls over the cliff following its one-day bearish reversal pattern, gapping down significantly below support:
The DAX seems to be brushing all this aside, its daily chart resembling that of the US Dollar Index – i.e a straight ruler, although it lost 0.7% last night.
The S&P500 lost 1.7% in a volatile session, breaking through support at 2065 points and on target to reach 1970 points or so in this correction phase before the buy-the-dip crowd re-enters:
The US Dollar is powering ahead to new highs, up 1.3% last night according to the DXY, with the weekly chart looking quite ebullient: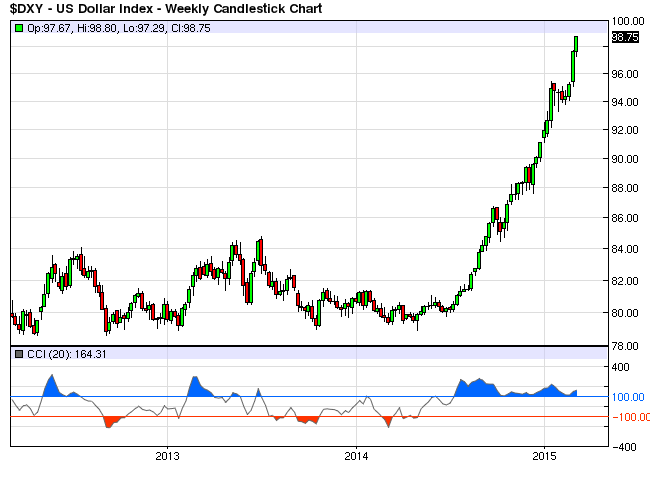 The major damage is in Euro, now down over 600 pips from its one-day break of support in late Feb, seeing the 1.06 handle against the USD (and an eight year low against the Pound – not good for UK trade) overnight.
Parity is the target here as I've been saying all along – and possibly lower. The only country really enjoying this move is Germany of course, which is why the DAX is so elevated. The ECB is repeating history – great for us speculators, but too bad for the actual underlying economy….
Cable (GBPUSD) had a volatile night moving down and around 60 pips to finish at 1.5040 but still consolidating at these levels on the dailies with no reversal or breakout just yet.
Yen strengthened overnight as the hugely overbought USDJPY pair failed to breakout above the 122 handle but has very strong support at the 120.90 level and we'll likely see another push above soon:

The bears came back with the Aussie dollar last night with the sick looking daily chart seemingly at death's door here as the bottom pickers will try to save face as we almost see the 75 handle:

Its currently at 76.40 with support at the 76 handle and a bounce underway in early Asian trade, but this is swing trading only, as there remains daylight below to 70 cents or even lower for the Pacific Peso.
The commodities complex was in alignment last night with crude oil falling swiftly on USD strength, the Brent marker off nearly 4% to be below $57USD per barrel while WTI was off 2% and looking like it has cracked on the daily chart:
Momentum is now negative and the daily trend pointing down for crude with a re-visit of the low at $43.50USD per barrel quite possible.
Gold had a pretty wild 24 hours with dips and rally through the London and NY sessions, falling just over $1USD per ounce over the whole cycle, but the daily downtrend remains well intact:

Although it has now moved into oversold territory, with support at $1140USD per ounce close at hand, any reversal in USD will see gold shoot up fairly quickly again.
Data again is focused on the Asian session with Westpac consumer confidence this morning, followed by January aggregate finance figures for Australia, then Chinese FAI/retail sales/industrial production prints at lunchtime. Watch the AUDUSD on those ones! In Europe its basically just some talkie talkie by Draghi and some other ECB mandarins, then US gasoline inventories before the RBNZ meets for an interest rate decision in the wee hours of Thursday morning.
PS: I'm having my first decent holiday in over a year, so todays' Macro Morning will be the last for 2 or so weeks. It looks like my 100% "win" rate for epic market volatility while I'm on holidays/hiatus is holding true – I really do pick em!