The Labor party's denial around the Aged Pension beggars belief.
Here were have a measure that currently takes up over a tenth of the Commonwealth budget (excluding civil servants) and costs around $40 billion currently or some 2.9% of GDP. The Aged Pension is also forecast in the Intergenerational report to grow to around 3.8% of GDP by 2055 without measures to curb its growth.
At the same time, the proportion of workers is projected to dramatically shrink (see next chart), meaning the burden on younger working Australians from rising pension costs will rise inexorably.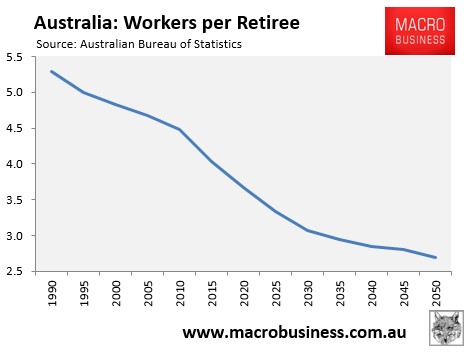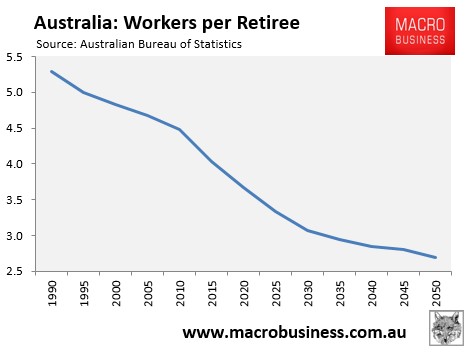 And yet despite these inalienable truths, the Labor Party is acting as if the Aged Pension in its current form is totally sustainable and equitable:
"The pension is sustainable," the opposition families spokeswoman [Jenny Macklin] told interviewer Marius Benson. "If you compare the amount that Australia spends on the age pension relative to similar countries overseas, we spend a very low amount. It's heavily targeted to those who need it most."
Sure. Australia spends less on the Aged Pension than the OECD average, but this doesn't mean that it is targeted nearly as well as it should be. It is still far too easy for wealthy older Australians to receive taxpayer assistance, as was revealed in this month's Intergenerational Report:
A pensioner can continue to receive some payment and the Pensioner Concession Card with assets (excluding their primary residence) up to $771,750 for single homeowners and $1,145,500 combined for couple homeowners. A single person who does not own a home can have assets up to $918,250 and a couple up to $1,292,000 combined and still receive a part pension. A single pensioner can also earn up to $1,868.60 per fortnight (approximately $48,580 per annum) in income and continue to receive a part pension, while a couple can earn up to $2,860 per fortnight combined (approximately $74,360 per annum).

For example:
• Kathleen and Steve are 68, own their home and have $1.1 million in superannuation, shares and bank accounts. They have no other income. They will receive a part-rate pension.
• Liam is 75 is single and has superannuation, an investment property and shares valued at $910,000. He does not own a home and has no other income. He also receives a part-rate pension.
• Lillian is 85, single and lives in her own home worth $1.5 million. She has bank accounts valued at $50,000 but has no other income. Lillian receives a full-rate pension.
What is worse, Labor's opposition to pension reform will only make it more difficult to tighten arrangements down the track, given the bulging number of oldies – a point acknowledged today by The Australian's David Crowe:
As the population ages and "grey power" gets more powerful, it will be a brave government that tells older Australians their pension and super arrangements are too generous. That makes earlier action less painful than a delay…

Both sides of politics are wrestling with this issue but only one [Labor] is denying the problem…

Labor is at odds with independent experts when it claims the pension system is sustainable. Grattan Institute chief John Daley says the family home should be included in the assets test. Deloitte Access Economics director Chris Richardson also believes the pension needs action and eligibility is the priority.

The Parliamentary Budget Office notes spending on the pension has outpaced the growth of the economy and the growth of government spending over time.

The easiest way to dodge the problem is to turn it into a bigger one. That is the tactic used so often by Labor, and others, when taking a question about pensions…
Labor (and the Greens) seem to think that it is okay for younger Australians ("generation rent") to be called on to support their wealthier parents ("generation home owner") via never-ending tax increases and growing public debt, rather than tightening eligibility to the Aged Pension, so that only those in genuine need receive it.
It's a diabolical situation that will need to be resolved sooner or later, one way or another. Better to start now before the Grey Army gets even more powerful.