The Brent oil price took off last night as the Middle East launches a war on Yemen. As I write the price is up 4.5% at $59.06.
The war will very likely be brief and is not a major strategic threat in the region. Here are some links: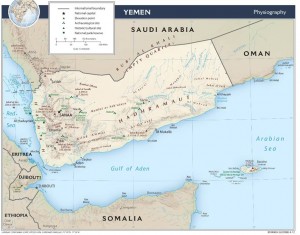 Yemen LNG is so far unaffected:
Exports from Yemen's only LNG export facility are running as normal, a spokeswoman from French oil giant Total said.

Following unrests in the country Yemen LNG facility in Balhaf declared force majeure on exports of liquefied natural gas stopping operations on January 18. The force majeure was lifted later in the month.

The Yemen LNG project, operated by France's Total, consists of two liquefaction trains with a total capacity of 6.7 Mtpa. It has three long-term contracts to supply LNG to GDF Suez, Kogas and Total Gas & Power.
That's looking shaky.