From CommSec this afternoon comes the following statements on Australia's population (immigration) numbers, released by the ABS:
Population growth is healthy although in recent quarter it has eased – largely due to a slowdown in migration. Importantly population growth is still amongst the fastest across the OECD nations and as such more people coming to Australia means greater demand for houses, cars and retail items. Clearly faster population growth is good news for builders and retailers.

Some people aren't convinced that faster population growth is a good thing. It is all about striking the right balance. If we need more workers and we can't get them locally, it makes sense that we bring them in from abroad. It is vital that supply and demand for workers is brought into balance.

An ongoing lift in migration is also positive from a longer-run point of view in that it flattens out the ageing profile. We will need more in the way of younger people over time to support the growing ranks of pensioners.
So, high population (immigration) growth is unambiguously positive and CommSec can see few downsides?
Where's the mention of the strain on Australia's already deficient infrastructure stock, nor the costly infrastructure investments that will be required in a futile bid support the rapidly growing population?
Where's the acknowledgement that rapid immigration can actually lower productivity by diverting investment away from productive areas (see this morning's post), let alone through the costs of congestion?
Where's the concern that younger Australians are being made to live in smaller and more expensive housing, often further away from the CBD, as more people flood into our major capital cities?
And where's the admission that more people means less resources per capita, and a growing population means that Australia must deplete our mineral resources faster, just to maintain a constant standard of living?
As to CommSec's claim that "it is vital that supply and demand for workers is brought into balance", I agree. But given that unemployment is at a 12-year high and trending up: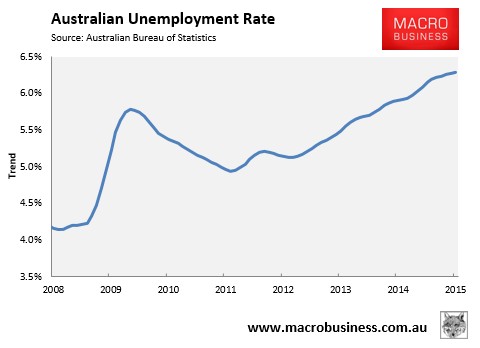 And underemployment is at a record high and rising: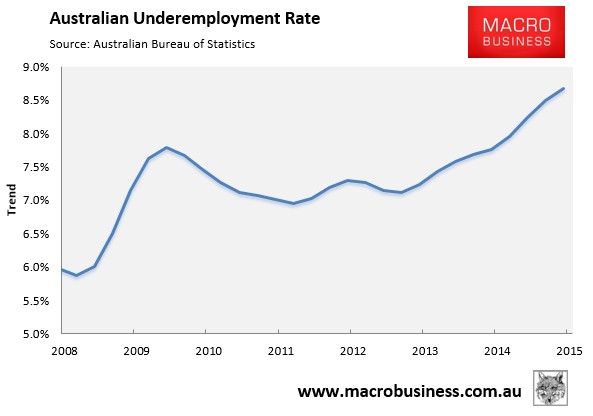 Surely by CommSec's own admission, the immigration intake should be lowered to bring the supply and demand for workers back into balance?
Then there's CommSec's claim that immigration is required to offset the costs of an ageing population. The Productivity Commission disagrees, finding that immigration's effect on Australia's age structure is only modest and temporary:
…several studies, including some undertaken by the Commission, indicate that policy-induced changes to Australia's population are unlikely to significantly affect the ageing trends.

Improvements in longevity are the major cause of population ageing over the long run. In recent projections, Commission researchers estimated that an increase in the long-run total fertility rate from 1.85 to 2.10 births per woman — even if it could be achieved — would be associated with only a 1.1 percentage point reduction in the proportion of people aged over 65 by 2051.

Similarly, substantial increases in the level of net overseas migration would have only modest effects on population ageing and the impacts would be temporary, since immigrants themselves age. The Commission has estimated that an increase in annual net migration from 150 000 to 300 000 would lower the proportion of those aged 65 or over by less than 3 percentage points by 2044-45. As an illustration of the challenge, the Commission showed that delaying an increase in the dependency ratio by 40 years would require a net migration-to-population ratio of 3 per cent per year, leading to a population of around 85 million by 2044-45.

It follows that, rather than seeking to mitigate the ageing of the population, policy should seek to influence the potential economic and other impacts.
What will be CommSec's solution in 30 years time when the current batch of migrants grow old and require taxpayer support: an even larger immigration intake to once again offset population ageing and an even bigger Australia (100 million here we come!)?
As I said this morning, if all Australia is doing is growing for growth's sake, pushing up against infrastructure bottlenecks, diluting our fixed endowment of minerals resources, and failing to raise the living standards of the existing population, what's the point?