The Australian Prudential Regulatory Authority (APRA) has released its monthly banking statistics that allow us to examine in detail which banks are driving the investor mortgage bubble and, more to the point, which must also be reined for doing so.
The statistics show unsurprisingly that in volume terms it is the big four banks that are dominant: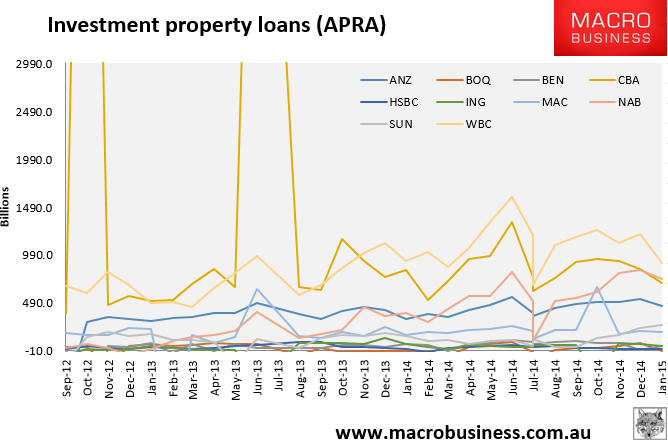 For the past eighteen months, the two Sydney banks, CBA (the big spikes for which appear to be bulk re-categorisations of loans as "investor") and WBC have driven surge. However, more recently both have been slowing with CBA now pushing out less volume than NAB. NAB has been accelerating its investor lending since Andrew Thornton was announced as CEO.  ANZ  has also been playing catch-up. Of the mid-tier banks, SUN has gotten very aggressive recently.
In terms of the all-important year-on-year growth rates, there is one outstanding bank: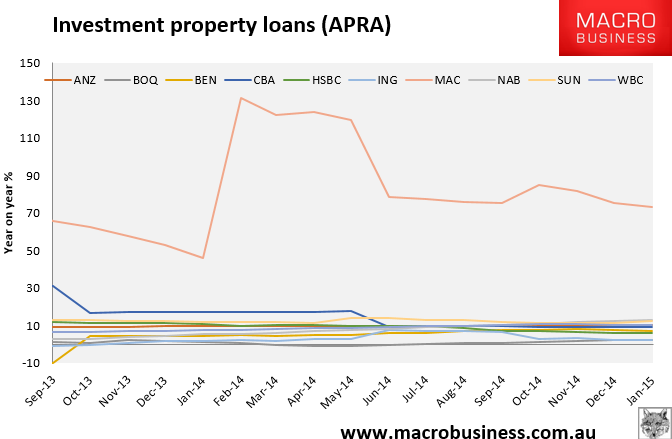 Macquarie Bank grew its investor loan book by 73.1% in the year to January. Here are the others with MAC removed: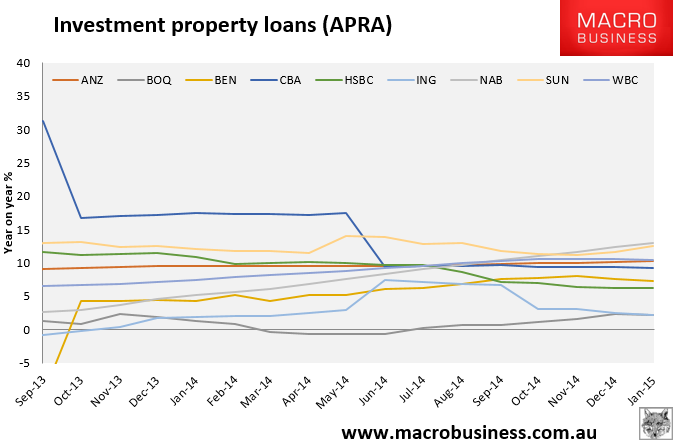 In descending order, NAB is growing at 13%, SUN is at 12.5%, WBC is at 10.4%, ANZ is at 10.3%, CBA is at 9.2%, HSBC is at 6.2%, ING is at 2.3% and BOQ is at 2.2%.
Three of the four major banks are growing at rates above APRA's 10% line in the sand, one aggressively. Two mid tier banks are growing well above the line, one outrageously.
Get off your butt, APRA.