Former department deputy secretary Mike Callaghan…said if the government took that path – effectively signalling to the world that it is not doing enough fiscal repair – there would be a "crash down the road" involving a credit downgrade that drives up the cost of managing Australia's debt burden.

"That will be quite a nasty shock," Mr Callaghan said. "That would bring a bigger crisis than the downgrade in the US – they don't rely on borrowing from the rest of the world."

…Former Treasury secretary John Stone said the government has no option but to continue pushing for the measures put up in last year's budget.

Another former official said…"I'm at a loss as to why they don't explain to people; 'this is the structural story and this is the cyclical part over which we don't have any control. We'll cope with it best we can, but we're not going to reverse it straight away'," he said.
That's it in black and white, though I don't think even these chaps quite understand how difficult are our circumstances. Budget repair can only work to ward off a future crisis if it is done in a way that also boosts growth and income prospects, which means clever cuts, smarter spending, and an outright push for productivity gains.
Ham-fisted austerity of the kind pursued by Joe Hockey will only lower growth and income and filter back as a lower tax take, pushing the economy and budget into a self-defeating feedback loop.
And we have very little headroom for mistakes. The first trigger for the crisis is only a hop, skip and a jump away at S&P's declared AAA ceiling of 30% general government debt to GDP ratio: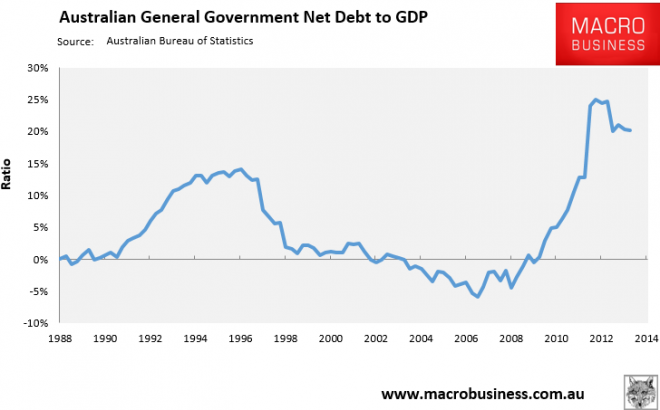 Any global shock will see that ceiling breached very quickly.
Of all of the pyroclastic flows rolling of The Abbottalypse right now, this is the one that will do the most long term harm.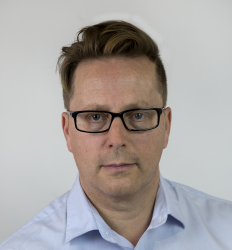 Latest posts by Houses and Holes
(see all)