The Housing Industry Association (HIA) and RP Data have released their latest Residential Land Report, which reveals that median vacant lot price across Australia hit a record $212,727 as at September 2014 after rising by 3.3% over the quarter. At the same time, turnover in the national land market declined by 16.7% over the quarter (see next chart).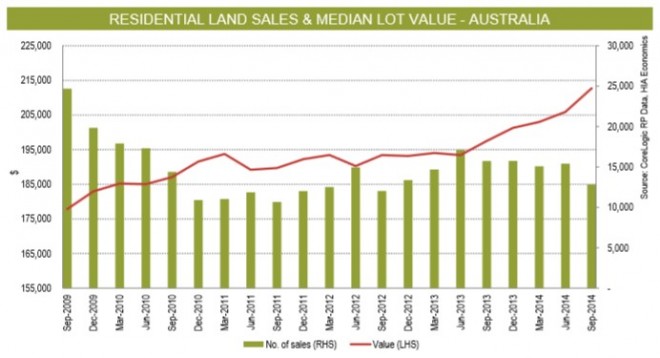 Capital city lot prices rose by 4.7% in the quarter to be up by 10.0% compared to the September 2013 quarter. By comparison, land prices in Regional Australia rose by 0.7% over the quarter to be up 3.5% over the year.
According to the HIA's Shane Garret, the vacant market is showing "the classic hallmarks of a market which is fast running into supply problems":
"There are clearly pressures building in terms of new residential land supply"…

"It is important that land supply policy across Australia is consistent with the goal of housing affordability. The process of delivering new land supply and the requisite infrastructure for new housing is currently too slow and too expensive. It appears that shovel-ready residential land is starting to dry up against the backdrop of record new home building activity. Policymakers have to intervene in order to allow for Australia's long term housing needs to be met"…
RP Data research director, Tim Lawless, also noted that the fall in land sales is a bad omen for the RBA's plan for housing to fill the void as the mining investment boom subsides:
"Dwelling commencements are currently at a record high and the Reserve Bank has previously highlighted that their hope is to extend this current period of heightened construction over a number of years. Given that land sales have been trending lower since the June 2013 quarter, it does not bode well for this period of heightened construction to come to fruition"…

"The vacant land which is being sold is selling for an increasingly expensive price, remember that it is the high cost of vacant land which significantly contributes to the increasing cost of housing. Ideally we should be seeing more land bought to the market and sold during this period of low borrowing costs. This would help to curtail the increases in the cost of this vacant land"…
Hard to disagree. Australia is fast becoming a nation where housing choice is limited to an expensive shoebox apartment, or an expensive tiny lot on the fringe.
How a country with such an immense land mass could engineer a land shortage is the hallmark of idiotic housing policy.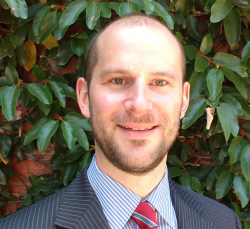 Latest posts by Unconventional Economist
(see all)