As shown above, falls were recorded in all capitals cities, with the biggest declines in the big population centres of Melbourne, Brisbane, Canberra and Sydney, as workers and students sought accommodation after the summer break.
Over the year to January, Hobart recorded the biggest yearly decline in its vacancy rate, down to 1.3% from 1.6% at the same time last year. Modest falls were also recorded in Melbourne and Canberra (both down 0.1%).
By contrast, vacancy rates surged in Darwin and Perth from the same time last year, reflecting the impact of the mining downturn on rental demand in those cities. Darwin recorded the highest yearly increase in its vacancy rate, climbing by 1.8% to 3.3%, whereas Perth's vacancy rate climbed 0.7% to 2.6%
According to SQM:
Vacancy rates in Darwin and Perth will likely continue to rise in 2015 as the mining sector continues to contract given falling commodity prices and the sluggish global growth we are seeing. That has caused a big contraction in employment in the mining and resource-related sectors, particularly in temporary/contract jobs. The jobless rate will likely keep rising in Western Australia and the Northern Territory, and therefore in Perth and Darwin. So we expect to see even weaker demand for rental accommodation and a continued rise in vacancy rates in those cities, which would push rents down to more affordable levels. That's good news for renters, but bad news for landlords.
SQM also updated its asking rents data, which is presented below.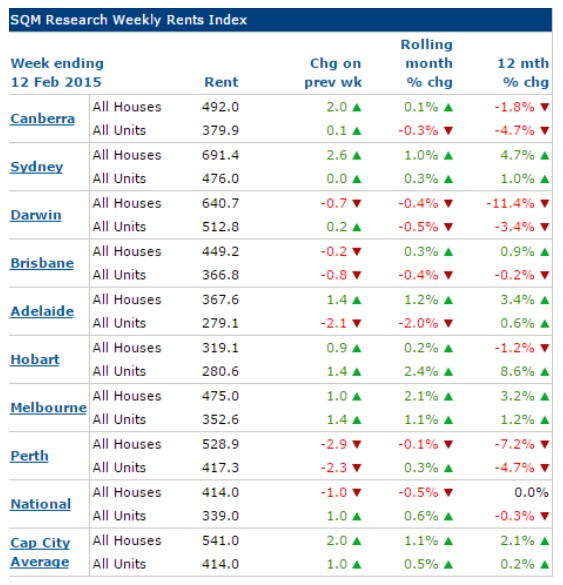 As you can see, asking rents in Perth and Darwin have dropped significantly over the year to 12 February. The weakness in these markets contrasts the national trend whereby rents have risen modestly over the year to 12 February for houses and are stable for units.
Accordingly, SQM believes that "property markets in Darwin and Perth are likely to experience ongoing weakness as the commodities downturn takes its toll. As with house prices, rents are at risk of falling more and returns on property heading south".
Hard to disagree. Perth and Darwin are shaping up as 'ground zero' for Australia's housing market.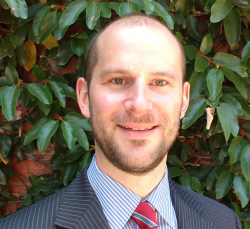 Latest posts by Unconventional Economist
(see all)