DFP Recruitment has released its mining and resources jobs index for January, which registered a seasonally adjusted rise of 1% to 67.97, with vacancies down 35.79% nationally over the past year, but only 7.5% in the last 6 months and 5.1% in the last quarter.
January saw a 3.9% fall in permanent vacancies, but a 7.0% rise in temporary and contract job advertisements (see next chart).

Over a 12 month period, permanent roles are down 42.5% and temporary and contract roles down 22.6%.
According to DFP, "the major influence on hiring activities by mining and resource companies is the price of commodities. We continue to observe a strong correlation between the RBA's A$ Non Farming Bulk Commodities Index and job vacancies as per the DFP Mining and Resources Job Index".
At the state level, vacancies in Queensland rose a further 0.5% – the second consecutive increase – although they fell by 39.9% over the year and by 4.6% over the last quarter.
Western Australian job vacancies also grew by 0.5% in January, but were down 31.5% over the year and by 8.8% over the last quarter (see next chart).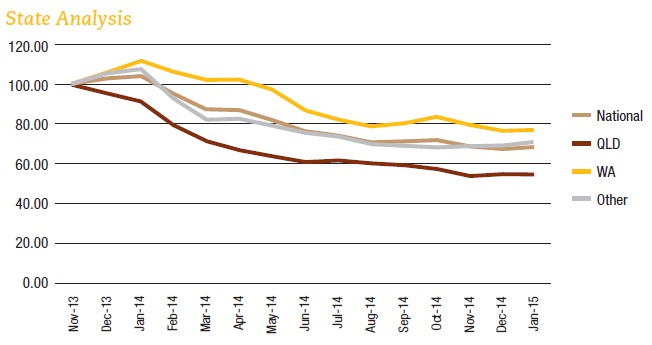 Western Australia now offers 51.4% of all mining and resources vacancies in the country. Queensland remains a clear second with a market share of 26.3% (see next chart).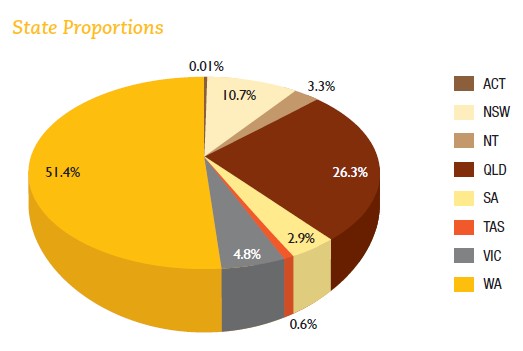 At the sub-sector level,  January's overall 1% rise nationally was spread unevenly between subsectors. Coal Mining continues to experience the worst performance of all sub sectors. It fell a further 15.2% in January. Vacancies in the sector remain in freefall with a 57.7% fall over 12 months and 36.2% in the quarter.
Demand for staff amongst Metal Ore miners remained stable month on month. Demand is down 32.5% year on year but only by 2.7% over the last 3 months.
Despite a surprising 5.5% rise in vacancies advertised in January, the Oil and Gas Extraction Index currently sits at 60.02, a fall of 40.0% since the base was reset in November 2013. (see next chart).