Victoria's Department of Transport, Planning and Local Infrastructure (DTPLI) has released January's data on the number of housing transfers and mortgage lodgements/discharges, which suggests that Victoria's (read Melbourne's) housing market has gotten a second wind after appearing to have peaked in November.
According to the DTPLI data, the volume of housing transfers in Victoria fell by 12% in January, but more importantly – since the data is not seasonally adjusted – transfers were up by 5% over the year and look to be rising once more (see next chart).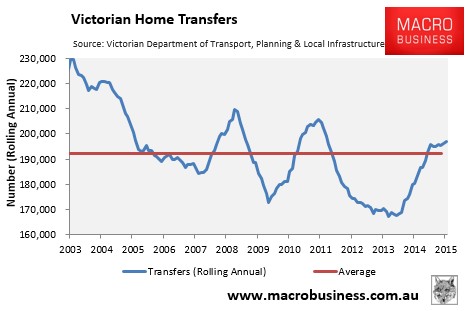 Both mortgage lodgements and discharges have also taken another leg up, with the former accelerating at a faster rate than the latter (see next chart).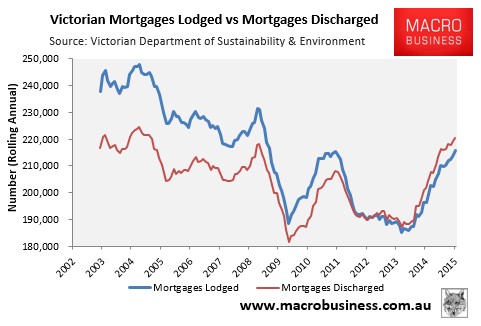 Mortgage lodgements were unchanged in January, but up 12% over the year, whereas discharges were down 6% in January and up a more moderate 7% over the year.
Subtracting the number of mortgage discharges from lodgements produces the next chart: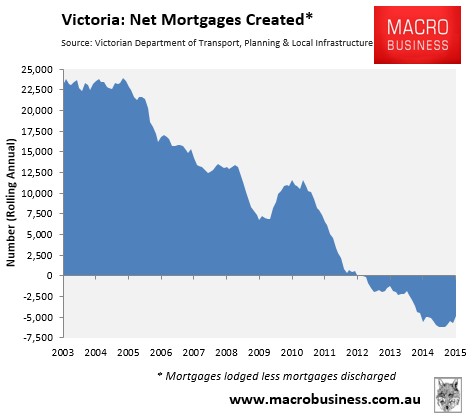 In the year to January 2015, the total number of mortgages in Victoria fell by 4,874, down from a record 6,623 mortgages lost in the year to July 2014, with the ratio of lodgements to discharges now at 97.8% (see next chart).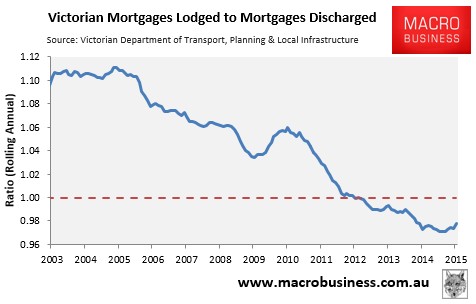 The increase in housing transfers is good news for the new Labor State Government, which will be hoping for ongoing strong stamp duty receipts to keep the Budget afloat and maintain Victoria's AAA credit rating.