Increasing female labour force participation will be a key plank of mitigating the economic and budgetary pressures arising from an ageing population.
According to the Grattan Institute, Australia would lift its GDP by $25 billion per year if its workforce participation rate for women aged 25 to 54 was lifted 6% to Canada's level – a nation that is culturally and economically similar to Australia.
Expanding childcare subsidies is viewed as a key way of boosting female labour force participation. At his speech to the National Press Club on Monday, Prime Minister, Tony Abbott, confirmed that the Coalition would junk his flawed paid parental leave (PPL) scheme in favour of a new "families package", which will include expanded childcare assistance.
Abbott suggested that the Government would take on the recommendations of a Productivity Commission report into childcare, which proposed means-testing the childcare rebate, paying subsidies directly to providers, and expanding payments to include nannies. The reforms were estimated to cost the Government some $8 billion per year, $1 billion more than the $7 billion currently spent on childcare assistance. So replacing the $5 billion PPL scheme with the Productivity Commission's package could potentially save the Budget some $4 billion per year (assuming the 1.5% levy on large businesses is retained).
However, a key risk from further expanding childcare subsidies is that they will be inflationary – much like the first home buyers grant – and push-up childcare costs.
According to a National Centre for Social and Economic Modelling (NATSEM) report released last year, the average cost of childcare had risen by 150% over the past decade, and has seen government subsidies for childcare rise to $5 billion a year, up from $900 million in 1999 (see next chart).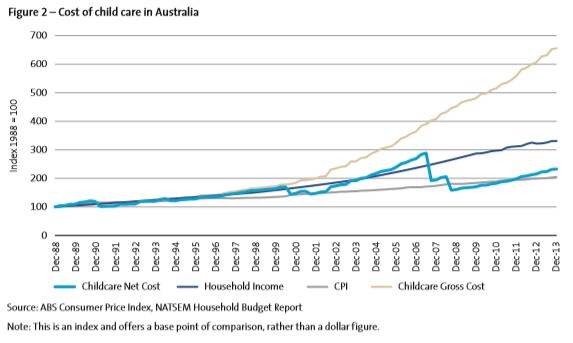 Nevertheless, Ben Phillips from NATSEM argued that greater subsidies for childcare would still assist in raising female labour force participation:
"There is good evidence that you get better education outcomes from investing in good quality childcare," he said. "This, in turn, benefits the workforce and increases government tax revenue in the long term.

"If there is nothing further to offset rising childcare prices we are unlikely to see female workforce participation increase, at a time when we need to deal with the challenges of an ageing population."
There are other factors working against affordable childcare, too. For example, regulations requiring greater staffing numbers are also working to inflate costs.
As reported in The Australian today, childcare centres in New South Wales, South Australia and Victoria are facing fee hikes of up to $60 per day, which obviously risks eating up any additional subsidies under the Abbott Government's families package:
From January 1 next year, all daycare centres must have one carer for every five two-year-olds and one for every 11 children aged three to five…

Childcare operators calculate fees will jump by an average of $60 a day in Sydney, $28 in Adelaide and $7 in Melbourne.

Australian Childcare Alliance president Gwynn Bridge urged the federal government to postpone the "exorbitant" staffing changes. "Parents can't afford to pay for them so we'd like a deferral until the government can pay for them,'' she said yesterday.
And herein lies the conundrum facing policy makers: how to increase childcare assistance to parents, and boost female labour force participation, without seeing the subsidies merely eaten up by higher fees?
It remains to be seen whether the Abbott Government's new families package can successfully navigate its way through the childcare mine field. But at least it has made a positive start, not least through abandoning PPL and embracing the Productivity Commission's recommendations.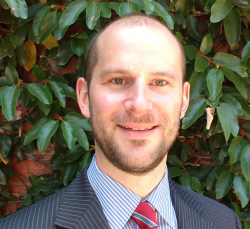 Latest posts by Unconventional Economist
(see all)