The Brent oil price fell back 1% last night after yesterday's thin excuse for a rally to $60.90. News was thin. The indicative LNG price contract fell to $8.86mmBtu: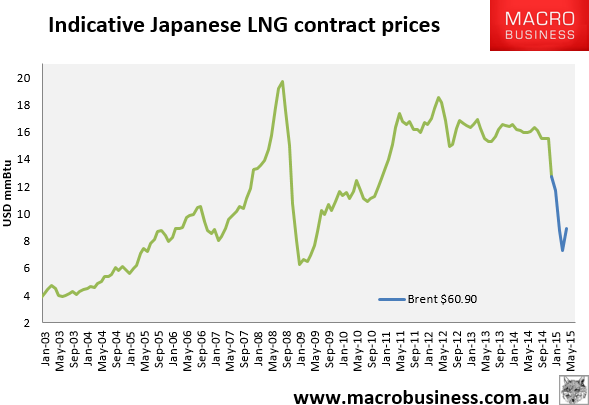 In news, the approaching glut is throwing up forecasts of falling volumes for projects:
NYC-based PIRA Energy Group believes that strategies are emerging for keeping LNG trains operating amid weak seasonal demand.

It is widely agreed that the LNG market is heading into a soft patch that may persist for some time. Between the relatively casual rate at which China and India are increasing imports and the sizable amount of new LNG supply – large volumes remain un-contracted to end users – scheduled to enter the market in the coming year, it's looking like a much stronger possibility that some production will have to be shut in, PIRA writes in its report.

In the US, consensus estimates for Thursday's report calling for a pull of 106-110 BCF proved to be only slightly below the EIA's reported withdrawal of 111 BCF. The draw widened the inventory surplus to last year by a striking 136 BCF and pushed inventories above the five-year average for the first time since 2014.

In Europe, focus on Dutch gas production has died down considerably in the past week, as year-on-year losses in gas supply from Groningen are actually smaller than the year-on-year increases from Norway. The bigger issues that will continue to dictate price direction in the months ahead will be how Russian gas and LNG imports square off for the injection season to come. At the moment, the year-on-year decreases in Russian exports have been reduced to 161-mmcm/d due to a year-on-year increase in weather-related gas demand. The weather outlook is still slightly warmer than normal, but nothing like last year's tropic levels.

In Asia, the Korean government will cut the price of gas sourced from LNG supplied by the state-run Korea Gas Corporation, by an average of 10.1% from next month to reflect the recent fall in oil prices, the energy ministry said Sunday. The price cut is the second of its kind in just two months.

Mild weather in western Canada has reduced reliance on storage and bolstered February cross-border flows by ~0.5 BCF/D year-on-year in the process. The western withdrawal for the full month is expected to average 1.3 BCF/D, only about one-third of the year-ago pace. Meanwhile, Canadian gas rig counts have finally given way to year-on-year losses, but momentum in place should still lead to year-on-year western Canadian production growth, and thus higher net exports, through the injection season. The risk of price-induced supply curtailments cannot be discounted.
At this stage, some prices are almost low enough to begin shut-in at Australian projects. Contract prices are OK but with the spot market trading in the high $6mmBtus, that equates to a marginal cost around $5mmBtu for local projects, which is getting uncomfortably close to high cost gas breakeven. Projects will probably do their own version of "high-grading", that is using their cheapest gas source first, to avoid such an inauspicious birth.
It must be remembered, however, that if shut-ins are required in the Pacific Basin, they will be in QLD given it is the marginal cost producer.
One reason why  it can't be discounted is the Cheniere Energy Sabine Pass LNG monster in the US, which is progressing well:
The filing reveals that stage 1 (Train 1 and 2) engineering and procurement are 100% complete. Subcontract and direct hire construction work are 58.6% and 63.7% complete, respectively. Stage 1 overall project completion is 83.1% against the plan of 84.1%.

Stage 2 (Train 3 and 4) engineering is now 96.8% complete while procurement is 82.3% complete. Subcontract and direct hire construction work are 34.8% and 17.9% complete, respectively. Overall project completion for stage 2 is 56.5% against the plan of 57.5%.

Cheniere said that the actual project progress continues to support the achievement of the scheduled substantial completion dates for Trains 1 and 2, which remain as February 2016 and June 2016, respectively. Trains 3 and 4 completion dates are April 2017 and August 2017.
This one project is the equal to Gladstone's two largest projects. Much gas coming in little time.