The oil price took off again last, for no apparent reason, up more than 6% to $59.21 as I speak. The WSJ reckons:
Oil prices rose on Thursday on several bullish factors, including a weak dollar, a contract expiration and warnings from one of the world's biggest oil companies.

…Royal Dutch Shell PLC Chief Executive Ben van Beurden also warned of a rapid recovery in oil prices in the years to come if production projects get canceled. In prepared remarks he is expected to deliver later Thursday he said oil demand will outpace supply growth this year.
Nothing really new there. Let's put it down to some excited algos. Anyway, the indicative LNG contact price jumped as well to $8.64mmBtu: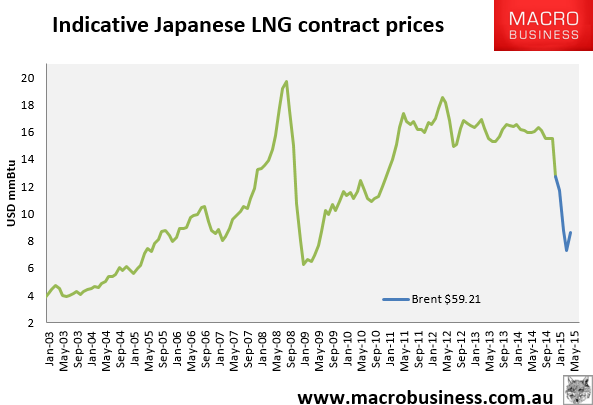 In wider news, other folks than me are wondering about the Santos white elephant balance sheet, from the AFR:
…Santos has not taken a hit on its GLNG project and that the basket of Brent pricing used to set the impairments looks fairly optimistic.

As Hartleys observed in its flash note: "If you agree with the STO oil price assumptions, the sector is a screaming buy."

The Santos price deck, which assumes an Australian dollar worth US80, opens with $US55 a barrel for the duration of 2015. Then, in neat $US10 a barrel increments, it has oil stepping back to its longer term average of $US90 a barrel by 2019.

But whatever the outlook, Knox continues to insist that Santos just does not need to raise capital.

"These are non-cash items that no not affect our credit metrics," he starts when we ask why his balance sheet doesn't need capital reinforcement.
The old fantasy forecasts chestnut! I'll give him one thing, with a dollar forecast of $80, Knox has got some hedge built into his hopes but if oil stays at $60 long term (the equivalent of about $9mmBtu) – which is my contention – even an Aussie at $60 won't save GLNG from huge writedowns given its all-in breakeven point is somewhere between $12-14mmBtu.
It's a very large balance sheet overhang for shareholders but also a tried and true strategy of waiting for new management before breaking the bad news and blaming the old.