The oil price poured it on again Friday night, up another almost 4% to $61.48 as I write. The culprit this time was another 84 rigs being shelved in the US on the week: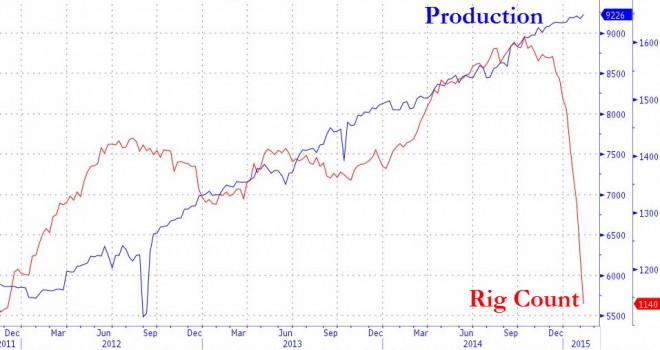 A sensible enough response! The indicative LNG contract price jumped to $8.94mmBtu: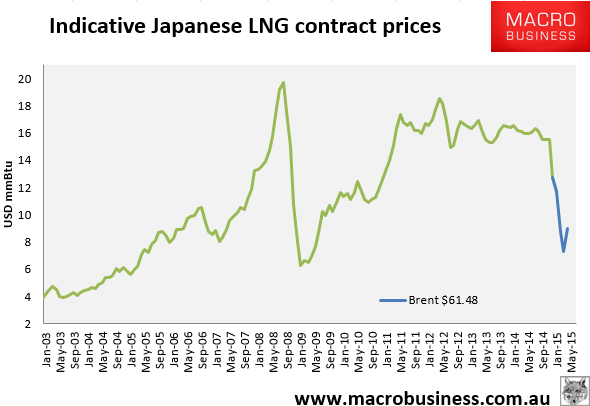 Alas, however, that is not being reflected in the Asian market spot price. The new front month contract this week is April and it's sitting at a debilitating $6.60mmBtu: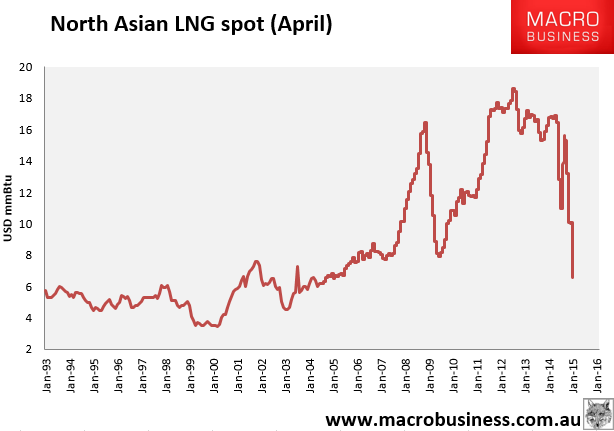 The reason why can be seen sitting around growing barnacles in Singapore Harbour, from LNGworldnews:
G hub like Singapore is a preferred port for shippers. Lower LNG spot prices in Asia, lower demand mean that many of the shipping companies need to park their unused tankers and ports like Singapore provide maintenance capabilities before the vessels get called back into operation.

According to estimates by ship brokers, one-tenth of the global LNG fleet is not being used due to Asian gas market slow growth.

According to Javier Moret head of LNG organization at RWE, 30 or 40 oil and gas carriers are located around Singapore with nothing to do.

Reuters reports that some LNG tankers have been parked for months, and that 15 tankers currently parked in the region have a total capacity of 2.26 million cubic meters of LNG, creating losses of $60,000 in daily charter fees to ship owners.

Partly influenced by oil slump, it is believed that the weakness in energy markets could put off the emergence of LNG as the pre-eminent energy source, ANZ bank told in its research.

Besides gas prices, carrier rates have also tumbled according to shipping services company, Clarkson. The rates have drop from $90,000 in 2013 to $60,000, and analysts believe the daily LNG charter rates are about to remain low for whole 2015.
There's a glut now, before the approximately 50 million tonnes of new capacity coming on stream in the Pacific market from Australia and the US hits in the next twelve months. To say the least the LNG spot/contract spread is going to widen.
I wouldn't be surprised to see spot fall right though its 1990s pricing averages in the next two years (with volatility around cold weather) as unused contract volumes get dumped onto the spot market. Pressure on oil-linked contracts is going to become extreme.
I'm afraid that despite the oil bottom, the local LNG white elephants are stuck in a long and painful plod.