Now they are getting it, from the AFR:
…an ANZ report on major projects for 2015 said the combined spending on projects worth more than $100 million will fall from $88 billion last year to $32 billion in 2017.

…The report forecast new LNG capital expenditure (excluding operational capital expenditure) will fall to under $5 billion by 2017 after hitting a peak of $55 billion in 2013.

The overall resources projects spend is expected to fall to $10 billion in 2017, down from $61 billion in 2014 and $76 billion in 2013.
In terms of states, ANZ said WA capex will fall from $43 billion in 2013 to $4 billion in 2017, and QLD from $30 billion to $1 billion over the same time frame. For perspective, consider that in terms of state final demand, for WA this is a fall in the roll of capex from 20% to 2% over four years. For QLD it is  fall from about 10% to effectively zero.
Here are a couple of charts from the report: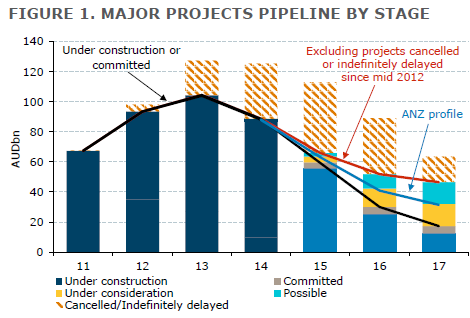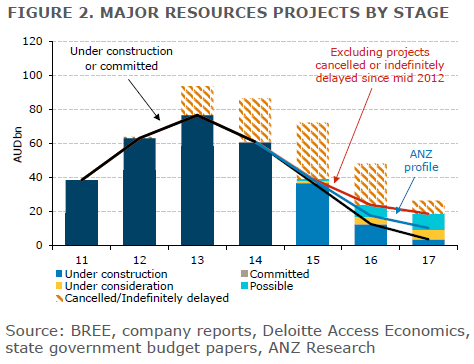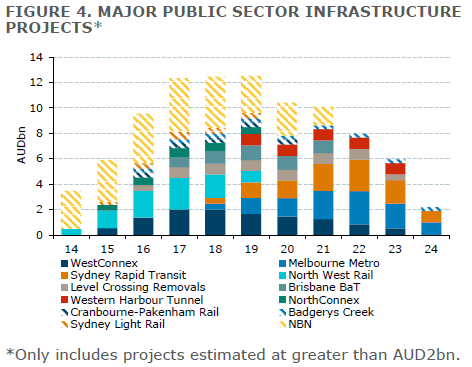 Red only. This capex drought will run for an unusually long time as the excesses of the commodity super-cycle are only slowly back-filled by a sluggish global economy.
The principle impact for the punters will be job losses, lot's of them.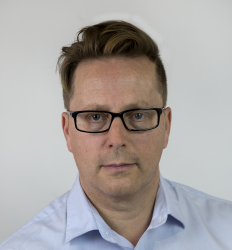 Latest posts by Houses and Holes
(see all)