Stephen Koukoulas (aka "The Kouk") has penned an interesting piece in The Adelaide Review arguing that Australian housing could face a 5% to 10% 'correction' over the next three or so years as strong dwelling supply outstrips falling population growth:
During 2014, there has been an important change in the supply and demand fundamentals.

Australia's population growth is starting to slow…

[Yet] the most recent building approvals data show a sharp lift in new dwelling construction… The annual pace of new dwelling approvals rose to above 190,000 in April 2014, and in the last four months of 2014, it has been above 195,000…

In very simple terms, the shortage of dwellings is ending and this will spell downside risks to house prices over the next couple of years.

…it would be no surprise if the simple interplay of weakening demand from lower population growth and extra supply from a record level of new building will see house prices in Australia fall.
The Kouk makes some very valid points. After a large deficiency in dwelling supply from the mid-2000s, construction levels have accelerated over the past year just as population growth is falling (see next chart).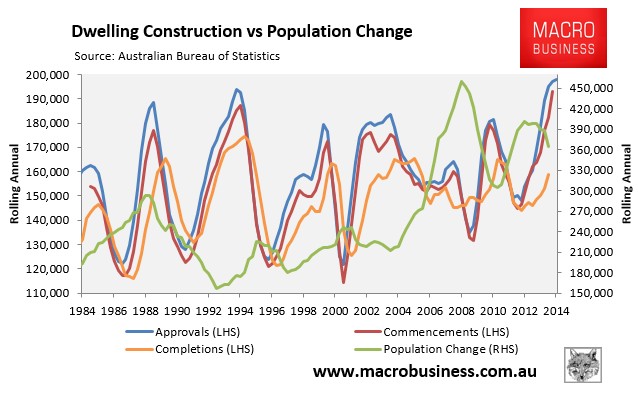 Other things equal, this growing supply of dwellings should eventually place downward pressure on house prices and rents, as argued by the Kouk.
My own view is that momentum in the Australian housing market is sufficient to see prices continue to rise at decelerating rates over 2015, and perhaps into the first half of 2016 if interest rates are cut significantly in the first half of this year. This view is based largely on the next chart, which tracks the growth in the ABS house price series against total finance commitments (excluding refinancings), which have both peaked, but remain reasonably strong (suggesting continued momentum):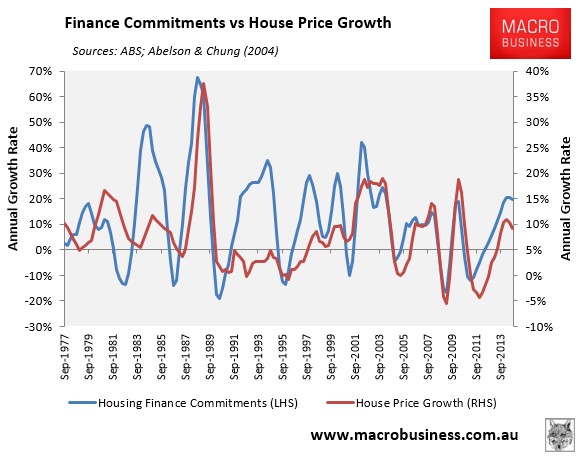 From mid-2016 and into 2017, stiff headwinds will likely build that may cause a significant housing correction. These could include:
Rising dwelling supplies relative to falling population growth, as argued by The Kouk;
Sharply deteriorating jobs market as the mining capex craters, the local car industry shutters, and dwelling construction enters a downturn;
Falling foreign demand for existing dwellings as the parliamentary inquiry's recommendations bite; and
Potential rising funding costs for the banks as Australia loses its "safe harbour" status amongst overseas investors.
All in all, I am fairly confident about the first two headwinds developing, but more speculative on the second two.
Either way, after a prolonged period of strong house price growth, whereby Australian values will likely have reached their highest ever levels against fundamentals (e.g. incomes, GDP and rents), the conditions will be ripe for a significant housing correction.
Another thing that should be considered, outside the usual 'housing supply vs population growth' analysis, is that demand can be highly changeable depending on the prevailing economic conditions.
Once general economic conditions deteriorate, causing unemployment to rise, the number of people per dwelling often increases (and the rate of household formation falls) as they group together to reduce their housing costs. Such actions, which are common during economic downturns, can easily turn a perceived housing shortage into a surplus, worsening the housing supply-demand equation.
This was the story of the US housing bust in places like California, where perceived shortages were rife. And it could easily apply to Australia once the economy enters a downturn from 2016-17.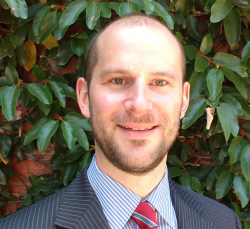 Latest posts by Unconventional Economist
(see all)