Just last week I forecast that Tony Abbott would hang on this year. That was before the baffling decision to deliver Prince Phillip a knighthood, which appears to have crystallized global Abbott ridicule.
The Left press at the Fairfax dailies and the Right press at The Oz are now hammering our adrift PM with equal ferocity. Even the Financial Times is having a good laugh:
Australia Day is typically when prime ministers attract positive headlines by doling out honours to people promoting good causes. But Tony Abbott, the gaffe-prone holder of the office, provoked a storm of controversy on Monday by awarding the country's highest honour – knight of the order of Australia – to Prince Philip, the Duke of Edinburgh.

…Mr Abbott's belligerent personality has seen him pick fights with doctors, environmentalists and ethnic minority communities, among others. A series of policy U-turns has dented the Liberal Party's faith in a leader who was once described as "unelectable" but confounded his critics to win the 2013 general election.

…The monarchy remains popular in Australia, where the Republican movement has failed to make much headway since it lost a 1999 referendum to remove the Queen as head of state. But Prince Philip is remembered for creating controversy on a state visit to Australia in 2002 when he asked an aboriginal businessman if indigenous people "still throw spears at each other". Buckingham Palace moved quickly to play down the 2002 incident, saying they were "light-hearted comments".
Gaffe-prone indeed. If the Libs aren't careful, and wait too long to dump him and Hockey, the ridicule may attach itself to the party. Sportsbet captures the tone nicely: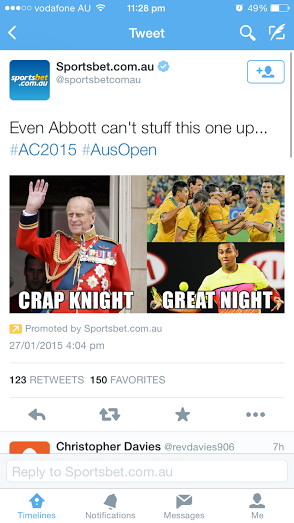 It's been obvious to anyone with eyes that Mr Abbott is simply not PM material since his disastrous appearances at the G20. Perhaps in normal times he could shut up and fade into the background for a year. But neither he nor the nation has that luxury as the economy comes under increasing strain and the global challenges confronting Australia mount.
Then there is this from Crikey yesterday:
While Tony Abbott was preparing to bestow a knighthood reserved for "pre-eminent Australians" to a wealthy Greek bigot living in the UK, another type of anointing was taking place in New York. As revealed in the Financial Review, on the weekend Rupert "all Muslims not guilty" Murdoch received Julie Bishop, Foreign Minister of his far-flung vassal state, Australia, and senior member of the client government he helped install there.

The timing of the meeting, and its revelation by Fairfax, is exquisite — and entirely unsubtle: just when Abbott demonstrated his leadership is permanently hostage to a political mindset that deeply confuses even his strongest supporters, there's Bishop getting the News Corp imprimatur on the same day as Fairfax slavishly devoted an article to her thoughts on why Australia should retain a military presence in Afghanistan ("nice place to send refugees, wouldn't want to live there") beyond the current withdrawal date. Bishop the statesperson, Bishop the anointed one, Bishop the heir apparent. At least, that's how she'd like the rest of us, and particularly her parliamentary colleagues, to see her at the moment her leader's failings are on such public display.
Rupert's firing squad appears to be assembling.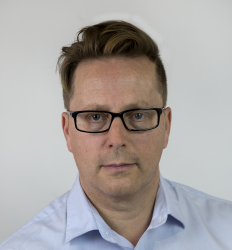 Latest posts by Houses and Holes
(see all)