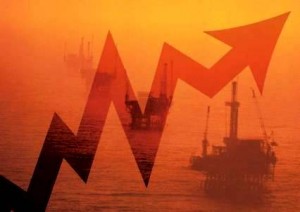 by Chris Becker
The collapse in crude oil, which has a corresponding fall in spot LNG is putting the spotlight on potential buys in the Australian energy sector.
Credit Suisse has a note out today examining the dynamics and gives the thumb down across the board, even as the sector has bounced back, up nearly 13%, in the past three weeks.
The rationale? First, the net present value of Santos' LNG projects are running negative at -13 cents per share, assuming an 80 cent AUD and $55 spot price in Brent (which is now at $53USD per barrel) with converts to less than $8USD per mmBTU: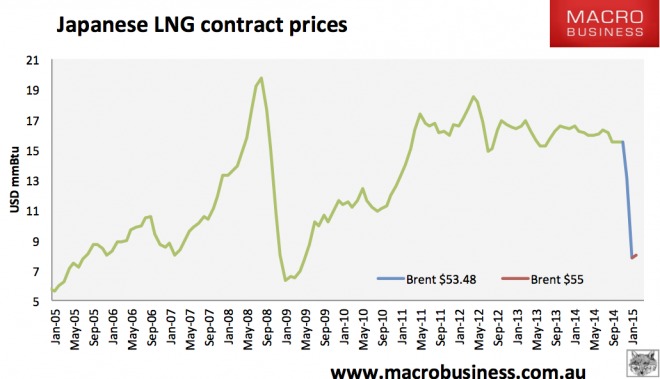 CS contends on the same basis that Origin's (ORG) NPV would drop to $7.60 per share and Woodside's (WPL) at just below $19 per share. Considering they are currently trading at $7.60, $11 and $36 per share respectively, there really is no buffer here at market prices, which is still factoring in high spot oil prices:
Clearly the equity market isn't pricing in spot to perpetuity and, whilst none of us are smart on a 20 year view, arguably nor should it. However, reverse engineering our models, high oil prices appear to still be factored in. Using spot fx (arguably hard to see oil price rising, but A$ staying as low as it is), we get Woodside factoring in $81/bbl from today to perpetuity, Oil Search $70/bbl, Santos $83/bbl and Origin $84/bbl.
The key in the short term is at the margin, those energy stocks with weaker balance sheets, laden with debt and not enough free cashflow are under extreme threat. CS are right to pick out Santos (STO) and Origin (ORG) as the main contenders for downgrades due to higher than comfortable net debt to earnings ratios, even if oil prices stage a comeback. This decline has been going on too long and would require enormous upside to repair the balance sheet.
Their conclusion (my emphasis):
We struggle to see the recent bounce as the start of a more prolonged rally. The high quality names are not oversold enough to make them screamingly cheap, whilst the lower quality stocks have large balance sheet concerns that could see materially further downside. With perhaps the greater risk that the oil prices doesn't bounce as quickly as we and consensus forecast, risks remain to the downside.
Oil Search (OSH) remains their top pick but I wonder, as some of our members have asked, is Woodside (WPL) the better choice? Catching knives is not my game (I prefer to be late by waiting for breakouts and ride the uptrend quickly for higher return on capital employed over time), but both of these have recovered well enough from their oversold conditions and are forming very tight ranges on the daily charts: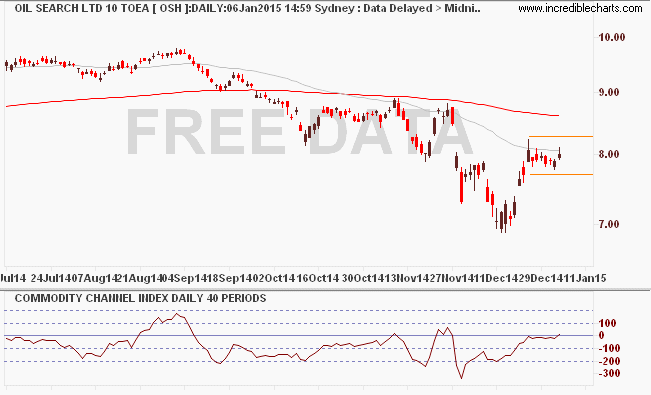 Unfortunately both of these charts do not show todays falls, with OSH and WPL down 8% and 5% respectively following the 5-6% falls in WTI and Brent overnight. However, the technical picture for a short term breakout remains, with easy key levels for support and resistance for entry and initial stop loss points.
These two represent the easiest way, apart from a hedged oil ETF, e.g Betashares OOO, to take opportunity of a recovering oil price in the short term. In the medium term, the fundamentals are against the majority of the sector unless the AUD falls further and/or oil recovers well above its current spot level.
Latest posts by Chris Becker
(see all)