The much anticipated 350-page Final Report of the Financial System Inquiry (FSI), chaired by ex-CBA chief, David Murray, was released to the public on Sunday, and did not disappoint, recommending 44 reforms to the Australian financial system based on evidence received by the Inquiry.
The Final Report explains in great detail why Australia is particularly vulnerable to a financial shock, in particular one related to housing:
Australia should heed the lessons learnt by other countries during the GFC. As a capital-importing country exposed to fluctuating terms of trade and characterised by a concentrated banking system, Australia needs to be better positioned than most…

Australia is susceptible to the dislocation of international funding markets or a sudden change in international sentiment towards Australia, which would reduce access to, and increase the cost of, foreign funding.

…international experience suggests the average financial crisis could see 900,000 additional Australians out of work as well as substantially reduce the wealth of a generation…

Australia's banking system is highly concentrated, with the four major banks using broadly similar business models and having large offshore funding exposures. This concentration exposes each individual bank to similar risks, such that all the major Australian banks may come under financial stress in similar economic and financial circumstances…

Australia's banks are heavily exposed to developments in the housing market. Since 1997, banks have allocated a greater proportion of their loan books to mortgages, and households' mortgage indebtedness has risen. A sharp fall in dwelling prices would damage household balance sheets and weigh on consumption and broader economic growth. It would also reduce the quality of the banking sector's balance sheets and the capacity of banks to extend new credit, which would compromise the speed of a subsequent economic recovery.

A severe disruption via one of these channels would have broad economic and financial consequences for Australia. Indeed, interconnectedness within the financial system and the economy would be likely to propagate distress and heighten other risks and vulnerabilities…
Accordingly, the Final Report recommends that the amount of capital held by Australia's banks should be increased:
Given Australia's concentrated financial system, high household leverage and relatively high house prices, the Inquiry is particularly concerned about the banking system's exposure to housing.

…capital levels are particularly important, as they provide a safety buffer to absorb losses regardless of the source…

Recommendation 1
Set capital standards such that Australian authorised deposit-taking institution capital ratios are unquestionably strong…

Australian banks are not currently in the top quartile of internationally active banks. Australian ADIs should therefore be required to have higher capital levels…

Recommendation 2
Raise the average internal ratings-based (IRB) mortgage risk weight to narrow the difference between average mortgage risk weights for authorised deposit-taking institutions using IRB risk-weight models and those using standardised risk weights…
In justifying its recommendation to raise bank capital, the Final Report notes that Australia's banks are not as strongly capitalised as they should be and their capital settings are not transparent:
Evidence from ADIs, regulators and others suggests that Australian banks' capital ratios are not in the top quartile of internationally active banks when it comes to capital strength. The Inquiry believes it is in Australia's interest that they are. To this end, ADI capital levels should be raised. In achieving this, the transparency of existing capital settings and the competitive neutrality of the system for determining risk weights should also be improved. The risk-weighted approach to capital requirements should be supplemented with a leverage ratio that protects against potential weaknesses in the risk-weighting system.
With regards to Recommendation 2, the Final Report argues that Australia's Big Four banks (and Macquarie), who use their own internal systems to calculate their capital charges (known as the Advanced Internal Ratings-Based approach, or IRB), have gained an unfair advantage over smaller lenders that use the Standardised Approach to Credit Risk, and therefore suggests an increase in their minimum mortgage risk-weight to 25% to 30%, which is bigger than most (including yours truly) had expected:
Since the IRB approach was introduced, the divergence in mortgage risk weights between the two approaches has widened, as IRB banks have refined their models and adjusted their balance sheets in light of modelled risks. The average mortgage risk weight for an ADI using the standardised model is currently 39 per cent — more than twice the size of the average mortgage risk weight for banks using IRB models, which is 18 per cent…

If this recommendation is adopted, APRA has indicated its strong preference is to narrow mortgage risk weights by raising IRB risk weights…

The Inquiry considers a range between 25 and 30 per cent to be appropriate, to be decided on by APRA in targeting an average IRB mortgage risk weight. This is based on international experience and the current average IRB and standardised mortgage risk weights of 18 per cent and 39 per cent respectively…

The required quantum of capital to achieve an average risk weight of 25–30 per cent would be roughly equivalent to a one percentage point increase in major banks' CET1 capital ratios from current levels. This corresponds with a small funding cost increase for the major banks. Competition will limit the extent to which this cost is passed on to consumers, and shareholders will likely bear some of the cost in the form of a lower ROE. This in turn should be at least partially offset by lower required returns due to the banks being less likely to fail…
The impact on the Big Four's mortgage books from an increase in the minimum risk-weight to 25% to 30% can be gleaned from the next chart, which shows that Westpac (14.9%), CBA (15.7%), and ANZ (17.7%) would need to raise significant capital, whereas NAB (23.1%) is already near the proposed risk-weight floor: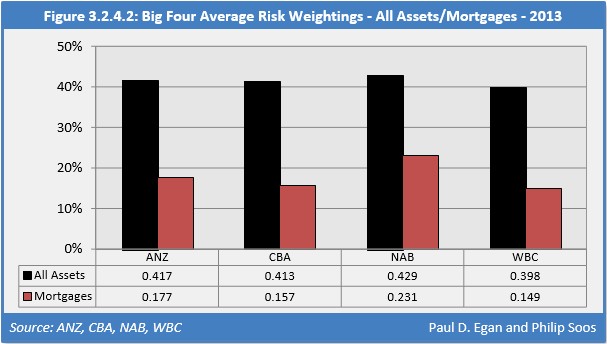 The Final Report argues that raising capital levels and improving financial system stability would provide significant benefits to the broader economy:
In the Inquiry's view, raising capital requirements for ADIs would provide a net benefit to the economy. It would assist to avoid or reduce the severe and prolonged costs of future crises, including high levels of unemployment…

Unquestionably strong capital positions would deliver benefits by providing greater insurance against future financial crises and the associated harm to individuals, the economy, Government and taxpayers.
At the same time, raising bank capital levels would have minimal negative implications for borrowers or economic growth:
Overall, the expected cost of increasing capital requirements is small. The Inquiry estimates that a one percentage point increase in capital requirements would increase the average interest rate on a loan by less than 10 basis points.32 This is the figure if the full cost is passed on to consumers with no offset in interest rates by the RBA. However, in a competitive market, the actual change in lending interest rates would be lower and the RBA may lower the cash rate if conditions warrant…

In addition, the effect on growth would likely be taken into account in macro-economic policy settings since the RBA considers actual lending rates when determining the cash rate… Studies examining the effect on GDP estimate that a one percentage point increase in capital ratios would potentially decrease annual GDP by 0.01–0.1 per cent ($150 million to $1.5 billion in terms of 2013 GDP) per year.
As a supplement to increased capital requirements, the Final Report also recommends implementing a leverage ratio on Australia's banks to curb excessive balance sheet expansion:
Recommendation 7
Introduce a leverage ratio that acts as a backstop to authorised deposit-taking institutions' risk-weighted capital positions…

A highly leveraged institution has smaller buffers available to absorb loss before insolvency. Leverage can also amplify the effect of shocks on an institution's balance sheet. This may spread shocks to other institutions and cause systemic risks.

A number of countries have introduced leverage ratios, including the United States, the United Kingdom and Canada. Australia does not currently have a minimum leverage ratio requirement…

Currently in Australia, restrictions on leverage are achieved indirectly by ensuring ADIs use capital funding in proportion with risk…

However, there are concerns that, in some instances, the risk-weighted approach may lead to insufficient levels of capital.71 This danger is possible under the standardised or IRB approach, but is greatest for IRB models, as there is potential for 'model risk'. For example, if the historical data are too benign, the models that underlie the risk-weighting system may underestimate the true risk, leading to inappropriately low levels of capital.72 Concerns have also been raised that banks may have the capacity —and incentive — to manipulate IRB models to achieve a lower capital requirement…

In the Inquiry's view, having a leverage ratio as a meaningful backstop provides appropriate insurance against the risks inherent in risk-based capital requirements, while retaining the advantages of having capital requirements commensurate with risk.
Finally, the Murray Inquiry argues that the implicit guarantee of the banks' provided by taxpayers is inefficient and distorts economic activity, therefore justifying the increase in capital requirements and leverage restrictions to mitigate potential costs to taxpayers from a future financial crisis:
Actions taken by governments both in Australia and overseas to support their financial sectors during the GFC have reinforced perceptions of an implicit guarantee. Implicit guarantees arise when creditors believe that, if a bank were to fail, the government would step in to rescue the institution.

Implicit guarantees reduce banks' funding costs by moving risk from private investors onto the Government balance sheet — a contingent liability for Government. As a result, the creditor takes no (or a reduced) loss, making it less risky to invest in the institution. Creditors will therefore accept a lower interest rate, which lowers funding costs for the bank and provides a competitive advantage to those institutions most affected.

Empirical studies have found that Australian ADIs, especially the largest ADIs, benefit from an implicit guarantee. This is also evident in the credit ratings of the major Australian banks, which all receive a two-notch credit rating uplift from credit rating agencies Standard & Poor's and Moody's due to expectations of Government support. Implicit guarantees create inefficiencies by:

• Providing a funding cost advantage for banks over other corporations.
• Giving large banks an advantage over smaller banks.
• Weakening the market discipline provided by creditors.
• Potentially creating moral hazard that encourages inefficiently high risk taking.

The Inquiry considers that these factors provide a compelling case for ensuring Australian ADIs have unquestionably strong capital ratios…

Perceptions of an implicit guarantee introduce a range of damaging distortions into the financial sector that reduce efficiency. They also transfer risk from the banking sector to taxpayers. In the Inquiry's view, such factors make it appropriate to take steps to minimise implicit guarantees…
Overall, the Final Report of the FSI has hit the right balance on bank capital. It has taken direct aim at the Big Four banks' flimsy capital on their mortgage books, their too-big-to-fail status, competitive neutrality concerns between large and small deposit-taking institutions, and even the taxpayers' implicit guarantee.
If implemented by the Government, the recommendations should significantly reduce risks to financial stability, while removing some of the moral hazards embedded in the system.
At the margin, lending into housing should also be reduced, which along with the parliamentary inquiry's recent crackdown on foreign investment and the FSI's recommendation to restrict borrowings by self-managed super funds (see my other post), should present future headwinds for house prices.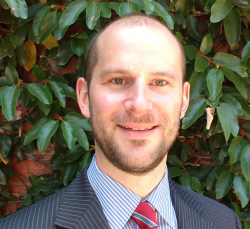 Latest posts by Leith van Onselen
(see all)