From CommSec:
In 2013, the Australian sharemarket recorded above-average growth with the All Ordinaries up 14.8 per cent and ASX 200 up 15.1 per cent (20-year average +6.8 per cent). In 2014, there has effectively been a 'reversion to mean' (or average) with Aussie shares up by around 1-2 per cent. A key reason for the softer performance has been lower commodity prices, weighing on the resources sector.
With a few days of 2014 left to go, it appears that the Australian sharemarket will finish a little below the half-way mark of global sharemarkets. Argentina, China and Venezuela have been the global sharemarket out-performers in 2014. In contrast, Russia, Portugal and Greece have been the global sharemarket under-performers.
Venezuela, China, Turkey and Sri Lanka have been 'turnaround stories' after their sharemarkets under-performed other global bourses in 2013. By contrast, Greece, Kuwait and Nigeria were global sharemarket out-performers in 2013 that turned into under-performers in 2014.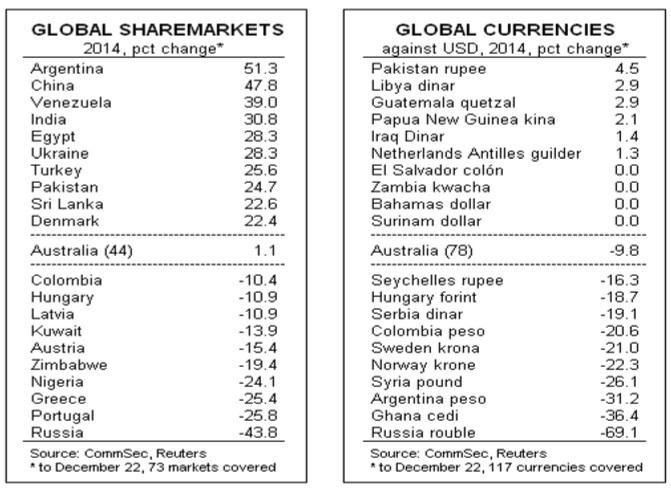 The US Dow Jones has been amongst the sharemarket out-performers in 2014, up 8.3 per cent in 2014 and ranking the bourse at 25th of the 73 sharemarkets monitored.
In terms of currencies, remarkably just six of 117 currencies have lifted against the US dollar in 2014. On Monday the US dollar index hit an 8½-year high of 89.779 (highest since April 2006). Over 2014, the US dollar index has lifted 12 per cent.
The strongest currencies in 2014 have been the Pakistan rupee (up 4 per cent), Libyan dinar and Guatemalan quetzal (both up 3 per cent). Interestingly around 18 currencies could be listed amongst the strongest currencies in 2014 largely because they are pegged or have a stable relationship to the US dollar.
The weakest currencies have been the Russian rouble (down 69 per cent), Ghanaian cedi (36 per cent) and Argentinian peso (down 31 per cent).
The Aussie dollar has fallen by around 10 per cent against the US dollar over 2014, similar to currencies of Canada, Switzerland and South Africa. The Aussie dollar actually out-performed the euro, which has fallen by just over 12 per cent against the greenback.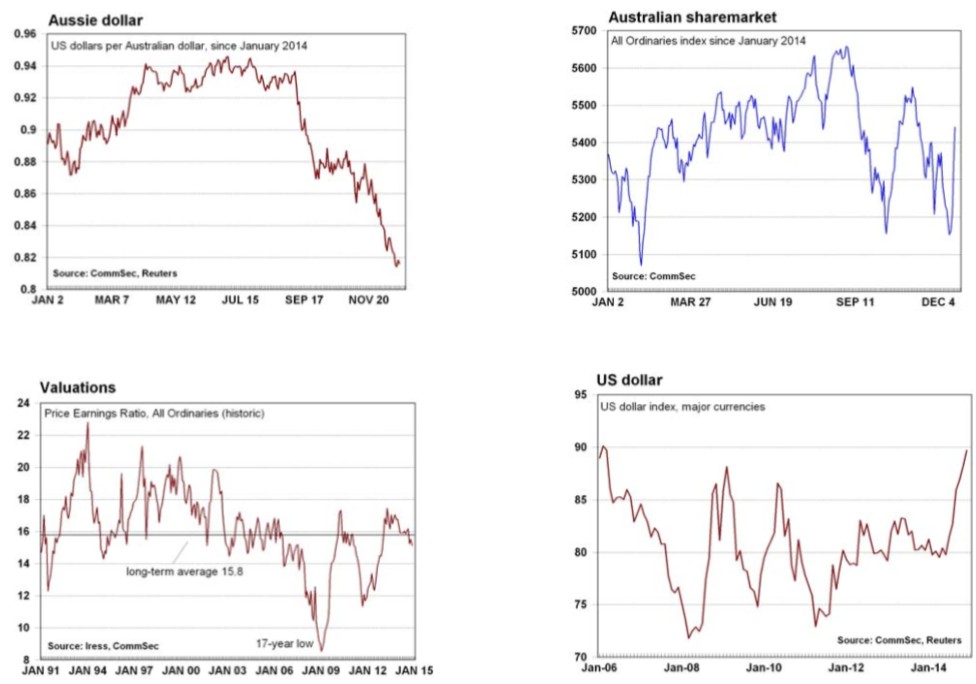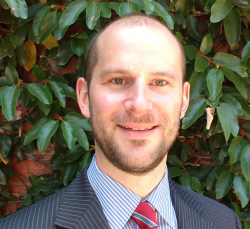 Latest posts by Unconventional Economist
(see all)