Prime Minister Abbott is taking a hammering in the polls. From The Australian:
TONY Abbott's approval rating has dropped to a five-month low and Labor continues to hold a substantial two-party-preferred lead over the Coalition, despite the Prime Minister yesterday insisting this year had been one of "very considerable achievement" by his government.

The latest Newspoll, conducted exclusively for The Australian at the weekend, shows the government and the opposition are tied on a primary vote of 37 per cent. Bill Shorten retained his lead as better prime minister, as satisfaction with Mr Abbott's performance fell for the fourth consecutive survey.

Mr Abbott's stocks fell three points to 33 per cent in the past fortnight and tumbled by eight points since reaching a high mark of 41 per cent in mid-September when there was strong support for his handling of foreign affairs issues including his response to the downing of Malaysia Airlines flight MH17.

The Prime Minister yesterday admitted his government last week appeared "ragged" as he conceded ground on defence ­entitlements and admitted ABC and SBS cuts were "at odds" with his election promise.
The worst news here for the PM is that Holt St has decided to headline with his approval crash instead of the slight improvement in two-party preferred. Clearly the loon pond is displeased and verging on agitation for leadership change.
Roy Morgan is out too:
Federal L-NP support rose to 46.5% (up 2%), but was still well behind the ALP 53.5% (down 2%) on a two-party preferred basis as the ALP defeated the L-NP in the Victorian State Election. If a Federal Election were held now the ALP would win easily according to this week's Morgan Poll on voting intention conducted with an Australia-wide cross-section of 2,883 Australian electors aged 18+ over the last two weekends.
In Victoria, Federal voting intention shows the ALP (56%) leads the L-NP (44%) – a far larger two-party preferred lead for the ALP than how Victorians voted at the weekend State Election. Today, with only 61.9% of the Victoria vote counted, the ALP (50.9%) has a narrow estimated two-party preferred lead over the L-NP (49.1%). When vote counting has finished the final result will be much closer to 50% cf. 50% as predicted by the final Victorian SMS Morgan Poll last week.

Primary support for the Federal L-NP was up 1% to 39% while ALP support fell 1% to 37.5%. Support for the other parties shows The Greens at 12% (unchanged), Palmer United Party (PUP) 2% (down 0.5%) – the lowest recorded since prior to the Federal Election last year, while Independents/ Others were up 0.5% to 9.5%.

Support for PUP is highest in Queensland (4%) and Western Australia (4%) followed by Tasmania (2.5%), Victoria (1.5%), New South Wales (1%) and South Australia (0.5%).

Analysis by Gender

Analysis by Gender shows support is far higher for the ALP amongst women despite a fall: ALP (57%, down 0.5%) cf. L-NP (43%, up 0.5%). However, support is now level amongst men for the ALP (50%, down 3%) compared to the L-NP (50%, up 3%).
My own preferred chart shows the PM still trailing Julia Gillard in the witch's ditch (though JG was about to resume her sink):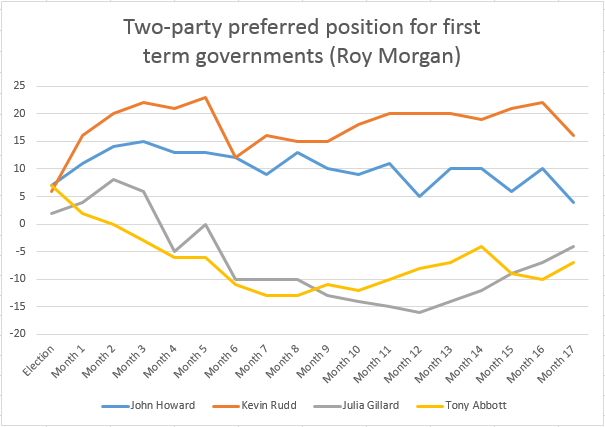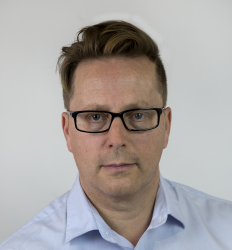 Latest posts by Houses and Holes
(see all)