From The Australian:
At 39 per cent, Labor's primary support is higher than the government's for the first time since July…In two-party-preferred terms, based on preference flows from last year's election, Labor leads by 55 per cent to 45 per cent.

Mr Abbott recorded the third successive dip in his satisfaction rating, which fell one point to a two-month low of 36 per cent while his dissatisfaction rose three points to 55 per cent…Mr Abbott's three-month run as the nation's preferred prime minister also came to an end…The Labor leader saw his stocks leap five points to 43 per cent while Mr Abbott's rating slid two points to 37 per cent, giving Mr Shorten a six-point lead.
In an even more telling sign for the government, The Australian's political coverage has been evening out in partisan terms in the past month. One of the harshest lessons of Australian (and global) politics is that Rupert Murdoch only backs winners.
And from Roy Moragn as well today:
In mid-November ALP support rose to 55.5% (up 1%) and now clearly leads the L-NP 44.5% (down 1%) on a two-party preferred basis. If an election had been held the ALP would have won easily according to this week's Morgan Poll on voting intention conducted with an Australia-wide cross-section of 3,140 Australian electors aged 18+ over the last two weekends.

Primary support for the L-NP was down 0.5% to 38% while ALP support rose 1% to 38.5%. Support for the other parties shows The Greens at 12% (down 0.5%), Palmer United Party (PUP) 2.5% (down 0.5%) – the lowest recorded since prior to the Federal Election last year, while Independents/ Others were up 0.5% to 9%.

Support for PUP is highest in Queensland (4.5%) followed by Tasmania (3%), South Australia 2%, Western Australia (2%), New South Wales (2%) and lowest in Victoria (1.5%) – which faces a State Election next week (Saturday November 29, 2014).

Analysis by Gender

Analysis by Gender shows support is far higher for the ALP amongst women despite a fall: ALP (57.5%, down 1.5%) cf. L-NP (42.5%, up 1.5%). However, support is now up amongst men for the ALP (53%, up 3%) compared to the L-NP (47%, down 3%).

Analysis by Age group

Analysis by Age group shows the ALP still with its strongest advantage among younger Australians. 18-24yr olds heavily favour the ALP 66% cf. L-NP 34%; 25-34yr olds also heavily favour the ALP 65.5% cf. L-NP 34.5%; 35-49yr olds favour the ALP 57% cf. L-NP 43%; 50-64yr olds are closer ALP 53.5% cf. L-NP 46.5%; and those aged 65+ still clearly favour the L-NP 57% cf. ALP 43%.

Analysis by States

The ALP maintains a two-party preferred lead in all Australian States. Tasmania: ALP 59.5% cf. L-NP 40.5%; Victoria: ALP 58.5% cf. L-NP 41.5%; New South Wales: ALP 55% cf. L-NP 45%; South Australia: ALP 53.5% cf. L-NP 46.5%; Queensland: ALP 53% cf. L-NP 47% and Western Australia: ALP 51% cf. L-NP 49%.

Roy Morgan Government Confidence Rating

The Roy Morgan Government Confidence Rating has fallen to 98pts this week (down 1.5pts over the past fortnight). Now 42.5% (up 2.5%) of Australians say Australia is 'heading in the wrong direction and 40.5% (up 1%) say Australia is 'heading in the right direction'.
I'm not sure where Prime minster Abbott can go from here. The next stop on the political mystery tour is the MYEFO, which is already a disaster. Then in the new year we'll build towards another budget, which will be worse still as the economy slows and the pressure to fix the deficit tightens. Then it's on to the Paris climate summit at year end, which is shaping up as a carbon abatement breakthrough.
Here's the updated comparative performance of first term PMs: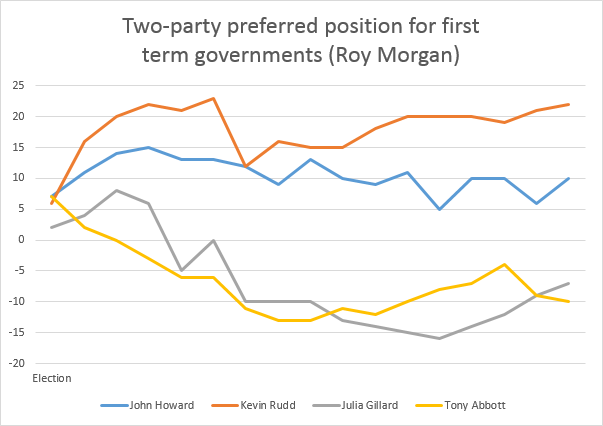 I advise the Libs not to change their dead duck leaders until it's clear that the economy is in real trouble, probably in early 2016, after Paris. Prime Minister Turnbull and Treasurer Andrew Robb can then subtly blame Abbott and Hockey for the lousy economy, as well as declare a new direction with a shortish window to roll out spending and a return to carbon pricing in some form.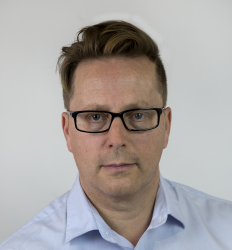 Latest posts by Houses and Holes
(see all)