From The Australian:
In the past fortnight Labor's primary vote has risen two points to a 3½-month high of 36 per cent, while support for the Coalition is unchanged at 38 per cent…the ALP holds a crushing lead of 54 to 46 per cent — the reverse of the election result.

…In today's Newspoll, Mr ­Abbott is for the third time in a row rated as better prime minister over Mr Shorten, ahead by 39 to 38 per cent, unchanged in the past fortnight. The personal ratings of both leaders were largely unchanged. Mr Abbott's satisfaction eased one point to 37 per cent while his dissatisfaction also fell one point to 52 per cent, leaving his net satisfaction rating (the difference between his satisfaction and dissatisfaction) unchanged at minus 15 points.
And from Roy Morgan:
In early November ALP support rose to 54.5% (up 2.5%) and now clearly leads the L-NP 45.5% (down 2.5%) on a two-party preferred basis. If an election had been held the ALP would have won easily according to this week's Morgan Poll on voting intention conducted with an Australia-wide cross-section of 3,117 Australian electors aged 18+ over the last two weekends.

Primary support for the L-NP was down 1% to 38.5% while ALP support rose 2% to 37.5%. Support for the other parties shows The Greens were at 12.5% (up 0.5%) – the highest since April 2014, Palmer United Party (PUP) 3% (down 0.5%) – the lowest since January 2014, while Independents/ Others were down 1% to 8.5%.

Support for PUP is highest in Queensland (5.5%) followed by South Australia 5%. Support for PUP is lower in the rest of Australia: Western Australia (3%), Victoria (2.5%), Tasmania (2.5%) and lowest of all in New South Wales (1.5%).

Analysis by Gender

Analysis by Gender shows support is highest for the ALP amongst women: ALP (59%, up 5.5%) cf. L-NP (41%, down 5.5%). However, support for the major parties is evenly split amongst men with the L-NP up slightly (50%, up 0.5%) cf. ALP (50%, down 0.5%).

Analysis by Age group

Analysis by Age group shows the ALP still with its strongest advantage among younger Australians. 18-24yr olds heavily favour the ALP 68.5% cf. L-NP 31.5%; 25-34yr olds favour the ALP 62% cf. L-NP 38%; 35-49yr olds favour the ALP 60% cf. L-NP 40%; 50-64yr olds are close L-NP 51% cf. ALP 49%; and those aged 65+ still clearly favour the L-NP 56.5% cf. ALP 43.5%.

Analysis by States

The ALP maintains a two-party preferred lead in four Australian States. South Australia: ALP 63% cf. L-NP 37%; Victoria: ALP 60.5% cf. L-NP 39.5%; Tasmania: ALP 57% cf. L-NP 43%; New South Wales: ALP 52% cf. L-NP 48%. However the L-NP leads in Western Australia: L-NP 51% cf. ALP 49% and Queensland: L-NP 50.5% cf. ALP 49.5%.
Gary Morgan blames the petrol excise increase and warm feelings for Gough Whitlam. Looks to me rather more like the return of Tony Abbott's "women problem", after a little pop on shirt-fronting that directed the aggro they dislike elsewhere. Our Tone needs a much bigger war than the one he has.
And my favourite chart, the two-party preferred relative performances of the past four first term PMs has Tony Abbott neck-and-neck in the "witch's ditch" once more: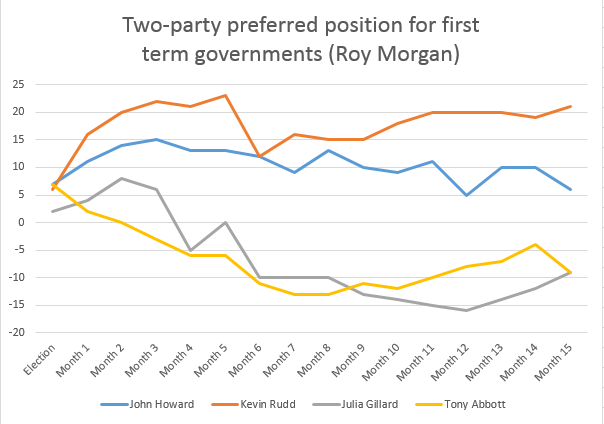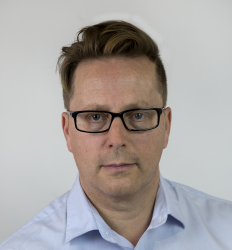 Latest posts by Houses and Holes
(see all)