While everyone is focused on the iron ore crash, an equally large mauling is taking place in LNG markets. Overnight, the oil price sank again well over 1% and is trading at $74. 37 as I speak: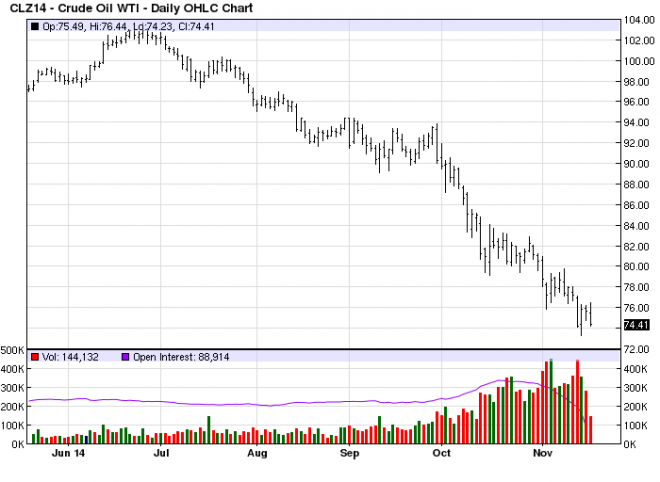 Unless OPEC cuts deeply, it's going to get worse, from Bloomie:
Shale drillers are planning on production growth with fewer rigs despite a worldwide glut that has sent crude prices to a four-year low.

…"There's a lot more production coming online this year and in the first half of 2015," said Jason Wangler, an analyst at Wunderlich Securities Inc. in Houston. "This isn't a machine that you can turn on and off with a switch. It's going to take months, if not quarters, to turn it around."

…"Any company that comes out and says we're cutting growth is going to get hit," said Wangler, the Wunderlich Securities analyst. "It's not a fun spot to be in. Do you do what makes sense for the oil market, or do you do what makes sense to investors?"

…Even with the addition of 10 rigs recorded last week, the number of rigs drilling for oil in the U.S. has declined by 31 to 1,578 since the week ended Oct. 10, according to the weekly report from Baker Hughes Inc., an oilfield services company based in Houston.

"If you look at natural gas production, it continues to increase dramatically even as the rig count has fallen, because productivity is improving, because technology is getting better, because the completion time is getting shorter," said Bordoff of Columbia University. "People are just getting better and better at this."
Falling oil has the LNG contract price down to $12.67 today: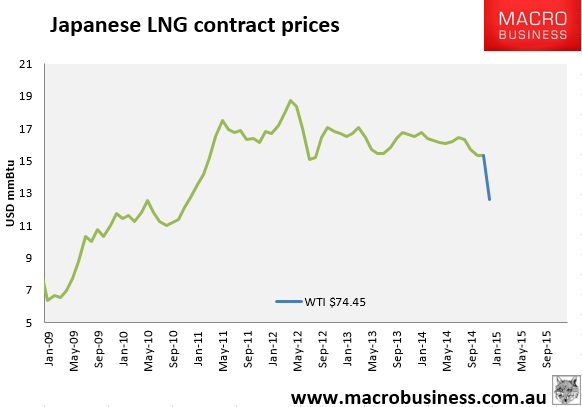 In the spot market it's worse. From LNGworldnews:
Prices of spot liquefied natural gas for December delivery to Asia plunged 29.4% year over year to average $12.490 per million British thermal units (/MMBtu), according to the latest Platts Japan/Korea Marker for month-ahead delivery.

At $12.49/MMBtu, the monthly average JKM for December delivery reached levels not seen since 2010, when the December JKM averaged $9.549/MMBtu. In the years following the Fukushima disaster and subsequent loss of nuclear power in Japan, December JKM monthly average prices had been consistently above $13.00/MMBtu.

The JKM lost $4.425/MMBtu over the assessment period, recording the most volatile month in the history of the marker. After beginning the month at $14.925/MMBtu on October 16, the December JKM closed at $10.50/MMBtu November 14, a new low for 2014, as sentiment became increasingly bearish.

"The recent uptick in prices lost momentum over the trading month, as the winter contango crunched. Sellers were less keen to take positions, and those holding them, particularly those with floating storage positions, began to undercut," said Stephanie Wilson, managing editor of Asia LNG at Platts. "With inventories in Japan, South Korea and even India and China at high levels, many buyers have little appetite for incremental volumes and have taken to the sidelines of the market ahead of anticipated reductions." 

The December JKM showed a 13.4% month-over-month decline as a result, bucking the trend of recent years in the run-up to the traditionally stronger winter demand season.

Meanwhile, the price of possible competing fuel thermal coal increased 3.0% month over month, while fuel oil fell 13.4% over the October 16 to November 15 assessment period.
The January contract is much worse still at $10.30: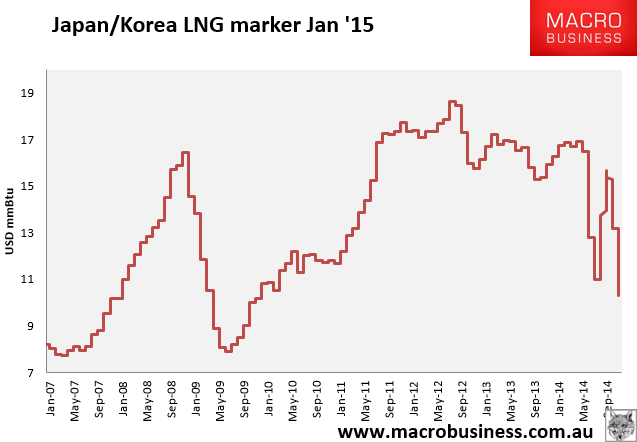 Spot is pricing for the 35 million tonnes per annum that Australia is about to unleash on an already saturated market. Much of that ought to be planned for and soaked up by customers but the gas glut ought to have come in 2018 as well.
Either OPEC moves and/or it gets real cold, real fast in North Asia or next year's Pacific LNG market has price rout written all over it.